[REVIEW] Pyunkang Yul Low pH Pore Deep Cleansing Foam (Before and After)
Price (use this link): 10.01$ (If you use my code: DEWILDE you can get up to 5% off on any yesstyle purchase at checkout)

Texture: Pearly consistent cream

What you get: 100 mL
+INGREDIENTS


Ingredients: Water, Sodium Cocoyl Isethionate (Surfactant/Cleansing), Glycerin (Quality Hydrator),  Coconut Acid (Surfactant/Cleansing + Emollient + Emulsifying), Polyquaternium-67 (Antistatic + Film forming), 1,2-Hexanediol (Solvent), Sodium Isethionate (Surfactant/Cleansing), Sodium Methyl Cocoyl Taurate (Surfactant/Cleansing), Litsea Cubeba Fruit Oil, Sodium Chloride (Viscosity Control), Disodium EDTA (Chelating + Viscosity controlling), Ethylhexylglycerin (Preservative), Sodium Acetate (Buffering), Butylene Glycol (Moisturizer+ Solvent + Viscosity Control), Centella Asiatica Extract, Portulaca Oleracea Extract, Camellia Sinensis Leaf Extract, Hamamelis Virginiana (Witch Hazel) Extract, Sodium Hyaluronate, Beta-Glucan, Melaleuca Alternifolia (Tea Tree) Leaf Extract, Phaseolus Angularis Seed Extract, Pentylene Glycol (Solvent + Moisturizer), Caprylyl Glycol (Moisturizer + Emollient), Diatomaceous Earth, Isopropyl Alcohol, Citric Acid
🎐Interesting Ingredients:
Litsea Cubeba Fruit Oil: Prevents hyperpigmentation (Inhibits melanin forming activity of enzyme Tyrosinase) + Antioxidative + Photoprotective + Natural fragrance

Centella Asiatica Extract: Wound healing (promotes collagen production) + hypertrophic scar healing properties in particular

Portulaca Oleracea Extract: Antioxidant (high amounts of Vitamins A and C) + Wound-healing (Decreases surface area of the wound and increases tensile strength to 'seal' wound) + Anti-inflammatory (diminishes inflammatory response pathway)

Camellia Sinensis Leaf Extract (Green tea): Antioxidant (Polyphenol) + Anti-inflammatory (Polyphenol) + Antimicrobial (Catechins)

Hamamelis Virginiana (Witch Hazel) Extract: Wound healing ( Polyphenols and tannins) + Anti-acne (Tannins) + Antioxidant

Sodium Hyaluronate: Hydrating (water-binding properties) + Wound healing (promotes microcirculation)

Beta-Glucan: Protects against irritation and environmental stress (the molecules link together to form a barrier on the surface of your skin) + Antibacterial (stimulate white blood cells to attack pathogens) + Hydrating (acts as a humectant (chemical structure attracts and traps water molecules)) + Anti-aging (Boosts collagen production)

Melaleuca Alternifolia (Tea Tree) Leaf Extract: Tea Tree leaf oil is known to be anti-acne (has Antibacterial, Antifungal and Antiviral properties), but the leaf extract itself is not well researched. Usually, oils are more concentrated than the extracts, so you could assume that the extract has the same properties but with less potent action. [Also note that some people use the terms leaf extract and leaf oil interchangeably, so this could also be the case]

Phaseolus Angularis Seed Extract: Potentially Anti-bacterial + Potential Antioxidative

Diatomaceous Earth: There are a lot of claims associated with this ingredient, and the majority of them are not backed up by any studies or research, especially when it comes to topical application. That being said, Diatomaceous Earth is made of 80% Silica, which acts as an exfoliant and absorbent powder (for excess moisture and oil) when used in cleansing formulations.

Citric Acid: Anti-aging (AHA + promotes collagen production)
🍺Alcohol: Isopropyl Alcohol: Solvent + Viscosity Control + Perfuming
A lot of people assimilate alcohol and fragrances in skincare to dehydration and irritation. I would recommend that you watch this video: "Is Alcohol Safe in Skincare Products?" (by Liah Yoo, who worked at Korea's largest beauty company, AmorePacific and now also has her own brand: KraveBeauty) and consult the links provided in the info box which refer to published scientific studies and articles. The main point is: yes, alcohol and fragrance can be very stripping and irritating to the skin, but it all depends on how they are used and combined in the final formulation and of their ratio, the reactions they have with other ingredients, etc…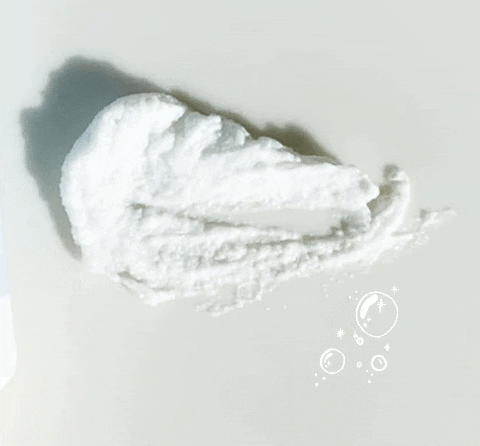 +CLAIMS

Healthy skin balance with a low pH: I'm just going to copy&paste what I said about the COSRX Low Ph Good Morning Gel Cleanser regarding the pH point because it's the same one:

Here's an excerpt from ''ALL ABOUT CLEANSING & HOW TO CHOOSE A GENTLE CLEANSER'' by Michelle from Lab Muffin blog: ''Skin is acidic, meaning it has a low pH (around 5). This is important because a lot of the biochemical reactions that occur in the skin only work within a narrow pH range. Surfactant-containing cleansers are particularly good at changing skin pH for long amounts of time, meaning that if your cleanser has a particularly high pH, then it's going to hinder your skin from repairing itself. High pH also makes skin swell and reduces its flexibility.'' So, the bottom line is, pH is important.


The 2-step solution in absorbing impurities and dissolving residue, smaller particles of foam absorbs impurities in the pores as they can reach deeper, diatomite is tiny and extremely absorbent: Weirdly enough, even though this cleanser is very mild and suitable for sensitive and irritated skin, it still cleanses surprisingly well. I have a very oily T-zone and my nose gets particularly oily, which is why I usually prefer rougher cleansers that are able to get rid of that extra uncomfortable oiliness. However, the Pyunkang Yul Low pH Pore Deep Cleansing Foam gets rid of it extremely effectively: I'm left with a normal, non-oily T-zone for the majority of the day, and I find that my skin produces much less sebum than it normally does in the long run. So this does a lot to control any extra oiliness without drying out your skin in any way.

Clotted dead skin cell care aha and the natural ingredients smoothen the skin texture: In the E-pamphlet they say that the Eicosapentaenoic Acid, which is an omega-3 fatty acid found in a vegetable (Portulaca Oleracea Extract) 'gently removes' impurities and makeup residue from the pores. I tried to find any study or shred of evidence that this acid somehow participates in cleansing, but it does not, it's actually an emollient. Citric acid is the only 'potent' exfoliating agent found in the formulation (an AHA) but it is very low on the ingredients list so it probably doesn't do much. The only way you would experience the texture of your skin getting smoother due to this cleanser is that if you were using a bad cleanser or one that was somehow clogging your pores, and then you'd switch to this one, or if you weren't good about cleaning your face and than you'd started using this regularly. Otherwise, you probably won't experience any change in texture.

Calms irritated skin: The formulation does contain ingredients which are known to calm irritated skin like Centella Asiatica, Camellia Sinensis, and Beta-glucan (see above list for more in-depth info), and as mentioned below, this cleanser keeps my skin moisturized and doesn't strip it of any necessary oils and moisture. I had an acne reaction due to another product I was using earlier, and this cleanser didn't irritate it in any way, it didn't make it better either, but that's expected since it doesn't have any targeted acne-fighting ingredients. It's also certified as a 'zero irritation' product from the Korea Dermatology Research Institute - while this should be taken with a grain of salt as some people could be allergic or irritated to things that are judged as safe by the majority of the population, this is still a very good certification to have on a product if it's designed for sensitive skin. That being said, I wouldn't say that it 'calms' skin per se, if you have particularly red, irritated skin, the last thing you should be doing is cleansing it (unless the irritation is caused by a product you've applied, if it's the case, by all means, use this cleanser), rather, opt for something like the Klairs Midnight Blue Calming Cream which is specifically designed to combat and calm down any signs of irritations in a quick and efficient matter.

Moisturized finish after a proper cleansing: This is the ONLY, I repeat: the ONLY cleanser I've ever used where I feel that my skin does not lose any moisture whatsoever after cleansing. Which is a lot to say, because I have tried many, many cleansers in my many years of life. Recently my skin has been going through some changes, notably due to the colder, dryer weather, and due to the fact that I usually cleanse my skin at night while taking a hot shower (which sucks the moisture out of it). All of this makes it way dryer than it should be after cleansing, and I usually jump to apply a hydrating mist or serum directly after the action. Somehow, the Low pH Deep Cleansing Foam makes it retain all its original moisture while still thoroughly cleaning it, and it doesn't leave me with a feeling of tightness.
I really enjoy the texture of this product, it feels and looks luxurious as it glides on your skin without any resistance, and the appearance is silver with some shine to it. I prefer cleansers that don't foam up to an obnoxious degree and this one fits right in, providing adequate foam without making your face look like a cloud monster. And as mentioned above, the thing I enjoy the most is how clean yet moisturized my face feels afterward.
I don't usually wear makeup, nor do I wear any foundation, but in the test I did, this was surprisingly good at removing any traces of makeup (even mascara). However, it's really weird to remove makeup with a cleanser that doesn't really foam up because I guess we're all just used to associate foam with cleansing, so you might feel better about using an oil beforehand to melt down your makeup.
This is a cleanser I really didn't expect much out of, and I was pleasantly surprised by it, it made me want to try out other Pyunkang Yul ones, and that's exactly what I will do in the near future as the brand keeps on surprising me.
+PROS:
Appropriate pH

Keeps skin moisturized

Gets rid of any excess oil

Regulates sebum production

Suitable for a good majority of sensitive/irritated skin
-CONS:
Doesn't bubble up as much as other products if you're into that
⚪Score: 4.5/5 --- It would have gotten a perfect score had it fulfilled all of its claims, mainly the ones that aren't applicable: calms irritated skin (it won't add irritation, but certainly won't calm it) and the one about AHAs&'natural ingredients' smoothing out skin texture (The aha is too low on the list and there isn't any evidence than the 'natural' ones are exfoliating in any way.)


+Yesstyle this link
(If you use my code: DEWILDE you can get up to 5% off on any Yesstyle purchase at checkout)