5 DAY TRIPS FROM MEXICO CITY
If you're into culture, Mexico City was made for you. I went there for a total of 4 days, found it safe (there are unsafe neighborhoods just like in any major city of our world), interesting, and a great city to just walk around in and observe: architecture, graffitis, and nature. The neighborhoods are really different from each other, there are a variety of museums to choose from (the art ones are my personal favorites) and restaurants with cuisine from all over the world. But this post isn't about Mexico city, it's about the day trips you can organize from there:
1- VALLE DE BRAVO
3 hours and 18 minutes drive from Mexico city (according to google maps anyway, your crazy Mexican driver might decide it takes way less) will get you to Valle de Bravo, a picturesque town located on Lake Avándaro. This place reminds me of Sicily or Cinque Terre, although don't quote me on that one because I've never been to either. If you're into lake sports and activities, paragliding (apparently it's one of the top destinations for that in the world), casual colorful strolls, and an overall old-town feel, this one's for you.
An extinct stratovolcano (built up of alternate layers of lava and ash), and Mexico's fourth-tallest peak. This is the only big hike I'm including on the list because it's easy. Mexico's other peaks require gear rental, and most people will go with a company, but this one can be done alone (which is what I did), you just need to pay the park ticket entrance fee (40MXN$ or 2US$) and walk. The walk itself is great, the view is ASTONISHING, and if you're lazy, you can just stroll down to the lake and have a picnic there or something. I even recommend you to get tents and spend the night there camping if you can. The park is supposed to be able to provide you with tents to rent but that service was closed when we were there so call or bring your own before you go. The ride from Mexico City is either 3hours and 41mins (if you want to do 3/4 of the climb by car) or 2hours and a half if you want your driver to drop you at the base of the volcano.
Once Mesoamerica's greatest city, now a major archeological complex with 3 pyramids. The entrance fee is 70MXN$/3.7US$ and includes entry to the museum, and there are also free tours available, just ask about them when you buy your tickets. The pyramids are huge (way bigger than Chichén Itzá, although not kept in as well as conditions), and you can even climb them. Since this is a touristic spot, I'd advise coming as early as you can (the park opens at 9 am). There are also lots of shops there (souvenirs + jewelry) so bring some cash with you if you're interested. Ride from Mexico City: 1hour and 7mins.
4- PUEBLA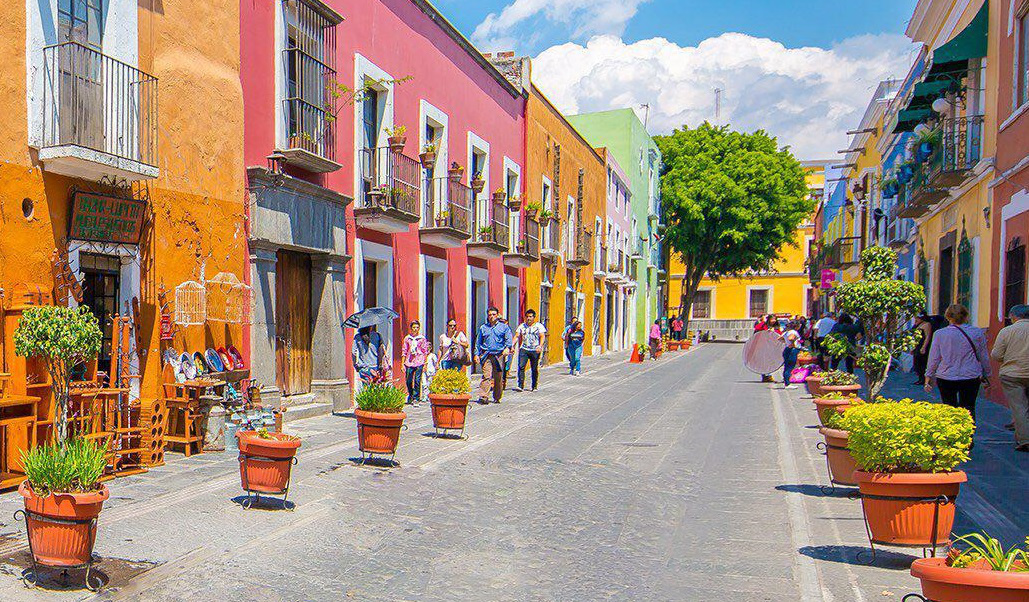 If you enjoyed Mexico city, but you're tired of Mexico city, the colonial city of Puebla is for you. The streets of Puebla are lined with a multitude of colors and Baroque architecture. Walking around is the best way to discover the city, and your eyes will thank you for it. Not to mention your stomach because the food they serve there is truly divine. Ride from Mexico City: 2 hours and a half.
5- CUERNAVACA
With an archeological zone of its own (Archeological Zone of Xochicalgo) and ecological parks nearby (Chapultepec ecological park), Cuernavaca is at the center of a lot of things and feels like multiple day trips condensed into one. The town itself is beautiful, colonial, and contains cathedrals, museums, as well as a cool garden (Jardín Borda). Ride from Mexico City: 1 hour and 37mins.
ENJOY YOUR DAY TRIPS. and check out the box bellow for some deals on each of these cities: