[REVIEW] AXIS-Y Sunday Morning Refreshing Cleansing Foam (Before and After)
Texture: Thick consistent pearly whipped cream

What you get: 120 ml

Cruelty-free: Yes

Instagram: @axisy_official
+INGREDIENTS
Ingredients: Water, Glycerin, Sodium Cocoyl Isethionate (Surfactant/Cleansing), Sodium Methyl Cocoyl Taurate (Surfactant/Cleansing), Potassium Cocoyl Glycinate (Surfactant/Cleansing), Coco-Betaine (Surfactant/Cleansing + Viscosity Controlling), Butylene Glycol (Moisturizer/Humectant + Solvent + Viscosity Controlling), Potassium Cocoate (Emulsifying + Surfactant/Cleansing), Sodium Chloride (Viscosity Controlling), Potassium Benzoate (Preservative), Polyquaternium-67 (Antistatic + Film Forming), Xylitylglucoside (Moisturizer/Humectant), Citric Acid, Anhydroxylitol (Moisturizer/Humectant), Propanediol (Solvent + Moisturizer/Humectant), Xylitol (Moisturizer/Humectant), Betula Platyphylla Japonica Juice, Glucose (Moisturizer/Humectant), Camellia Sinensis Leaf Extract, Disodium EDTA (Chelating + Viscosity Controlling), Glycyrrhiza Glabra (Licorice) Root Extract, Agrimonia Eupatoria Extract, 1,2-Hexanediol (Solvent), Centella Asiatica Extract, Dipropylene Glycol (Solvent + Perfuming + Viscosity Controlling), Allantoin, Perilla Frutescens Leaf Extract, Saponaria Officinalis Extract (Surfactant/Cleansing), Sodium Acetate (Buffering), Pentylene Glycol (Solvent + Moisturizer/Humectant) , Calendula Officinalis Flower Extract, Kigelia Africana Fruit Extract, Caprylyl Glycol (Moisturizer/Humectant + Emollient), Natto Gum, Sodium Hyaluronate, Chamomilla Recutita (Matricaria) Flower Extract , Ethylhexylglycerin (Preservative), Hydroxycinnamic Acid (Skin-conditioning), Rutin

🔆Interesting Ingredients:
Glycerine: Widely used as a quality Hydrator (occurs naturally in skin and its chemical structure attracts water). You can find this ingredient in most good skin-replenishing products.

Citric Acid:  A form of AHA (Alpha Hydroxy Acid), a class of acid that reduces cell adhesion in the top layer of the skin (decreases cellular bond between corneocytes), which leads to an exfoliating effect. AHAs have also been shown to increase the production of mucopolysaccharides and collagen in the skin. [Anti-Acne + Anti-Aging + Brightening + Antioxidative]

Betula Platyphylla Japonica Juice: 🔴[Not enough research] Antioxidant

Camellia Sinensis Leaf Extract (Green tea): Antioxidant (Polyphenol) + Anti-inflammatory (Polyphenol) + Antimicrobial (Catechins)

Glycyrrhiza Glabra (Licorice) Root Extract: Prevents hyperpigmentation (Inhibits Melanin forming activity of Tyrosinase)

Agrimonia Eupatoria Extract: Antimicrobial + Wound Healing + Antioxidant 

Centella Asiatica Extract: Wound healing (promotes collagen production) + hypertrophic scar healing properties in particular

Allantoin: Moisturizing ( Emollient: provides a layer of protection to help prevent water loss)

Perilla Frutescens Leaf Extract: Antioxidant (polyphenols) + Anti-inflammatory (linolenic acid)

Calendula Officinalis Flower Extract: Anti-inflammatory + Antioxidant 

Kigelia Africana Fruit Extract: Anti-inflammatory + Antioxidant + Antibacterial 

Natto gum: Vitamin E + Vitamin K2 (anti-aging) + Gamma Polyglutamic Acid (Anti-aging, moisturizing, ten times more hydrating than hyaluronic acid)

Sodium Hyaluronate: Hydrating (water-binding properties) + Wound healing (promotes microcirculation)

Chamomilla Recutita (Matricaria) Flower Extract: Anti-inflammatory (Terpenes/Flavonoids/α-bisabolol  inhibit inflammatory pathway) + Wound Healing 

Rutin: Antioxidant + Antiaging ( Decreases MMP-1 expression, increases Collagen type 1 expression)
+INSTRUCTIONS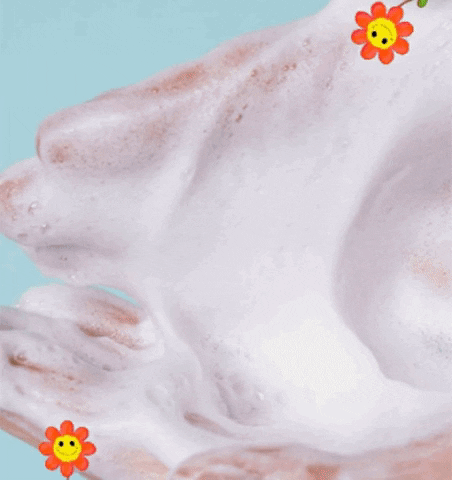 +CLAIMS
Claims taken from the product page of AXIS-Y.
Deeply, but gently, cleanses the pores: I've reviewed many cleansers on this blog, and I have found two main categories of issues with these types of products. Either they are powerful but too stripping - and even if you don't feel like they're stripping, they are formulated with stripping ingredients that will make your skin worst off in the long run. Or the elements incorporated in their formulas are great, but the cleansing power is too mild to give an adequate cleanse. I'm happy to report that the AXIS-Y Sunday Morning Refreshing Cleansing Foam doesn't fall in these two categories: it cleanses incredibly well, even removing all of the eyes makeup that I wear - usually mascara and eyeliner. It also doesn't strip my skin: I tried using it alone and not using any products after it during the day, and my skin was left feeling fine, not dry in any way. That being said, since I have combo skin and this worked wonders on my oil glands, the formula is probably not suitable for dryer or more sensitive skin types.

Boosts moisture levels: The brand's argument for this claim is that a "patent skincare technology" is incorporated in the formulation, which is called "Aquaxyl." This is just a fancy name given to a combination of ingredients that usually serves to market the product up because it sounds sciency. Here the ingredients are three sugars: Xylitylglucoside, Anhydroxylitol, Xylitol. These have good moisturizing/humectant properties (as most sugary molecules do), but there isn't anything exceptional about them. Although I'm sure that they make the formulation less drying, they are either not powerful enough or not present in enough concentrations to 'boost' the moisture level or add in any moisture. Although my skin doesn't feel dryer after using this cleanser, it doesn't feel more moisturized. And again, if you have dry or sensitive skin, you would probably feel a bit of dryness after using this product.

Leaves skin feeling soft and balanced: For skin to become softer, you either need the presence of exfoliating agents or calming agents (if your skin is irritated). The Sunday Morning Refreshing Cleansing Foam contains citric acid, a form of AHA (read the above in-depth ingredient list for more information), which works as a chemical exfoliant. So, in theory, this cleanser should make your skin smoother in the long run, but I haven't personally noticed any difference. As for balancing out the skin, I have combination skin with oily skin in my T-zone. After using this, I noticed that my nose gets oily less frequently or not at all with regular use, so this is a yes.

ph of 5.5:
Here's an excerpt from ''ALL ABOUT CLEANSING & HOW TO CHOOSE A GENTLE CLEANSER'' by Michelle from Lab Muffin blog: ''Skin is acidic, meaning it has a low pH (around 4 or 5). This is important because a lot of the biochemical reactions that occur in the Skin only work within a narrow pH range. Surfactant-containing cleansers are particularly good at changing skin pH for long amounts of time, meaning that if your cleanser has a particularly high pH, then it's going to hinder your Skin from repairing itself. High pH also makes Skin swell and reduces its flexibility.'' So, the bottom line is, pH is important. That being said, most tap water pH lies around the 6.5 or 9.5 margin depending on where you live, so even if you apply a pH appropriate cleanser to your face, you might end up washing it off with non-appropriate pH water. I guess for products to truly take all of this into consideration, they should formulate a product whose pH, when mixed with water, would be around 5. I don't personally care much about pH. As I've said in many reviews. However, some studies on compromised skin barrier have found that unhealthy skin barriers usually have an elevated pH [ex: Repairing a Compromised Skin Barrier in Dermatitis: Leveraging the Skin's Ability to Heal Itself [source]]. So if you have signs of such an issue, which usually are 'dry, scaly, inflamed and irritated skin.', then nit-picking products with appropriate pH would benefit your skin.
The important thing is that a cleanser with an appropriate pH such as this one isn't a bad thing. Either way, this claim is valid.
As you can see from the pictures, this cleanser is powerful enough to remove most makeup and sunscreen traces. The only thing you're left with is waterproof makeup.
I would recommend this product to all skin types except for sensitive and dry ones. Oily and combination skin types will enjoy it the most. It really acts to balance out the oil levels and gives you an incredibly satisfactory cleanse without any uncomfortable dry feeling afterward. Normal skin types will also enjoy its cleansing properties that don't dry out the skin. However, if you have acne-prone skin, this cleanser contains AHA, so in theory, it should work okay with your skin but probably won't clear it out. For you, I'd recommend checking out this post instead: [10] Anti-Acne products that actually work + A Skincare routine. For dry and sensitive types, although it's winter and my skin tends to be dryer during these months, I haven't experienced any dry patches from this cleanser, so it should be fine to use.
But I still don't think it's moisturizing or mild enough for people with your type of skin, so I'd recommend something like Pyunkang Yul Low pH Pore Deep Cleansing Foam instead.
One thing to note is that for a Korean cleanser, the price point is slightly elevated (18.90$). Still, you need to consider that you need the tiniest bit of amount to cleanse your whole face (and I do mean the TINIEST bit), so at 120 ml, the product is going to last you a really long time. I'm always talking about price points being unfair in skincare, but here I think the price is pretty fair for the quality and amount that you get.
Another thing to note is that this product lathers quite well, which is incredibly satisfactory, as most cleansers with its cleansing properties that don't dry out skin tend to not lather at all - this is a personal choice, but I feel like most people prefer lathering products.
+PROS:
Appropriate pH

Gets rid of any excess oil

Regulates sebum production

Great cleansing properties

It Lathers up really well

No nonsense ingredients (essential oils, fragrance)
-CONS:
Probably not appropriate for sensitive/dehydrated skin types

🌼Score: 4.0/5 ——— A great cleanser. People with oily or combo oily skin will probably adore it. Doesn't get a full score because it could have been more moisturizing.

+❗This product was sent to me by AXIS-Y❗[But science-based logic doesn't lie]
+Yesstyle: here. If you use my code DEWILDE you can get up to 5% off on any Yesstyle purchase at checkout.