[REVIEW] SOME BY MI Aha/Bha/Pha 30 Days Miracle Toner (Before and After)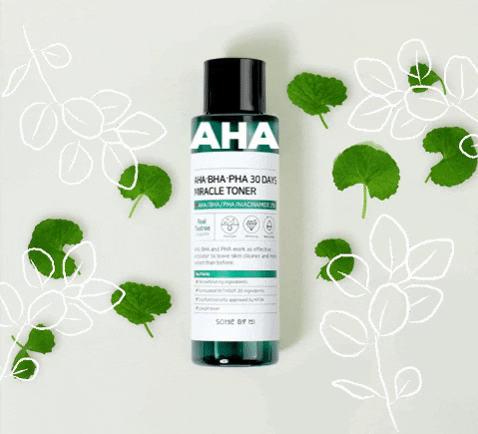 Price (use this link): 14$ (If you use my code: DEWILDE you can get up to 5% off on any YesStyle purchase at checkout)

Texture: Watery with slight texture

What you get: 150 mL

Cruelty-free: No
+INGREDIENTS
Ingredients: Water, Butylene Glycol (Moisturizer + Solvent + Viscosity Control), Dipropylene Glycol (Solvent + Viscosity Control), Glycerin, Niacinamide, Melaleuca Alternifolia (Tea Tree) Leaf Extract, Polyglyceryl-4 Caprate (Emulsifying), Carica Papaya (Papaya) Fruit Extract, Lens Esculenta (Lentil) Seed Extract, Hamamelis Virginiana (Witch Hazel) Extract, Nelumbo Nucifera Flower Extract, Swiftlet Nest Extract, Sodium Hyaluronate, Fructan (Moisturizer), Allantoin, Adenosine, Hydroxyethyl Urea (Moisturizer), Xylitol (Moisturizer), Salicylic Acid, Lactobionic Acid, Citric Acid, Sodium Citrate (Chelating + Buffering), 1,2-Hexanediol (Solvent), Benzyl Glycol (Solvent), Ethylhexylglycerin (Preservative), Raspberry Ketone, Mentha Piperita (Peppermint) Oil
🍃Interesting Ingredients:
Glycerine: Widely used as a quality Hydrator (occurs naturally in skin and its chemical structure attracts water). You can find this ingredient in most good skin-replenishing products.

Niacinamide: Anti-aging (promotes collagen production and Ceramides synthesis) + Antioxidant (Against UV-induced photocarcinogenesis and photo immunosuppression) + Anti-inflammatory (reductions in the total sebaceous creation of lipids; overproduction is one of the causes of acne)

Melaleuca Alternifolia (Tea Tree) Leaf Extract: Tea Tree leaf oil is known to be anti-acne (has Antibacterial, Antifungal, and Antiviral properties), but the leaf extract itself is not well researched. Usually, oils are more concentrated than the extracts, so you could assume that the extract has the same properties but with less potent action. [Also note that some people use the terms leaf extract and leaf oil interchangeably, so this could also be the case]

Carica Papaya (Papaya) Fruit Extract: Wound healing (Exact mechanism not know but a study suggest this might also be due to antibacterial properties) + Contains the enzyme papain which acts as an enzymatic exfoliating agent by weakening the bonds of Keratin [Anti-acne + Anti-aging + Brightening ]

Lens Esculenta (Lentil) Seed Extract: Antioxidant + Lentils contain oligosaccharides, whose special extracts (under the name of P-REFINYL®) have been shown to reduce the appearance of pores by decreasing sebum production, stimulating collagen I synthesis and favoring the completion of keratinocyte maturation (abnormal keratinization causes pores to widen). However, the fact that there is only one study (made by the company that invented and patented the ingredient P-Refinul) that shows that this ingredient works, means that we should take these claims with a grain of salt. Further research is needed to solidify the claims of Lentil seed extracts as pore reducing agents of any sort.

Hamamelis Virginiana (Witch Hazel) Extract: Wound healing ( Polyphenols and tannins) + Anti-acne (Tannins) + Antioxidant

Nelumbo nucifera flower extract (lotus): antioxidant + Potent Hydrating agent/moisturizer + Balances oily skin

Swiftlet Nest Extract: Limited research to draw any real conclusions.

Sodium Hyaluronate: Hydrating (water-binding properties) + Wound healing (promotes microcirculation)

Allantoin: Moisturizing ( Emollient: provides a layer of protection to help prevent water loss)

Adenosine: Anti-aging (collagen stimulation pathway) + Wound healing (collagen stimulation pathway) + Anti-inflammatory (inhibits neutrophils, white blood cells part of the inflammatory response)

Salicylic Acid: A form of BHA (Beta Hydroxy Acid). It is very well known and researched anti-acne and peeling agent that penetrates deep into the skin to break down bonds between skin cells, dissolve skin debris within the pores, and also has anti-inflammatory properties

Lactobionic Acid: A next-generation AHA (called PHA, Polyhydroxy Acids), data suggest it is less likely to irritate the skin as the molecules it is composed of are bigger

Citric Acid: A form of AHA (Alpha Hydroxy Acid), which is a class of acids that reduce cell adhesion in the top layer of the skin (decrease cellular bond between corneocytes) which leads to an exfoliating effect. AHAs have also been shown to increase the production of mucopolysaccharides and collagen in the skin. [ Anti-Acne + Anti-Aging + Brightening ]
🤔Questionable Ingredients:
Raspberry Ketone: Perfuming

Mentha Piperita (Peppermint) Oil: Perfuming, is also a known irritant, but here it's present in a really low concentration, so it shouldn't be a problem unless you have very sensitive/sensitized skin.
+CLAIMS
General Information: As mentioned in the ''interesting ingredients'' segment above, the formulation contains a multitude of well-researched AHAs (Alpha Hydroxy Acids, here the Witch Hazel, Citric Acid), a BHA (Salicylic Acid), and one PHA (Polyhydroxy acids, here the Lactobionic Acid) that all have studies, research, and clinical trials to back up their exfoliation claims and effects. AHAs work on the surface to loosen up dead skin (they ware water-soluble), and BHAs penetrate deeper (they are oil-soluble) into the layers of the skin to unclog pores. As for PHAs, they have a larger molecular structure that presumably serves to make them gentler and less sensitizing as they do not penetrate the skin as much as AHAs.
Removes dead skin cells and reduces Blemishes: As I write this review, I have been using this toner for exactly 30 days, with no product to complement it except for a cleanser that doesn't have any anti-acne or exfoliating properties. Prior to using it, I had tried the Some by Mi serum of the same line which I've also written a review about here. I saw no result with the serum and still had active acne breakouts, but this toner has completely changed my skin. It's a really good gentle exfoliator as it slowly but surely exfoliates away dead skin cells while never giving you the flaky appearance of over-exfoliated or sensitized skin. New acne completely stopped forming by day 20, and I was pleasantly surprised to note that I didn't even have my usual pimple when I got my period. I had been greatly disappointed by the serum, so the efficacy of the toner in comparison truly surprised me. If you're in your teens, your 20s, or even your early 30s, you'd greatly enjoy the gentle yet steady exfoliation that this product provides, but if you have more mature skin, you'd probably be better off trying something more potent. It does reduce blemishes, but allow time for the product to work as you won't see immediate results. Also, note that I was using this both day and night during the 30 day period.

Pore care and sebum control: My pores still look the same way that they did. I also intentionally left a blackhead that had developed on my cheek and didn't extract it to see if this toner would do anything to it and I can report that it didn't (as you can see from the below pictures in a circle). It will mildly clean your pores since it has exfoliating capacities, but will probably do nothing to really deep blackheads like the one I mentioned. As for sebum control, it does work, but again, not to an incredible level. My usually very oily T-zone got less oily, but that's about it.

Moisturizes: This isn't a moisturizer per se, but it does moisturize. As you can see from the ingredient list, this toner contains good moisturizing ingredients like Butylene Glycol, and Glycerin at the top of its list (hence present in bigger concentration). This along, with soothing ingredients like Niacinamide, does give the formulation some moisturizing properties. While using other exfoliating toners on their own to test out their efficacy, I always found myself reaching for a moisturizing cream or needing to put in something hydrating on my face after them, but I never felt that with this one. The point is, yes, it's moisturizing, but don't go around applying this to your face instead of your moisturizer.

Whitens: Whitening products typically contain ingredients that act on the melanin production of your skin, these ingredients would, for example, limit the melanin forming activities of Tyrosinase. The SOME BY MI Aha/Bha/Pha 30 Days Miracle Toner doesn't contain any ingredient that is known to do that or to interact with melanin or Tyrosinase in any way, so no, I would not qualify this product as a whitening one. However, again, due to its exfoliating capacities, it does contain brightening effects, as you can see from the below pictures: although the majority of my scars are still apparent they have faded out a bit. That was a surprise to me because the only product I could compare this one to, which is the Pyunkang Yul Acne Toner, did not fade out my scars in any way.
Prior to trying out this toner, the only product that ever worked to truly get rid of my acne and prevent further zits from popping up was the Pyunkang Yul Acne Toner, which is why I kept on recommending it to everyone in every acne-related content on this website. After trying out the SOME BY MI Aha/Bha/Pha 30 Days Miracle Toner, I think this product is better. Here's why: For the same price range and quantity, it offers more. Yes, it will gently exfoliate your skin, and yes, it will act as a preventative care for further acne, but it will also (contrary to the Pyunkang Yul product) also take care of active acne quickly, and actually brighten your skin and lessen the appearance of your scars. While I was hailing the Pyunkang Yul toner for being very easy to incorporate in any routine because it basically had the consistency of water, the same can be said for this toner, with the all the added benefits I wrote about.
The point is, if you have acne and you're looking for a product to fight it, this toner is a great incorporation to your routine. I've used it as a stand-alone to get rid of all of my blemishes, whereas I had to use the Pyunkang Yul Acne Spot Cream for active zits while using the Pyunkang Yul toner to get rid of current acne, because the toner seemed to only work as a preventative measure. If you have a lot of acne, you'd probably need to supplement your routine with another anti-acne product, and I greatly recommend checking this post out: [10] Anti-Acne products that actually work + A Skincare routine. I will however not change the recommendation on that list of using the Pyunkang Yul toner, because the list has been made with the idea of recommending products that had a higher chance of working with a higher number of skin, so all the products need to be as non-sensitizing as possible. The Some By Mi toner contains two fragrance components ( Raspberry Ketone and Peppermint Oil) that would make the Pyunkang yul toner more suitable for people with sensitive/sensitized skin.
Is this product worth all the hype? definitely. Do I recommend it? If you're fighting acne or looking for a gently exfoliating product, yes. But If you have sensitive skin, you're better off using the Pyunkang Yul Acne Toner.
+PROS:
Will last you a long time

Great price/quality ratio

Affordable

Reduces acne

Easy to incorporate into any routine

Fights acne during the day unlike most acne skincare which needs to be applied only at night or when staying home (because of the way they make your face look: dry patches, colored patches, … )
-CONS:
Contains some potentially sensitizing ingredients
🌿Score: 4.8/5 --- The only reason this won't be getting a full score is due to the presence of 2 potentially sensitizing ingredients ( the perfuming ones mentioned throughout the review). Perfuming ingredients aren't a necessity and even if they are present in low concentrations they still have the potential to cause a bad reaction to the skin. Otherwise, this is a great affordable product that works, and I'd recommend it to anyone who doesn't have sensitive skin and is looking to fight acne.