[REVIEW] Bioderma Sensibio H2O Micelle Solution (Before and After)
Price (use this link): 14$

Texture: Feels like Water

What you get: 500, 250, 100mL

Cruelty-free: No
+INGREDIENTS
Ingredients: Aqua/Water/Eau, Peg-6 Caprylic/Capric Glycerides (Emulsifying + Surfactant/Cleansing) , Fructooligosaccharides, Mannitol (Moisturizer), Xylitol, Rhamnose, Cucumis Sativus (Cucumber) Fruit Extract, Propylene Glycol (Moisturizer/Humectant + Solvent + Viscosity Controlling), Cetrimonium Bromide (Antimicrobial/Antibacterial + Emulsifying + Preservative + Surfactant/Cleansing), Disodium Edta (Chelating + Viscosity Controlling)

💧Interesting Ingredients:
Fructooligosaccharides: Not enough research or clinical trials concerning this ingredient, but could potentially improve skin barrier based on past research.

Xylitol: Improves skin barrier + Antibacterial

Rhamnose: Potentially Anti-aging (an increase of pro-collagen I and collagen IV expression)

Cucumis sativus (cucumber) fruit extract: Antioxidant (Ascorbic Acid, Beta Carotene, Flavonoids, …) + Anti-inflammatory (inhibits the activity of pro-inflammatory enzymes) + Hydrating (Polysaccharides) + Perfuming (''Fragrant components that are not sensitizing to skin'')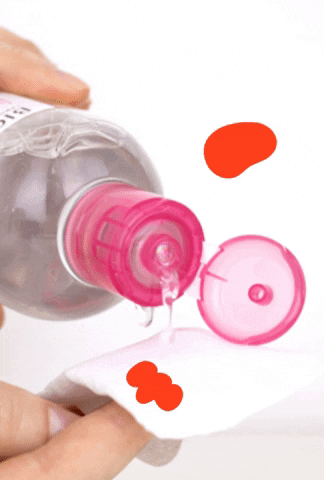 +CLAIMS

''Sensibio H2O uses micelles, which are molecules with fatty acid esters that capture impurities while respecting your skin's balance. Unlike similar products, Sensibio H2O contains no alcohol or paraben and it soothes the skin with a cucumber extract (Cucumis Sativus). It fits all skin types, even the most sensitive ones.''
Peg-6 Caprylic/Capric Glycerides: this is the micelle they're talking about and the compound that actually removes the makeup. They have a couple of characteristics that are interesting to discuss. The first one being the way they remove makeup, although it does not differ much from other products, no matter how much micelles are hyped up, the way they work resembles that of other cleansers and isn't so innovative. Micelles have a water-soluble head and a oily tail, and according to Bioderma's website ''This double affinity allows them to attract all kinds of impurities and attach them to the cotton wool. This means they can remove external residues from the environment (make-up, impurities from air pollution, etc.) and impurities related to the skin's natural functions (sebum, sweat, desquamation, etc.)''.
The second one is the fact that the fatty acids the micelles are composed of mimic the skin's own composition of fatty acids, as to not irritate it, which contributes to this product being suitable for sensitive skin in particular. As for the rest of the ingredients, they are hypoallergenic and contain no potential irritants. The rest of the ingredients are actually quite moisturizing and help in maintaining a healthy skin barrier (Xylitol, Rhamnose, Mannitol, Cucumis sativus (cucumber) fruit extract, and  Propylene Glycol).
Excuse the clown makeup look but I had a friend over and he insisted on trying out his skills on my cousin and I saw an opportunity to do before and after shots. Yes, there's mascara on her eyebrows, get over it.
The Bioderma Sensibio H2O Micelle Solution truly removes all makeup very easily. I only used one cotton pad in this picture to remove the whole thing. Picture labeled #3 is the cotton pad after I just applied it to her eye without rubbing it, I just waited for the makeup to dissolve for about 5 seconds, and after that I used the same cotton to remove the rest of the makeup (#4). I will note this: if you saturate the cotton with micellar water, you might feel a slightly uncomfortable dryness/irritation in your eye area, so try not to use more water than you need too.
Another note is when it comes to waterproof makeup: Oils will obviously do a better job than micellar water to remove it, but the same results can be achieved by both as the water also easily removes waterproof eyeliner, the only slight issue is when it comes to removing waterproof mascara. The mascara tends to aggregate on your lashes and become clumpy so you need to rub a bit with the cotton, and then go in again to ensure that everything went off.
A common misconception with micellar waters is that they do not need to be removed from the face, or washed off. While the Bioderma website itself advertises this claim, I would advise against it. Keeping anything on your face that has cleansing properties (like the micelles do) could potentially strip your skin of oils it needs in the long run. I would always advise a double cleanse, or at least go in with normal water after using the cleansing water to splash it off.
Now would I recommend this? for sensitive skin, yes, this is probably one of the best products you could find out there. For oily skin, I think this would also do wonders as people with oily skin don't like the added oiliness that balm/oils can bring. People with dry skin are probably better off trying something like an oil or a balm as this would be more suited to their skin type, as for my friends with acne-prone skin, this is the only makeup remover that I recommend to you, as mentioned in this article: [10] Anti-Acne products that actually work + A Skincare routine. For people with much more mature skin, this is still suitable for your skin type, but if you want to go the extra mile in skin-aging: choose something that will slip on your skin (unlike cotton saturated with water) like a balm or oil packed with antioxidants (I'd go with Hemp oil as mentioned below).
When it comes to efficacy, I've tried balms and oils in the past so I'd like to compare the 3 categories. My favorite balm is the Aromatica Orange Cleansing Sherbet. I do think this is more efficient and also potentially gentler on the skin (if you have the suitable skin type) because you're not using cotton to pull anything, it's just a balm that is dissolving the makeup and that has enough slip as to minimize tugging. However, the problem with balms is that 1- if you have sensitive or acne-prone skin, you're going to have a hard time finding something suitable for you, 2- you really need to wash your face to remove the balmy texture and 3- they tend to not be as convenient as micellar waters as they really make a mess out of your face. As for oils, I have yet to find an oil that does not irritate or break out my skin, which is a shame because they're really efficient and pack a lot of antioxidants (usually). I did use hemp oil at some point to remove my makeup and that worked great because it's gentle and full of anti-inflammatories (I like this brand and this one), but it's obviously harder to get than the Bioderma Sensibio H2O Micelle Solution. The point is, at the end of the day, due to its efficacy, ease, convenience, and gentleness, this micellar water is still my go-to when it comes to removing makeup. I've tried all of the Bioderma waters (the ones with other cap colors) as well as some from other brands, and my favorite so far has been this one.
+PROS:
Will last you a long time

Great price/quality ratio (This really depends on where you get it, sometimes they are overpriced)

Work very efficiently and is easy to incorporate

Gets rid of all makeup in one go (you might need to go a second time if you're wearing particularly heavy/durable makeup)

Suitable for all skin types

Nice clean ingredients list
-CONS:
If you accidentally saturate the cotton pad, it might end up irritating/drying out your eye

Is overpriced in certain resellers
🌊Score: 5/5 --- I have nothing to complain about. This removes all makeup, is gentle and effective, affordable, has nice ingredients, and does everything it claims to do.