[REVIEW] AXIS-Y Mugwort Pore Clarifying Wash Off Pack (Before and After)
Price (using this link): US$ 21.50 (If you use my code: DEWILDE you can get up to 5% off on any YesStyle purchase at checkout)
Texture: Soft clay cream-like with mushy bean particles

What you get: 100 ml

Cruelty-free: Yes

Instagram: @axisy_official

+ingredients
Ingredients: Artemisia Princeps Extract, Kaolin, Dipropylene Glycol (Solvent + Perfuming + Viscosity Controlling), Bentonite, Betaine (Moisturizer/Humectant), Phaseolus Angularis Seed Powder, Laminaria Japonica Extract, Eclipta Prostrata Leaf Extract, Avena Sativa (Oat) Kernel Extract, Pteris Multifida Extract, Cynara Scolymus (Artichoke) Leaf Extract, Glycyrrhiza Uralensis (Licorice) Root Extract, Vigna Radiata Seed Extract, Houttuynia Cordata Extract, Cryptomeria Japonica Leaf Extract, Nelumbo Nucifera Leaf Extract, Hydrogenated Lecithin (Emollient + Emulsifying), Sodium Hyaluronate, 1,2-Hexanediol (Solvent), Methylpropanediol (Solvent), Xanthan Gum (Viscosity Controlling + Emulsion Stabilising), Glycerin, ♦️Chromium Oxide Greens, Charcoal Powder, Water, Beta-Glucan, Polyquaternium-51 (Moisturizer/ Humectant), Fructooligosaccharides (Moisturizer/Humectant), Allantoin, Hydrolyzed Hyaluronic Acid, Butylene Glycol (Moisturizer/Humectant + Solvent + Viscosity Controlling), Camellia Sinensis Leaf Powder, Saccharomyces Ferment Filtrate, Hydroxyacetophenone, Ethylhexylglycerin (Preservative), ♦️Rosmarinus Officinalis (Rosemary) Leaf Oil


🍀Interesting Ingredients:
Artemisia Princeps Extract [61%]: Antioxidant (Activates a pathway that leads to the expression of antioxidant enzymes) + Anti-inflammatory (Upregulates the expression of Filaggrin and Loricin, two proteins involved in maintaining a healthy skin barrier. A lack of them is associated to skin inflammation and even eczema and psoriasis.)

Kaolin: Clay mineral that soaks up excess oils (sebum) and pulls impurities from the skin

Bentonite: Anti-irritant (reduces inflammation caused by contact dermatitis) + Soaks up excess oils (sebum) and pulls impurities from the skin (a lot of study focus on the effects of bentonite clay in pulling out toxic skin compounds)

Phaseolus Angularis Seed Powder: Potentially Anti-bacterial + Potentially Antioxidative + Contains Saponins, a substance that acts as a cleansing agent by absorbing excess oils and removing dead skin.

Laminaria Japonica Extract: Hydrating + Moisturizing

Eclipta Prostrata Leaf Extract: Antioxidative + Potentially Photoprotective 

Avena Sativa (Oat) Kernel Extract:  Anti-inflammation (diminishes inflammatory response pathway) + Antioxidant (reactive oxygen species are reduced) + Anti-irritant (improves skin dryness/texture/itch)

Pteris Multifida Extract: 🔴[Not enough research] Potentially Antioxidative 

Cynara Scolymus (Artichoke) Extract: Anti-inflammatory + Antioxidant + Anti-aging ("improved the expression of genes involved in anti-aging mechanisms")

Glycyrrhiza Uralensis (Licorice) root extract: Antioxidant (isoflavones and isoflavone) + Anti-inflammatory (Glycyrrhizin activity is similar to cortisol and steroids) + Prevents hyper-pigmentation (Inhibits Melanin forming activity of Tyrosinase)

Vigna Radiata Seed Extract: Potentially prevents hyperpigmentation (Inhibits Melanin forming activity of Tyrosinase) + Potentially Antioxidative 

Houttuynia Cordata Extract (6%): Antibiotic + Anti-inflammatory + Antioxidative + has commonly been used in Eastern Asian countries such as Japan as a topical treatment against puss-containing skin diseases, including furuncle due to its high antimicrobial activity.

Cryptomeria Japonica Leaf Extract: Could not find any significant research/studies on this ingredient. They all center around the wood or oil, not the leaf extracts

Nelumbo Nucifera Leaf Extract: Antioxidant + Potentially anti-inflammatory

Sodium Hyaluronate: Hydrating (water-binding properties) + Wound healing (promotes microcirculation)

Glycerine: Widely used as a quality Hydrator (occurs naturally in skin and its chemical structure attracts water). You can find this ingredient in most good skin-replenishing products.

Charcoal Powder: Sponge-like structure allows optimal absorption of oil and dirt when applied to skin. Check out the link as the article does a great job to explain why scientifically.

Allantoin: Moisturizing (Emollient: provides a layer of protection to help prevent water loss)

Hydrolyzed hyaluronic acid: Hyaluronic Acid is a relatively big molecule that tends not to penetrate the skin very deep. After its rise to popularity, different formulators have created smaller or different versions of this molecule. Hydrolyzed hyaluronic acid means that this molecule has been ruptured into smaller parts. Depending on the final size of the molecule, it can have different properties. L'Oréal does not specify the size, but the properties all center around hydration/moisture, some even exhibiting anti-inflammatory and skin-repairing properties.

Camellia Sinensis Leaf Powder: Green tea leaf extract is known to be a powerful antioxidant, anti-inflammatory, and antimicrobial compound. There shouldn't be a massive difference between the 'extract' and 'powder' versions of this plant since powders are the dried-up version of the extract. Some substances lose potency as well as important compounds when the dehydration process occurs, so the powder version might be less 'powerful' or contain fewer 'actives.' These are the properties of Camellia Sinensis Leaf Extract (Green tea): Antioxidant (Polyphenol) + Anti-inflammatory (Polyphenol) + Antimicrobial (Catechins).

Saccharomyces Ferment:  🔴[Not enough research] "According to manufacturer info it's rich in all kinds of good-for-your-skin things: essential minerals, amino acids, beta-glucan, and vitamins. It's definitely great for skin moisturization and soothing and might have some skin brightening and wrinkle repair magic activity as well." But there is no independent research nor any papers of the manufacturer I could find regarding this statement. There is one study on Saccharomyces cerevisiae extract, which points to Antioxidative properties.

Hydroxyacetophenone: Acts as a preservative and might have some antioxidative properties (depend on derivative used)
♦️Controversial Ingredients:
Chromium Oxide Greens (Ci 77288): A green colorant. Some colorants can irritate the skin (notably blue, yellow, and red dyes). Chromium Oxide Greens is permitted to be used in externally applied cosmetics but is not permitted in lip products by the FDA - probably to minimize oral ingestion. There are a couple of concerns with this pigment: nano-scale ingredients always come with a risk of potential absorption into the bloodstream when applied to the skin. This comes with worries about toxicity, carcinogenicity, and irritation. When it comes to Chromium Oxide Greens, the consensus is that it is not bioaccumulative nor toxic to the skin. Chromium Oxide (known as Chromium III) is actually ''an essential element in humans, with a daily intake of 50 to 200 µg/d recommended for adults.'' There is a risk of lung irritation or toxicity, but this is if you inhale the powder - which you won't be doing with this mask. You can read this informative Hazard summary from the United States Environmental Protection Agency (US EPA). I think the concentration at which it is used in this product is fine and in accordance with suggested FDA guidelines. Unless you are inhaling or ingesting visible concentrations of this pigment, it's safe to use. However, keep in mind that I am not a chemist nor a dermatologist.
Rosmarinus Officinalis (Rosemary) Leaf Oil [Less than 0.1%]: Antimicrobial + Antioxidant + Perfuming (The Cosmetic Ingredient Review Expert Panel deemed the use of this oil is safe when used at this concentration, but always do a patch test to be sure your skin won't react badly)
+A lot of people assimilate alcohol and fragrances in skincare to dehydration and irritation. I would recommend that you watch this video: "Is Alcohol Safe in Skincare Products?" (by Liah Yoo, who worked at Korea's largest beauty company, AmorePacific and now also has her own brand: KraveBeauty) and consult the links provided in the infobox which refer to published scientific studies and articles. The main point is: yes, alcohol and fragrance can be very stripping and irritating to the skin, but it all depends on how they are used and combined in the final formulation and of their ratio, the reactions they have with other ingredients, etc…
+HOW TO USE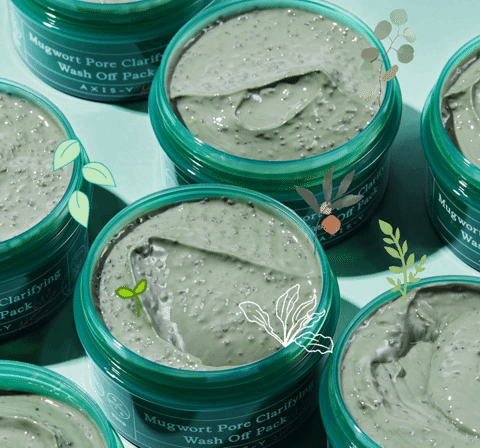 +CLAIMS ON BENEFITS

Claims from the AXIS-Y product page.

Unclogs pores and improves the appearance of pores: You won't see a difference in the size of your pores. To actually tighten them, you need something to stimulate volume, as pores are essentially a small curved depression formed by a skin opening. This mask won't do this, but it will unclog them thanks to different clays and Charcoal powder which absorb oil and dirt from the skin. I have a couple of blackheads on my cheeks that haven't budged, but the ones on my nose have noticeably cleared up after two weeks of usage. I honestly did not expect them to get cleared up in any way, so I didn't take a 'before' picture (oops), so no proof for you; you'll just have to trust me on this one. Also, if nose blackheads are of particular concern for you: after you use the mask, you can rub your nose with a towel that will loosen them and remove them more efficiently.

Calms inflammation and irritation: Yes, yes, and yes. This mugwort clay mask incredibly calms down inflammation and irritation. Artemisia Princeps Extract is an extraordinary anti-inflammatory agent and is present at 61% concentration here. I think combining the absorbing power of clay with the calming power of mugwort is a genius idea. The rest of the ingredients are also primarily anti-inflammatory, with a couple of good hydrating ones. This makes this product suitable for dryer skin and aligns with my personal acne-care philosophy: building up the skin barrier instead of attacking it and drying it up. The pictures down below speak for themselves. As you know, when I test out any product, I use it as a stand-alone product, and I achieved this reduction in acne and inflammation in just three uses. Yes, I took am shooketh.
However, it's important to note that the area in which I am currently getting most of my acne still got more acne. I'm using a surgical mask every weekday from 9 am to 5 pm, which has triggered mask acne on my chin. When I use the AXIS-Y Mugwort Pore Clarifying Wash-Off Pack on Friday or close to the weekend (when I don't wear a surgical mask because I'm home), my chin acne dramatically decreases but increases again by Tuesday or Wednesday. So the clay mask isn't preventative when it comes to mask-acne. It "only" treats what is there. But I did get my period and did not get my usual pimple-period, so it is seemingly preventative for that. I think the Mugwort Pore Clarifying Wash Off Pack alone isn't going to remove or prevent all of your acne, but it is a magic worker when it comes to dramatically decreasing it.

3.Exfoliates the skin with Adzuki Bean granules: If you've read my previous reviews, you know by now that I'm not a fan of physical exfoliation. However, I'm not mad about the Adzuki beans because they are quite mushy and soft, so they won't damage your skin or wound your acne as harder beads would. Adzuki beans are also biodegradable, which is good news for our poor planet. I tried exfoliating with them but did not see much of a difference. If you want to exfoliate your skin, stick to chemical or enzymatic exfoliation y'all. Think The Ordinary AHA 30% + BHA 2% Peeling Solution (9$), or my personal favorite: SkinCeuticals Blemish + Age Defense Serum (92$).
  It's recommended to use this mask for 15mins, but if you have dry or sensitive skin, use it for 10 mins instead. This way, it won't dry up, which will limit potential loss of hydration or irritation.
For all my acne peers out there, If you want to maximize this clay mask's effectiveness, you can try to use it as a spot treatment for 10 minutes or less every day or as frequently as how well your skin can handle it. I feel like I wasn't able to get better results because I was limiting myself to the three times a week recommendation. While I don't recommend using the mask on your whole face more than three times a week, using it as a spot treatment should be okay. If you don't want to do that or you think your skin is too irritated or sensitive to handle it, try incorporating something like the SOME BY MI Aha/Bha/Pha 30 Days Miracle Toner or the Pyunkang Yul Acne Toner. They both act as preventative acne products.
If you're looking for a clay mask, this is it. I'd recommend it to any skin type except to people with sensitive skin. While I think the mask has low chances of triggering any irritation, it does contain Rosemary Leaf Oil and Chromium Oxide Greens, which could irritate you. If you have oily, acne-prone, or combination skin, you will greatly benefit from this masks' properties, and it will be a great add-on to your skincare routine. If you have normal or dry skin, you probably won't see much of a difference with your skin, so only purchase this if you like using the occasional clay mask for purification/detoxification/cleaning purposes - or just for fun, honestly.
+PROS:
Great price/quality/quantity ratio

Reduces acne

Balances out skin oil-levels.

Potent anti-inflammatory ingredients

Reduces blackheads on nose with frequent usage

Reduces mask acne

Works with most forms of acne (except mask-acne)
-CONS:
It contains some potentially sensitizing ingredients: the essential oil and green colorant). Although I don't condone their presence on mask products since they usually don't sit on your skin for enough time to cause any damage, I could still do without them.
💌Score: 4.8/5 --- This won't be getting a full score due to the presence of Rosemary essential oil and green colorant. Otherwise, this is one of my newest favorite products and probably my favorite clay mask so far. Clay masks tend to be either too powerful and drying or only do one thing (i.e., absorb oil and impurities). AXIS-Y combines classic clay mask use with powerful anti-inflammatory and antioxidative ingredients that support a healthy skin barrier.

+❗This product was sent to me by AXIS-Y❗[But science-based logic doesn't lie]
+Yesstyle, using this link: US$ 21.50 - If you use my code: DEWILDE you can get up to 5% off on any Yesstyle purchase at checkout.