[REVIEW] SkinCeuticals Blemish + Age Defense Serum
Price (using this link): 92$

Texture: Simple non-sticky liquid, with more body than water.

What you get: 30 ml

Cruelty-free: No

Instagram: @skinceuticals

+INGREDIENTS
Ingredients: Alcohol Denat, Water, Methylpropanediol (Solvent), Glycolic Acid, Diisopropyl Adipate (Emollient + Solvent), Octadecenedioic Acid,♦️ Hydroxyethylpiperazine Ethane Sulfonic Acid, Citric Acid, Capryloyl Salicylic Acid, Sodium Hydroxide (Buffering), Polyquaternium-10 (Viscosity Controlling)

🍬Interesting Ingredients:
Glycolic Acid + Citric Acid: All of these are forms of AHAs (Alpha Hydroxy Acids), a class of acids that reduce cell adhesion in the top layer of the skin (decrease cellular bond between corneocytes), which leads to an exfoliating effect. AHAs have also been shown to increase the production of mucopolysaccharides and collagen in the skin. [Anti-Acne + Anti-Aging + Brightening + Antioxidative]

Hydroxyethylpiperazine Ethane Sulfonic Acid: Exfoliating (This acid activates natural enzymes when applied on the skin, these enzymes break the bonds of dead skin cells, resulting in exfoliation)

Octadecenedioic Acid: Brightening +Anti-Acne (Exfoliating)

Capryloyl Salicylic Acid: A derivative of Salicylic Acid created by L'Oréal. It "has a larger molecular size and along with its fatty acid structure has been shown to penetrate the skin slower than salicylic acid," which means that it is less irritating and milder in effect than when it comes to anti-acne and peeling capacities. Studies made on this ingredient are all supported by L'Oréal, a noteworthy one proves its efficacy as a peeling agent in reducing hyperpigmentation and fine lines.
♦️Controversial Ingredients:
Alcohol Denat: Antimicrobial/Antibacterial + Solvent + Viscosity Controlling + Astringent
Hydroxyethylpiperazine Ethane Sulfonic Acid: pH buffer (Has a neutral pH of 7.0 to 7.6, which, combined with other acids of lower pH, acts to balance out the final formulation) * Paula's choice points out that this acid "can generate free radical damage," but the research isn't done on cells, and the only one I could find established oxidative species when gold and HEPES were present together, as a direct quote to that study: "Only HEPES or Au(III) itself did not damage DNA."
A lot of people assimilate alcohol and fragrances in skincare to dehydration and irritation. I would recommend that you watch this video: "Is Alcohol Safe in Skincare Products?" (by Liah Yoo, who worked at Korea's largest beauty company, AmorePacific and now also has her own brand: KraveBeauty) and consult the links provided in the infobox which refer to published scientific studies and articles. The main point is: yes, alcohol and fragrance can be very stripping and irritating to the skin, but it all depends on how they are used and combined in the final formulation and of their ratio, the reactions they have with other ingredients, etc…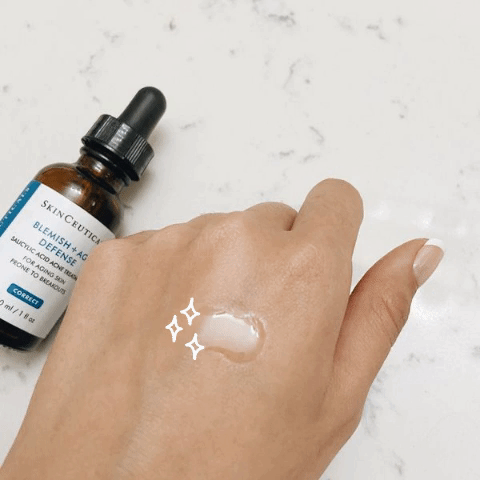 +CLAIMS
Claims from Skinceuticals product page.


Reduces excess sebum production: The leading cause of sebum overproduction is hormonal imbalance. Other causes can be genetic, a compromised skin barrier (when the top layer of your skin is damaged, your body starts to compensate by producing more sebum to help with the hydration loss), and diet - there are more causes, but I'll stick to these simpler ones. Chemical exfoliation can reduce sebum production by unclogging pores and getting rid of the sebum stuck inside of them. I have seen a difference in my oily T-zone, which became less oily after using the SkinCeuticals Blemish + Age Defense Serum, but I don't have very oily skin, to begin with. Although I believe that oily skins would benefit from the sebum reduction, this serum alone will not fix this issue. If you're looking to fix this, you need to use a product that actively reduces the triglycerides and fatty acids that sebum is composed of. I'd recommend a product like The Ordinary Niacinamide 10% + Zinc 1%, which has significantly balanced out my skin. You'd also need to apply adequate hydration to help your skin barrier get healthier, something like the Klairs Fundamental Watery Oil Drop or their Supple Preparation Toner.

Improves the appearance of blotchiness, blemishes, and uneven skin tone: Yes, yes, and yes. This is one of the best products I've ever used on my skin to clear up these issues. Blotchiness is characterized by "patches of skin that are discolored due to differences in melanin level." Since most active ingredients in this serum are peeling agents that have been proven to reduce hyperpigmentation, it's only logical that it helps with it. I have personally seen a considerable difference in pigmentation problems, but note that it will take some time: you'll start to notice a difference by around week 4. As for blemishes/acne, this is where I saw the most significant difference. I had used this serum during a very severe acne phase a few years ago, and it was able to completely clear it up. I had cystic patches of acne on my chin and cheeks, as well as texture bumps all over my forehead. After about a week of using this, my acne had started to clear up. And after about a month of use, my acne had disappeared, and my skin texture was smoother. This is why I recommended this serum in my [10] Anti-Acne products that actually work + A Skincare routine blog post.

Decongests clogged pores: Just have a look at the in-depth ingredient list above, and you'll understand why this serum does indeed decongest clogged pores, and very effectively so.

Diminishes visible signs of aging (Fine lines): This is where I saw the least difference. Fine lines are usually due to a lack of hydration, while wrinkles are caused by a reduction in collagen and elastin as well as chronic fine lines. While Glycolic Acid and Citric Acid have been shown to increase mucopolysaccharides' production (moisturizing ingredients because of their water-binding capacity) and collagen in the skin, these properties work in a preventative anti-aging way. And they will also slightly reduce the current wrinkles that you have (since this is what most studies point toward). But fine lines in specific are better dealt with hydrating antioxidative products like the Blithe Tundra Chaga Pressed Serum or the SKIN&LAB Red Serum.

Ideal for acne-prone, oily, combination, and aging skin types: Well, yes, obviously.
Although my skin was perfectly fine with using this serum every day, I think it's better to ease into it by using hydrating non-sensitizing products. This is to avoid risks of irritation or over-peeling. Again, I'd recommend products like the Klairs Fundamental Watery Oil Drop or their Supple Preparation Toner. Another thing to point out is to always wash your hands after using it because if the product stays on them, they will also start to peel.
This is my favorite exfoliating product - ever. There is no stinging upon application, the results start to appear pretty quickly, and it doesn't leave your skin feeling tight or dry.
Since I think exfoliation should be a big part of any skin routine, specifically for people in their twenties and older (since skin cell renewal rates decrease with age), I would recommend the SkinCeuticals Blemish + Age Defense Serum to anyone. The serum usage should be dependent on how much you need it, for example: people with normal skin don't need to use it every day. They could use it from 1 up to 3 times per week to maintain regular healthy exfoliation of their skin cells. For acne-prone skin types, this serum is formulated to be gentle enough to apply once or twice daily. If you have active breakouts, start with once daily and see how your skin reacts. If you don't have active breakouts, using it up to 3 times per week to avoid any breakouts should be fine. For oily skin types, you could probably use this every day. For sensitive skin types: DO A PATCH TEST! See how your skin reacts, and determine what level of usage works best with your sensitivity levels. As for my dry skin friends, this should help with dry patches and flaky skin, but be sure to add extra layers of hydration to your skincare routine. All of these recommendations of usage should come with hydration: do not exfoliate without hydrating or moisturizing your skin.
Before raging on about how alcohol denat is going to dry out your skin: yes, denatured alcohol can be overly stripping and drying, but the way it is incorporated in this particular formulation doesn't make it so. It just works as a penetration enhancer to the acids.
If you've read any of my skincare product reviews on expensive products, you probably know that I seldom think that a hefty price tag is justified. Most high prices are not reflected in the quality of ingredients lists and overall skin results, but the SkinCeuticals Blemish + Age Defense Serum is one of the rare products where it is. I have never used anything as effective.
I know people will want me to suggest a dupe, and this is the one I can recommend: SOME BY MI Aha/Bha/Pha 30 Days Miracle Toner at 14$. This toner has some very good anti-acne properties and is a good preventative anti-aging treatment. But it falls short compared to the SkinCeuticals serum in efficiency in combating acne and hyperpigmentation and in its efficacy in treating more mature skin when it comes to anti-aging properties.
*Note: I saw no improvement with blackheads.
+PROS:
Effective selection of exfoliating acids

No nonsense ingredients (essential oils, fragrance)

A great solution for acne and hyperpigmentation.

A good add-on to an anti-aging routine.
-CONS:
The price tag
⚕️Score: 5/5 ——— Efficient chemical exfoliating product. With well-researched ingredients that work and results that are quick to show.
+AMAZON
+Yesstyle: If you use my code: DEWILDE you can get up to 5% off on any Yesstyle purchase at checkout.