[REVIEW] Blithe Tundra Chaga Pressed Serum (Before and After)
Price (use this link): 34.35$ (If you use my code: DEWILDE you can get up to 5% off on any YesStyle purchase at checkout)

Texture: Firm, Pudding-like texture.

What you get: 50 ml

Cruelty-free: Yes



+INGREDIENTS
Ingredients: Inonotus Obliquus (Mushroom) Extract(60%), Water, Glycerin, Diglycerin (Skin-Identical Ingredient + Moisturizer/Humectant), Butylene Glycol (Moisturizer/Humectant + Solvent + Viscosity Controlling), 1,2-Hexanediol (Solvent), Triethylhexanoin (Emollient + Perfuming), Hydrogenated Vegetable Oil (Emollient), ♦️Cetearyl Alcohol, Caprylic/Capric Triglyceride (Emollient), ♦️C12-16 Alcohols,♦️ Caramel, Limnanthes Alba (Meadowfoam) Seed Oil, Acrylates/C10-30 Alkyl Acrylate Crosspolymer (Viscosity Controlling + Emulsion Stabilising), Polyacrylate-13 (Thickener), Pentylene Glycol (Solvent + Moisturizer/Humectant), Palmitic Acid (Skin-Identical Ingredient + Emollient + Emulsifying), Hydrogenated Lecithin (Emollient + Emulsifying), Caprylyl Glycol (Moisturizer/Humectant + Emollient + Deodorant), Polyisobutene (Viscosity Controlling), Glyceryl Acrylate/Acrylic Acid Copolymer (Moisturizer/Humectant + Viscosity Controlling), Potassium Hydroxide (Buffering), ♦️Triethyl Citrate, Adenosine, Polysorbate 20 (Emulsifying + Surfactant/Cleansing), Sorbitan Isostearate (Emulsifying), Disodium EDTA (Chelating + Viscosity Controlling), Methyldihydrojasmonate, Juniperus Mexicana Oil, ♦️Citrus Aurantium Bergamia (Bergamot) Fruit Oil, ♦️Pelargonium Graveolens Flower Oil, Sparassis Crispa Extract, Candida Bombicola/Glucose/Methyl Rapeseedate Ferment (Antimicrobial/Antibacterial + Surfactant/Cleansing + Deodorant), Olea Europaea (Olive) Fruit Oil, Argania Spinosa Kernel Oil, Alteromonas Ferment Extract


🍄Interesting Ingredients:
Inonotus Obliquus (Mushroom) Extract [60%]: Antioxidative + Potentially Anti Hyperpigmentation and Photoprotective (this study + this one) + Contains Beta-Glucan [source] which: Protects against irritation and environmental stress (the molecules link together to form a barrier on the surface of your skin) + Antibacterial/Wound healing (stimulate white blood cells to attack pathogens) + Hydrating (acts as a humectant (chemical structure attracts and traps water molecules)) + Anti-aging (Boosts collagen production) + Antioxidant

Glycerine: Widely used as a quality Hydrator (occurs naturally in the skin and its chemical structure attracts water). You can find this ingredient in most good skin replenishing products.

Limnanthes Alba Seed Oil (Meadowfoam): Emollient + Antioxidant + Skin-soothing

Adenosine: Anti-aging (collagen stimulation pathway) + Wound healing (collagen stimulation pathway) + Anti-inflammatory (inhibits neutrophils, white blood cells part of the inflammatory response)

Sparassis Crispa Extract: 🔴[Not enough research] Potentially wound healing + Contains Beta-glucan [source]

Olea Europaea (Olive) Fruit Oil: Antioxidant + Emollient 🔴*Might not be suitable for acne-prone skin: a couple of studies found a correlation between Oleic Acid (The main fatty acid component of olive oil) and acne formation.

Argania spinosa Kernel Oil : Antioxidant + Hydrating + Anti-flaking agent (dry patches)

Alteromonas Ferment Extract: 🔴[Not enough research] According to its manufacturer, it ''soothes and reduces irritation to sensitive skin''. But no studies/research/trials are currently made on this ingredient.
♦️Controversial Ingredients:
Cetearyl Alcohol: Emollient + Viscosity Controlling + Emulsifying + Surfactant/Cleansing + Emulsion Stabilising

C12-16 Alcohols: Emollient + Viscosity Controlling + Emulsion Stabilising

Caramel (Colorant): Some colorants can cause irritation to the skin (notably blue, yellow and red dyes), but this corolant is made ''by controlled heat treatment of food-grade carbohydrates'' [considered safe for use in cosmetics]

Triethyl Citrate: Perfuming

Juniperus Mexicana Oil: Perfuming

Citrus Aurantium Bergamia Fruit Oil (Bergamot): Perfuming + Possibly Antiseptic

Pelargonium Graveolens Flower Oil: Perfuming + Possibly Antimicrobial and Antioxidative.

A lot of people assimilate alcohol and fragrances in skincare to dehydration and irritation. I would recommend that you watch this video: "Is Alcohol Safe in Skincare Products?" (by Liah Yoo, who worked at Korea's largest beauty company, AmorePacific and now also has her own brand: KraveBeauty) and consult the links provided in the infobox which refer to published scientific studies and articles. The main point is: yes, alcohol and fragrance can be very stripping and irritating to the skin, but it all depends on how they are used and combined in the final formulation and of their ratio, the reactions they have with other ingredients, etc…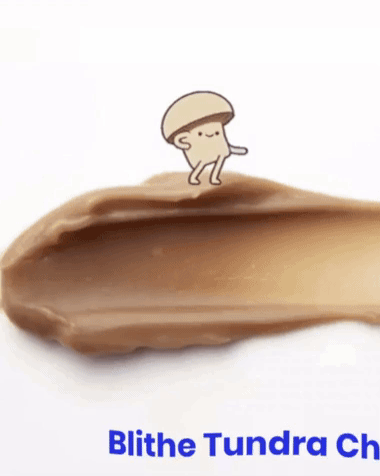 +claims
Claims put together from several sources: Blithecosmetic.com + Amazon Blithe page + Yesstyle Korean Blithe Pamphlet.
Anti-aging: Adenosine improves elasticity/saggy skin and regeneration: Yes, this is an anti-aging product. Although this can't be accurately tested unless I keep using this product and see how my skin changes over the next 5 to 10 years, we can base ourselves on the ingredient properties, and they're pretty good. The principal constituent of the Blithe Tundra Chaga Pressed Serum is Inonotus Obliquus (Chaga Mushroom) Extract (60% of the formula), which contains Beta-Glucans that have been proven to promote collagen synthesis in skin cells. The rest of the active ingredients are hydrating and antioxidative. Since dryness and oxidative stress of any organ, including the skin, lead to premature aging, these are good ingredients to prevent it. The brand mainly promotes adenosine as the main 'anti-aging' factor of the formula, and this is true since this nucleoside also encourages collagen production. Still, if you look at its position in the ingredients list, it doesn't look like its present in enough concentration to impact the overall mechanism of the product. Instead, most of the ingredients work synergistically with their properties to give this formula its anti-aging benefits. However, this isn't a serum whose function is mainly anti-aging. Chaga Mushroom contains about 9.70% of beta-glucan on average, which is higher than most mushrooms. Still, in comparison, a cream that contains higher amounts of this substance would be a better anti-aging one. Moreover, this claims says that the product will 'improve elasticity,' I'm pretty sure it will do no such thing for the simple reason that you would need ingredients that promote elastin (the protein which gives skin its elasticity) productions, there are no such things in this formula; although some theorize that Beta-glucan does this, it's not yet proven. If you're looking for a potent anti-aging product, try checking out the AMPLE: N Peptide Shot Ampoule instead. Or at least something with more anti-inflammatory ingredients, since inflammation is also strongly linked to the skin's premature aging. 

Long-lasting Hydration + Smoothes out wrinkles: This has probably become one of my favorite hydrating products. This pressed serum is one of the rare products that I use, and that makes me feel like I can go on with my day without worrying about Hydration or moisture loss. Even if you have dehydrated skin, this will do the trick, as you can very easily layer it on. It's like it simultaneously creates a hydrating field and a barrier of moisture to enclose it in. Personally, my skin is left hydrated and bouncy all day and ends up looking more healthy. As for the smoothing out part, if you have deep wrinkles, this won't do anything to them, but if you have fine lines, it will plump them up and make them appear less noticeable.

High in nutrition: I don't quite agree with this claim. Nutritious products bring in minerals and vitamins to your skin; this one doesn't have any ingredients that would be qualified as such. If you're looking for nutrition, try the SKIN &LAB Red Serum, you will see the difference in the ingredient list itself.

Moisture/oil balance in skin is adjusted: I have personally woken up with less oiliness in my T-zone, but I wouldn't go as far as to say that this moisture/oil balance has been adjusted (I've finished using the whole product as I state this). Bringing in hydration and moisture is part of the equation to achieve this, but so is using products that will absorb the oil from your skin and changing things that are making your skin act out this way: from food to stress levels. What I'm saying is, the Blithe Tundra Chaga Pressed Serum alone won't achieve this.

Non-sticky: This depends on how much of the product you put on. If you put on just enough, this will not leave you with a feeling of stickiness, but the more you put on, the more you feel like there's something on your face. Regardless, your skin won't feel mate, but it won't feel sticky also.

 Thirty-six hours Slow Cooling Process: Nutrients and moisture of the serum are compressed without damage through a 36-hours slow cooling process which maintains serum quality, light application, and superior absorption power: According to Glowrecipe: ''chemists use what is called 'slow cooling' over 36 hours, instead of flash heating, to preserve ingredient efficacy during processing''. I couldn't personally find much information regarding this process comment much; from a scientific point of view, this seems like a logical statement since fast and hotter methods can destroy proteins, but don't quote me on that. 
As can be seen from the before and after pictures, it's not that there is something specific about your skin that becomes better, as marked from the arrow, the deeper wrinkles don't get filled in, but the overall appearance of the skin looks and feels nicer. A good portion of my smile lines are plumped up but aren't noticeable in these pictures.
I highly enjoyed using this serum, from its texture to luxurious application, to the way it melted and glided on my skin and to -more importantly- how plumped up, radiant, and healthy it made it look. This is a product that I would be more than happy to repurchase and use if it wasn't for the presence of its many perfuming ingredients. I say this every time a product has fragrant elements: although you may not currently have a sensitive reaction to them, they have the potential to be sensitizing in the long run, which means that with constant usage, your skin might eventually get irritated and sensitized to them. As customers become educated on how the repeated use of fragrant ingredients can potentially ruin their skin, I hope brands will reformulate their products to either remove them completely or incorporate synthetic fragrant compounds without the aromatic compounds that produce these reactions.
  I would still use this serum as it hasn't triggered my sensitive lip area when applied there. And due to the simple reason that there is no fragrant-free dupe for it currently available in the market- to my knowledge. 
  My recommendation for usage would extend to people with normal, dry, mature, and even combination skin. If you have sensitive skin, stay away from any fragrant-containing products, and If you have active acne, your skin's wounded status makes it so that it is more prone to sensitization, so the same applies to you. Check out this blog post instead: [10] Anti-Acne products that actually work + A Skincare routine. I didn't have active acne while trying this pressed serum out, and it didn't trigger it, nor did it further irritate the period-pimple I usually get. Finally, if you have oily skin, I don't think you'll enjoy this texture, so I won't recommend it to you, but if you insist, maybe trying out the sample size first would be smarter (15.23$ instead of 34.35$).
+PROS:
Gets absorbed deep into the skin

Skin feels hydrated and plumped all day long

Low potential of causing breakouts or clogging pores

Very fun texture and experience

Serves as a hydrating+serum+moisturizer step

Good price/quality ratio
-CONS:
Contains

Presence of perfume and colorants which could sensitize the skin.
🍄Score: 3.7/5 ——— I greatly enjoyed using this hydrating and moderately anti-aging product. Its ingredients please me, but the presence of colorants and fragrance which serve no purpose and are potentially sensitizing, make it so that it won't get a higher score.