[REVIEW] AMPLE: N Peptide Shot Ampoule (Before and After)
Price (use this link): 28.52$ (If you use my code: DEWILDE you can get up to 5% off on any YesStyle purchase at checkout)

Texture: Gummy liquidy texture

What you get: 100 ml

Cruelty-free: No
+INGREDIENTS
Ingredients: Water, Glycerin, Butylene Glycol (Moisturizer/Humectant + Solvent + Viscosity Controlling), Dipropylene Glycol (Solvent + Perfuming + Viscosity Controlling), ♦️Alcohol, PEG-32 (Moisturizer/Humectant + Solvent), Biosaccharide Gum-1, Niacinamide, Trehalose (Moisturizer), Adenosine, Acetyl Hexapeptide-8, Panthenol, Arginine, Hydrogenated Lecithin (Emollient + Emulsifying), Β-Glucans, Dipotassium Glycyrrhizate, Palmitoyl Pentapeptide-4, Pearl Extract, Dimethicone (Emollient), PEG-60 Hydrogenated Castor Oil (Emulsifying + Surfactant/Cleansing), 1,2-Hexanediol (Solvent), Carbomer (Viscosity Controlling + Emulsion Stabilising), Xanthan Gum (Viscosity Controlling + Emulsifying + Surfactant/Cleansing + Emulsion Stabilising), ♦️Mica, Sodium Palmitoyl Sarcosinate (surfactant/cleansing), Glyceryl Acrylate/Acrylic Acid Copolymer (Moisturizer/Humectant + Viscosity Controlling), Titanium Dioxide, ♦️Caramel, Calcium Alginate (Viscosity Controlling), Agar (Viscosity Controlling), Gellan Gum (Viscosity Controlling), Polysorbate 20 (Emulsifying + Surfactant/Cleansing), Propylene Glycol (Moisturizer/Humectant + Solvent + Viscosity Controlling), Capryl Glycol (Moisturizer/Humectant + Emollient), Glyceryl Caprylate (Emollient + Emulsifying), Palmitoyl Oligopeptide, Phenylpropanol (Perfuming, Solvent), Lactic Acid, Glycolic Acid, ♦️PVOH, Phenoxyethanol (Preservative), ♦️Parfum, Ethylhexylglycerin (Preservative), Tetrasodium EDTA (Chelating)
*Peptides at 10050 ppm
💉Interesting Ingredients:
Glycerin: Widely used as a quality Hydrator (occurs naturally in the skin and its chemical structure attracts water). You can find this ingredient in most good skin-replenishing products.

Biosaccharide Gum-1: 🔴[Only information available is provided by the manufacturer: Groupe Solabia] Soothing + Moisturizing + Potentially Anti-aging (Ex-vivo test showed that it stimulated production of Sirtuin-1, a protein involved in UV damage response, oxidative stress, and wound repair,….

Niacinamide: Anti-aging (promotes collagen production and Ceramides synthesis) + Antioxidant (Against UV-induced photocarcinogenesis and photo immunosuppression) + Anti-inflammatory (reductions in the total sebaceous creation of lipids; overproduction is one of the causes of acne)

Adenosine: Anti-aging (collagen stimulation pathway) + Wound healing (collagen stimulation pathway) + Anti-inflammatory (inhibits neutrophils, white blood cells part of the inflammatory response)

Acetyl Hexapeptide-8: Works as a muscle contraction blocker, which ultimately reduces the appearance of fine line and wrinkles due to facial expression. However, it's not an ingredient meant to be used on sensitive or sensitized (due to sun damage for example).

Panthenol: Moisturizing (penetrates deep into the layers and gets converted into Pantothenic Acid (B5)) + Anti Acne (B5) + Wound healing (B5)

Arginine: Antioxidant + Hydrating (acts as a humectant (chemical structure attracts and entraps water molecules)) + Anti-aging (increases collagen production through different pathways)

Beta-Glucans: Protects against irritation and environmental stress (the molecules link together to form a barrier on the surface of your skin) + Antibacterial (stimulate white blood cells to attack pathogens) + Hydrating (acts as a humectant (chemical structure attracts and traps water molecules)) + Anti-aging (Boosts collagen production)

Dipotassium Glycyrrhizate: Prevents hyperpigmentation (Inhibits Melanin-forming activity of Tyrosinase) + Help preserve hyaluronic acid content in the skin)

Palmitoyl Pentapeptide-4 (Another name for Matrixyl, Palmitoyl Pentapeptide-3, or pal‐KTTKS): Anti-aging (Firming/Wound Healing/Moisturizing): stimulates the production of Elastin, Fibronectin, Glycosaminoglycan and collagens (specifically Types I, III and IV). A lot of data back up these claims, and several clinical trials have shown statistically significant decreases in deep wrinkle and skin roughness as well as increases in skin elasticity (results after an average of 8 weeks). It is important to note however that these results were obtained at a concentration of 3% (30000 ppm), and that most manufacturers recommend this ingredient to be used at approximately 2% (20000 ppm) concentration, and that in the this AMPLE: N product, it's only present at 1.005% (10050 ppm (parts per million))

Pearl Extract: 🔴[Not enough research] But a couple one study on human skin points to it being a Moisturizer + Antioxidant + Anti hyperpigmentation (Prevents activation of tyrosinase). And one study conducted on a wound-healing model pointed to it helping with wound healing (Stimulate fibroblast mitosis and collagen deposition)

Titanium Dioxide: When formulated in non-sunscreen products, it's usually used as a: colorant (whiten up the product) + UVA and UVB (eye creams are used during the day so this could be beneficial) + To protect or delay the product from photo-degradation.

Palmitoyl Oligopeptide: On its own, it doesn't have much to show, but combined with pentapeptide-4 (present in the formula), it has been shown to enhance skin rejuvenation" when the extracellular matrix (ECM) is damaged, its repair is initiated ''through processes such as protein synthesis and cell differentiation and proliferation. Most of these functions are related to signaling by peptides that are released from the ECM to cells through cell membrane receptors. Over time, aged skin is characterized by decreased production of new collagen and increased proteolytic activity, resulting in increased collagen degradation. In senescent fibroblasts, there is decreased synthesis of type I collagen, and these cells proliferate at a much slower rate when compared to fibroblasts in young skin.''. Palmitoyl Oligopeptide and Palmitoyl Pentapeptide-3 have been shown to actively participate in this repair signaling process.

Glycolic Acid + Lactic Acid: All of these are forms of AHAs (Alpha Hydroxy Acids), which are a class of acids that reduce cell adhesion in the top layer of the skin (decrease cellular bond between corneocytes) which leads to an exfoliating effect. AHAs have also been shown to increase the production of mucopolysaccharides and collagen in the skin. [Anti-Acne + Anti-Aging + Brightening + Antioxidative] *Do note that if present in very low concentration, they tend to only act as pH buffers to the formula.
♦️Controversial Ingredients:
Alcohol (Antimicrobial/Antibacterial + Solvent + Viscosity Controlling + Astringent) + Polyvinyl Alcohol (PVOH) (Viscosity Controlling) + Parfum (Perfuming): A lot of people assimilate alcohol and fragrances in skincare to dehydration and irritation. I would recommend that you watch this video: "Is Alcohol Safe in Skincare Products?" (by Liah Yoo, who worked at Korea's largest beauty company, AmorePacific and now also has her own brand: KraveBeauty) and consult the links provided in the infobox which refer to published scientific studies and articles. The main point is: yes, alcohol and fragrance can be very stripping and irritating to the skin, but it all depends on how they are used and combined in the final formulation and of their ratio, the reactions they have with other ingredients, etc…

Caramel (Colorant): Some colorants can cause irritation to the skin (notably blue, yellow and red dyes), but this coroland is made ''by controlled heat treatment of food-grade carbohydrates'' [considered safe for use in cosmetics]

Mica (Colorant): ''Earth-derived silicate minerals included in products to give them sparkle and shine as well as varying degrees of opacity.'' [considered safe for use in cosmetics]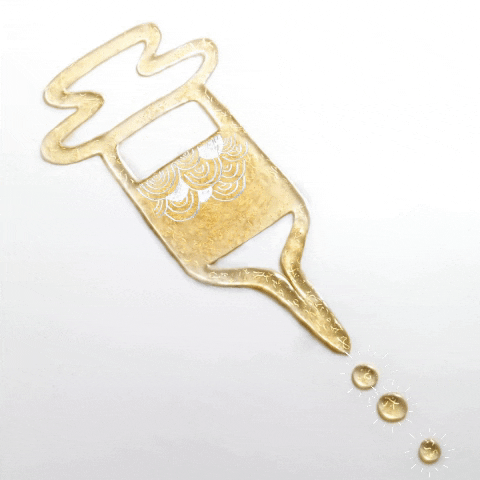 +CLAIMS
Taken from the Coreana Lab product catalog (they own the AMPLE: N brand)
Compact peptide composition. A total of 3 peptides including patented peptides are scientifically structured to help maintain skin elasticity: The AMPLE: N Peptide Shot Ampoule lasted me for about 2 months. I didn't really notice a huge difference in elasticity or any extreme really noticeable anti-aging effects except for my fine lines looking less deep (The results were pretty similar to those achieved with the SKIN&LAB Red Serum). But this is to be expected, as the results are supposed to be more discernible between the 8th and 12th-week mark (so after 2 or even 3 months). Any anti-aging claim can only be really established in the long run: as visible signs of aging don't appear as soon as they should. That being said, the ingredients present in this formula have some science, studies, and research to back up their anti-aging claims. As I mentioned in the above in-depth ingredient review, the 3 peptides present in this formula are well researched and have clinical trials that prove their benefits, each peptide has its own function, but together they enhance each other and yield an overall anti-aging effect by triggering signaling pathways that lead to an increase in the production of certain types of collagens and elastin, as well as a slow but direct reduction of wrinkles as one of them works as a muscle contraction blocker. The other interesting ingredients present in the formula are also anti-aging since they are mostly antioxidizing, hydrating, and anti-inflammatory (skin oxidation, dryness, and inflammation are all linked to premature aging of organs, including that of the skin). That being said, one thing to note is that when it comes to clinical trials and studies, the concentration and delivery mechanism may differ from the ones adopted in a skincare product, so effects may vary by either not being present or being less obvious. I'm not saying this is the case with this serum, but it is something to keep in mind. I personally think this is a great anti-aging product, it is very adequately priced and delivers results in the form of preventative care when it comes to aging. The perfect way to incorporate this ampoule is to start early, before the signs of aging skin that you want to prevent appear. If you have more mature skin and you're actively trying to get rid of deep wrinkles, this could help, but it should not be used as a stand-alone product as it is not potent enough. Just one thing to note on how the claim is formulated above: the peptides themselves are not structured to help maintain elasticity as their molecular structure does not resemble that of elastin, but rather they help in the signaling pathways that lead to an upregulation of elastin production.
The only claim associated with this product is the one mentioned above, but it's very important to note that the AMPLE: N Peptide Shot Ampoule will also plump up your skin and give you a nice hydrating glow. It's very efficiently and easily absorbed into the skin and won't give you any sticky feeling afterward. As for the little filaments inside the bottle: the marketing of this product has you believe that these are the peptides… peptide lengths are usually measured in nanometers, which means that you can't discern them with your naked eyes. There are agents like Agar (see here for Agar Filaments) and Calcium Alginate (see here for Alginate Filaments), which could give rise to such filaments - I'm obviously not 100% sure of what these filaments are composed of as I did not formulate it myself, but I'm 99.9% sure these filaments aren't the actual peptides. They are probably there to add an aesthetic feel to the bottle, I'm not mad about that since they dissolve easily into the skin and are not irritating to it.
However, one annoying thing that I've found with the way this Ampoule is designed is the dropper: I feel like it never dispenses enough product and I need to use it at least twice to feel like I've used enough product on my face.
As you can see from the picture, there is a discernible plumping effect after application of the serum - the result is less dramatic in real life but nonetheless present.
If you have normal, dry or oily skin, and you're looking for a preventative anti-aging product, I'd definitely recommend trying this one out as I enjoyed it and have noticed a difference in my 2 months of use. If you have acne-prone skin that is currently not active, I would still recommend it to you as I do really think it's a great ampoule and it didn't irritate my acne at all, but I'd recommend you try the small one first instead because it the formula has ingredients that could trigger your acne or be irritating to your skin (alcohol + fragrance + colorants). One thing to note, if you have sensitive skin or acne-prone skin that is active is that sometimes I feel a slight tingling when I apply this Ampoule, I won't recommend it to you as I don't think it's adequately formulated for such skin types. For acneic skin, check this post out instead: [10] Anti-Acne products that actually work + A Skincare routine. My biggest complaint with the AMPLE: N Peptide Shot Ampoule is that the formula is not elegant in a sense that is has a lot of things that are only miscellaneous in nature: I don't have a problem with alcohol when it's incorporated with a purpose and non-drying in the way it's incorporated, but the fragrance has no use, if the product really does stink without it, there are several options that are not sensitizing to the skin, and colorants are completely useless.
It's not a revolutionary anti-aging product, but the price range and potency make it a really good one to invest in.
+PROS
Absorbs very easily

Hydrates

Gives a nice shine

Plumps up the skin

Good price/quality ratio

Good preventative product for aging
-CONS
Inefficient dropper

Presence of perfume and colorants
⚗️Score: 3.9/5 --- It would have gotten a much higher score had the formula been free of fragrance and colorants and had the dropper been more efficient. Otherwise, it's a great product.

+AMAZON
+Product link (Yesstyle).
(If you use my code: DEWILDE you can get up to 5% off on any yesstyle purchase at checkout)