[REVIEW] iUNIK Propolis Vitamin Synergy Serum (Before and After)
Price (using this link): US$ 14.44 (If you use my code: DEWILDE you can get up to 5% off on any YesStyle purchase at checkout) or 7.40$ for 15ml (this link)

Texture: Watery with a bit of body to it.

What you get: 50ml or 15 ml

Cruelty-free: Yes.

Instagram: @iunik_official


+INGREDIENTS
Ingredients: Propolis Extract, Hippophae Rhamnoides Fruit Extract, Water, Butylene Glycol (Moisturizer /Humectant + Solvent + Viscosity Controlling), Glycerin, Methylpropanediol (Solvent), Niacinamide, Dipropylene Glycol (Solvent + Perfuming + Viscosity Controlling), 1,2-Hexanediol (Solvent), Rosa Damascena Flower Water, Sodium Hyaluronate, Betaine (Moisturizer/Humectant), Glycosyl Trehalose (Emulsion Stabilising), Honey Extract, Beta-Glucan, Hydrogenated Starch Hydrolysate (Moisturizer/Humectant), Allantoin, Carbomer (Viscosity Controlling + Emulsion Stabilising), Arginine, Hydroxyethylcellulose (Viscosity Controlling + Emulsion Stabilising), Adenosine, Dipotassium Glycyrrhizate, Pentylene Glycol (Solvent +Moisturizer/Humectant) , ♦️Citrus Aurantium Bergamia (Bergamot) Fruit Oil, Centella Asiatica Extract, Portulaca Oleracea Extract, ♦️Hamamelis Virginiana (Witch Hazel) Extract, Punica Granatum Fruit Extract, Ficus Carica (Fig) Fruit Extract, Morus Alba Fruit Extract, Ginkgo Biloba Nut Extract, Caprylyl Glycol (Moisturizer/Humectant + Emollient + Deodorant)
🐝Interesting Ingredients:
Propolis Extract + Honey: Antimicrobial + Antiviral + Antifungal + Antioxidant + Antitumor + Anti-inflammatory + Wound Healing

Hippophae Rhamnoides Fruit Extract:  Anti-inflammatory + Antioxidant || One of the fatty acids it contains (Palmitoleic acid) occurs naturally in our skin and helps with the healing of burns and wounds. It also contains Vitamin C&E, beta-carotene (some research indicates that some forms of beta-carotene get converted into retinol in your skin when applied topically), and lycopene ("Lycopene is present in fruits and vegetables to help prevent damage caused by light") which are all known to soothe redness and wrinkles and even out skin tone.

Glycerine: Widely used as a quality Hydrator (occurs naturally in skin and its chemical structure attracts water). You can find this ingredient in most good skin-replenishing products.

Niacinamide: Anti-aging (promotes collagen production and Ceramides synthesis) + Antioxidant (Against UV-induced photocarcinogenesis and photo immunosuppression) + Anti-inflammatory ( Possible reductions in total sebaceous creation of lipids, overproduction is one of the causes of acne) + Anti-hyperpigmentation (Inhibits Melanin pigment to reach most skin cells)

Rosa Damascena Flower Water: Antioxidant + Anti-inflammatory (both properties are thanks to flavonoids, tannins, saponin, and triterpenoids present in the water extract)

Sodium Hyaluronate: Hydrating (water-binding properties) + Wound healing (promotes microcirculation)

Beta-Glucan [source] which: Protects against irritation and environmental stress (the molecules link together to form a barrier on the surface of your skin) + Antibacterial/Wound healing (stimulate white blood cells to attack pathogens) + Hydrating (acts as a humectant (chemical structure attracts and traps water molecules)) + Anti-aging (Boosts collagen production) + Antioxidant

Allantoin: Moisturizing ( Emollient: provides a layer of protection to help prevent water loss)

Arginine: Antioxidant + Hydrating (acts as a humectant (chemical structure attracts and entraps water molecules)) + Anti-aging (increases collagen production through different pathways)

Adenosine: Anti-aging (collagen stimulation pathway) + Wound healing (collagen stimulation pathway) + Anti-inflammatory (inhibits neutrophils, white blood cells part of the inflammation response)

Dipotassium Glycyrrhizate: Prevents hyper-pigmentation (Inhibits Melanin forming activity of Tyrosinase) + Help preserve hyaluronic acid content in the skin)

Centella Asiatica Extract: Wound healing (promotes collagen production) + hypertrophic scar healing properties in particular

Portulaca Oleracea Extract: Antioxidant (high amounts of Vitamins A and C) + Wound-healing (Decreases surface area of the wound and increases tensile strength to 'seal' wound) + Anti-inflammatory (diminishes inflammatory response pathway)

Hamamelis Virginiana (Witch Hazel) Extract: Wound healing ( Polyphenols and tannins) + Anti-acne (Tannins) + Antioxidant

Punica Granatum Fruit Extract: Anti-aging (Promotes collagen formation inhibits enzymes that break down collagen (Anthocyanidins, ellagic acid, and punicalagin)) + Photoprotective (Polyphenols) + Anti-inflammatory (polyphenol antioxidants, inhibit pro-inflammatory cytokines)

Ficus Carica (Fig) Fruit Extract: Antioxidant (Phenolic compounds) + Hydrating + Reduces Hyperpigmentation + Skin soothing + Anti-aging

Morus Alba Fruit Extract: Potentially reduces hyperpigmentation (Inhibits Melanin forming activity of Tyrosinase) + Antioxidant

Ginkgo Biloba Nut Extract: 🔴 [Not enough research] Potentially Antioxidative.
♦️Controversial Ingredients:
Citrus Aurantium Bergamia Fruit Oil (Bergamot): Perfuming + Possibly Antiseptic
Hamamelis Virginiana (Witch Hazel) Extract: Wound healing ( Polyphenols and tannins) + Anti-acne (Tannins) + Antioxidant *It is also an astringent which can actually disrupt your skin barrier and might make you break out more, but this is only when used in really high concentrations (not the case here).
+A lot of people assimilate alcohol and fragrances in skincare to dehydration and irritation. I would recommend that you watch this video: "Is Alcohol Safe in Skincare Products?" (by Liah Yoo, who worked at Korea's largest beauty company, AmorePacific, and now also has her own brand: KraveBeauty) and consult the links provided in the infobox which refer to published scientific studies and articles. The main point is: yes, alcohol and fragrance can be very stripping and irritating to the skin, but it all depends on how they are used and combined in the final formulation and of their ratio, the reactions they have with other ingredients, etc…
+HOW TO USE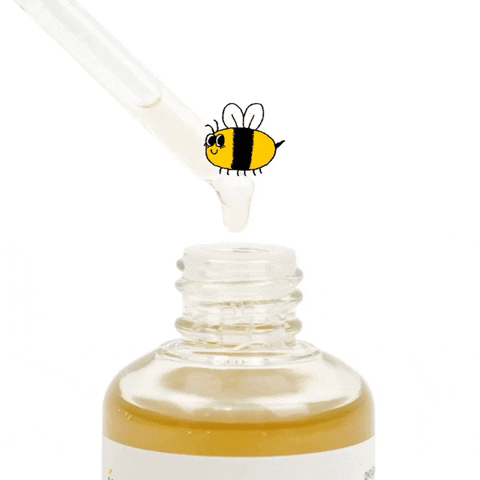 +claims on benefits
Claims taken from the iUnik product page.

Skin Calming: effective calming effect from propolis extract and Centella Asiatica extract: You can read more about the properties of both of these ingredients in the in-depth ingredient section above, but basically, yes, they have soothing properties, and other ingredients on the list are also anti-inflammatory which helps with calming skin. I've had an allergic reaction to cat hair that was on a towel at some point while I was testing this serum, and it really calmed the inflammation and redness down (see picture). I've also had a bit of a rosacea flare-up for some reason (I'm guessing stress lol), but while the iUNIK Propolis Vitamin Synergy Serum did help in reducing it, it didn't completely make it go away. So this claim is valid, but don't expect any miracle. For calming down the skin, my favorite product is still the Klairs Midnight Blue Calming Cream (24.50$), it's more effective, and it even worked on drastically reducing my friend's dermatitis.

Nutrition Boost, skin nutrition from vitamins, minerals, and amino acids: Yes, this serum contains a nice mix of mainly antioxidative vitamins, minerals, and amino acids. It is important to note that free-radical oxygen species cause oxidative stress, premature aging, skin damage, and even cancer- and that all the hype around antioxidative serums is due to their ability to fight these molecules and protect the skin against them. However, whatever 'nutrition boost' my skin had after a month of use of this serum alone isn't really reflected in how my skin looks. I haven't seen much of a difference in oils, brightness, or anything else - which is why I won't include before and after pictures of the whole process.

Vitalizing, skin vitalizing by hippophae rhamnoides fruit extract: From what I've gathered from the reviews I've read, people seem to like this serum due to its ability to give you that 'chok-chok' 'glass skin" 'vitalized' look. I haven't experienced this. When I initially apply the serum, and up to a couple of hours after that, my skin does look shiny (in a good way) and happy, but it's not plump, all my fine lines are still there, and the effect goes away as the product dries down.

Brightening & Wrinkle care: niacinamide and adenosine to brighten skin tone and improve the appearance of wrinkles: Wrinkle care is a big no. I have fine lines, and this serum wasn't hydrating enough to plump them or make them less apparent. There are a couple of anti-aging ingredients here and there that specifically promote collagen formation and maintain healthy skin, so I'm sure that this does provide some kind of preventative aging care, but it's a bit mediocre, in my opinion. As for the brightening of the skin, I experience a bit of it but nothing too incredible. If you want something more potent that will give you noticeable results, I suggest checking out the SOME BY MI Galactomyces Pure Vitamin C Glow Serum (13.8$)
All in all, I have found this serum to be a very 'meh' product. While it does offer some nice soothing care for skin irritation, and it is an antioxidative serum, it contains Citrus Aurantium Bergamia (Bergamot) Fruit Oil, which is a fragrant essential oil that can be sensitizing in the short or long term. In my opinion, it's a bit contradictory to include perfuming ingredients in a serum that claims to be soothing. As for the other properties, while they are all met, they are met in a bit of a mediocre way. There are better products out there on the market. If you're looking for a serum that will give you that healthy, dewy, and that contains antioxidative properties, I suggest trying out the SKIN&LAB Red Serum (~20$) or The Plant Base Time Stop Collagen Ampoule (14.76$), both at around the same price point and are vastly better.
If you want to buy the iUNIK Propolis Vitamin Synergy Serum, I'm not going to go out of my way to stop you, but let me give you additional info for your skin type. I have acne-prone combination skin, and using this serum for a month didn't break me out - nor did it stop new random breakouts from happening.
The serum isn't thick, so people with combination skin should be fine, but it doesn't really absorb quickly, so if you have really oily skin, maybe pass on this one. People with sensitive skins might have a bad reaction due to the essential oil or may have a good reaction due to the presence of the anti-inflammatories and soothing ingredients; it's kind of a gamble there. And finally, people with dry skin: this serum was not hydrating enough to my taste, so I'm pretty sure it won't satisfy you unless you use a lot of it.

+pros:
Reduces inflammation/irritation/redness

Good antioxidative list of ingredients
-cons:
Presence of fragrant compound

Not hydrating enough

It doesn't get absorbed fast

No real difference in the skin - I went back to my original skin of 30 days back after I stopped using this




🍯Score: 2.5/5 ——— MEH. The only thing this product did was to mildly calm down my irritation. Otherwise I saw no results, and this didn't even plump up or adequately hydrate my skin.
+AMAZON
+Yesstyle: (using this link): US$ 14.44 (If you use my code: DEWILDE you can get up to 5% off on any YesStyle purchase at checkout)