[REVIEW] The Plant Base Time Stop Collagen Ampoule (Before and After)
Price (using this link): US$ 14.76 (If you use my code: DEWILDE you can get up to 5% off on any YesStyle purchase at checkout)

Texture: Watery honey

What you get: 20ml

Cruelty-free: Yes

Instagram: @theplantbase_official
+INGREDIENTS
Ingredients: 🔴Hericium Erinaceum (Mushroom) Extract (76.53%), Butylene Glycol (Moisturizer/Humectant + Solvent + Viscosity Controlling), 1,2-Hexanediol (Solvent) , Water , Glycerin , Tremella Fuciformis (Mushroom) Extract (180Mg) , Sodium Hyaluronate, Sodium Polyacrylate (Viscosity Controlling + Emollient + Emulsion + Stabilising + Absorbent /Mattifier), PPG-26-Buteth-26 (Surfactant + Oil Solubilizer), Morus Alba (White Mulberry) Bark Extract, 🔴Opuntia Coccinellifera Fruit Extract, Glycyrrhiza Glabra (Licorice) Root Extract , Diospyros Kaki (Persimmon) Leaf Extract , Polyacrylamide (Viscosity Controlling), PEG-40 Hydrogenated Castor Oil (Emulsifying + Surfactant/Cleansing) , Tromethamine (Buffering) , Carbomer (Viscosity Controlling + Emulsion Stabilising ) , Allantoin , Acetyl Glutamine , Panthenol, C13-14 Isoparaffin (Emollient + Viscosity Controlling + Solvent), Dextrin (Viscosity Controlling + Moisturizer /Humectant + Absorbent/Mattifier) , Ethylhexylglycerin (Preservative + Deodorant) , Adenosine, ♦️Caramel, Disodium EDTA (Chelating + Viscosity Controlling), Laureth-7 (Emulsifying + Surfactant /Cleansing), Beta-Glucan, Aloe Barbadensis (Aloe Vera) Leaf Extract, Ethyl Hexanediol (Solvent), Centella Asiatica (Gotu Kola) Extract, Macadamia Ternifolia (Macadamia) Seed Oil, Retinyl Palmitate , Palmitoyl Tripeptide-5, Pantolactone (Moisturizer/Humectant), Terminalia Ferdinandiana (Kakadu Plum) Extract, Hydrogenated Lecithin (Emollient + Emulsifying) , PEG-5 Rapeseed Sterol (Surfactant/Cleansing + Emulsifying + Surfactant/Cleansing), Cholesterol, Brassica Campestris (Rapeseed) Sterols (Emollient), Ceteth-5 (Emulsifying + Surfactant/Cleansing), Center-3 (Emulsifying + Surfactant/Cleansing), Tocopheryl Acetate, Silica (Viscosity Controlling + Absorbent/Mattifier), Sodium Ascorbyl Phosphate, Sodium Stearoyl Glutamate (Emulsifying + Surfactant/Cleansing)
🦁Interesting Ingredients:
Hericium Erinaceum (Lion's Mane Mushroom) Extract [76.53%]:🔴[Not enough research on Human skin]  Antioxidant (Polysaccharides present in the mushroom significantly enhance skin antioxidant enzymes + Presence of Polyphenols + Presence of β-glucans) + Wound Healing (Plays a role in the regulation of MMP-1, TIMP-1 activities (both molecules play a significant role in healthy wound repair) and collagen protein synthesis) + Anti-aging (Due to all mentioned properties) + Hydrating

Glycerine: Widely used as a quality Hydrator (occurs naturally in skin and its chemical structure attracts water). You can find this ingredient in most good skin-replenishing products.

Tremella Fuciformis (Snow Mushroom) Extract [180Mg]: Antioxidant (Polysaccharides present in the mushroom upregulate the expression of the SIRT1 protein-coding gene, which is involved in the regulation of many pathways, including that of inhibiting pathways that lead to oxidative stress) + Potentially Anti-hyperpigmentation (Melanin (skin pigment) contents and tyrosinase (Enzyme which helps in the production of this pigment) activity is decreased) + Anti-aging (Due to all mentioned properties + Mushroom extracts applied on skin cells increase the synthesis of procollagen type I and reduces MMP-1 expression (this is an enzyme which degrades collagen and is often over-expressed when the skin is exposed to sun damage) + Hydrating 

Sodium Hyaluronate: Hydrating (water-binding properties) + Wound healing (promotes microcirculation)

Morus Alba (White Mulberry) Bark Extract:🔴[Not enough research on the Bark]  but there is research on the fruit, technically the bark should yield at least one or two similar properties as Morus Alba Fruit Extract: Potentially reduces hyperpigmentation (Inhibits Melanin forming activity of Tyrosinase) + Antioxidant

Opuntia Coccinellifera Fruit Extract: 🔴[Not enough research on the Fruit] Potentially wound-healing + Antioxidant

Glycyrrhiza Glabra (Licorice) Root Extract: Prevents hyperpigmentation (Inhibits Melanin forming activity of Tyrosinase)

Diospyros Kaki (Persimmon) Leaf Extract:  Antioxidant (Flavonoids) + Prevents hyperpigmentation (Inhibits Tyrosinase) + Anti-wrinkle (Inhibits Elastase and Collagenase enzymes (they both degrade elastin and collagen present in the skin)) + Photoprotective (Antioxidants protect against UVB rays mutations) + Potentially anti-acne ( Contains amounts of Vitamin A, which reduces sebum production)

Allantoin: Moisturizing (Emollient: provides a layer of protection to help prevent water loss)

Acetyl Glutamine: Anti-Hyperpigmentation (Inhibits melanin synthesis and tyrosinase activation) + Maintains a healthy skin barrier (Hydrating + Moisturizing + ''normalization of stratum corneum exfoliation'') + Wound Healing ( Precursor of Hyaluronic Acid) 

Panthenol: Moisturizing (penetrates deep into the layers and gets converted into Pantothenic Acid (B5)) + Anti Acne (B5) + Wound healing (B5)

Adenosine: Anti-aging (collagen stimulation pathway) + Wound healing (collagen stimulation pathway) + Anti-inflammatory (inhibits neutrophils, white blood cells part of the inflammatory response)

Beta-Glucan (Here it's from schizophyllan): Protects against irritation and environmental stress (the molecules link together to form a barrier on the surface of your skin) + Antibacterial (stimulate white blood cells to attack pathogens) + Hydrating (acts as a humectant (chemical structure attracts and traps water molecules)) + Anti-aging (Boosts collagen production)

Aloe Barbadensis Leaf Extract:  Treats burns (Inhibits thromboxane, which causes a restriction in blood supply to affected skin tissues) + Moisturizer (mucopolysaccharides (water-binding) along with amino acids and zinc) + Wound Healing (Stimulates Collagen production pathways)+ Anti-inflammation (Magnesium lactate in the gel prevents Histamine production)

Centella Asiatica ( Gotu Kola) Extract: Wound healing + hypertrophic scar healing properties + Promotes collagen production + Antioxidant

Macadamia Ternifolia Seed Oil: Very good Emollient (Oleic acid + Palmitoleic acid)

Retinyl Palmitate: Antibacterial +Antioxidant 

Palmitoyl Tripeptide-5:🔴[Not enough research] Anti-aging (It is composed of a chain of amino acids which are said to ''communicate with the skin's collagen production systems and boost its production'') + May improve hydration and skin elasticity (''may interact with hyaluronic acid and elastin production systems'') + Potentially helps to support a healthy skin barrier + The manufacturer of this ingredient did two studies on volunteers which yielded results in the improvement of wrinkle appearance, firmness, and elasticity of the skin, as well as look of pore size.

Terminalia Ferdinandiana (Kakadu Plum) Extract: Antioxidant (Polyphenols + Anthocyanins) + Source of Vitamin C (But it's stability in a formulation is unknown) + Antimicrobial 

Cholesterol: Skin-identical ingredient, in combination with Ceramides (also present in formulation) it aids to maintain a healthy skin barrier + Emollient

Tocopheryl Acetate: Most commonly used form of Vitamin E

Sodium Ascorbyl Phosphate: Stable form of Vitamin C
♦️Controversial Ingredient:
Caramel (Colorant): Some colorants can cause irritation to the skin (notably blue, yellow, and red dyes), but this colorant is made ''by controlled heat treatment of food-grade carbohydrates'' [considered safe for use in cosmetics]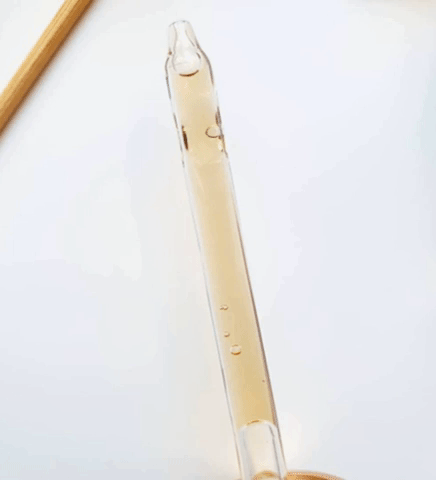 +claims
Claims taken from the product page of The Plant Base.
The brand (like many others) focuses on adenosine and mushroom extracts as its ''main anti-aging components'', this is true since they encourage collagen production. Still, here I will consider each claim encompassing other ingredients since they all work synergistically to give this formula its anti-aging properties.
Anti-wrinkle: "UV light breaks down the collagen and elastin fibers in the skin. These fibers form the connective tissue that supports the skin. As this layer breaks down, the skin becomes weaker and less flexible. The skin starts to droop, and wrinkles appear" [source]. To combat wrinkles, you need an active and potent source or stimulation of collagen and elastin proteins, as well as something to maintain the health of other proteins present in your skin's extracellular matrix. Many ingredients present in this ampoule promote collagen protein synthesis (as stated in the in-depth ingredient list above). And the majority are hydrating and will support a healthy skin barrier. However, none play a significant role in elastin synthesis pathways, nor do they increase critical proteins needed to combat established wrinkles. I don't have intense wrinkles, so I can't attest to this product's efficacy in fighting them, but basing myself on the ingredient list, I don't think that this ampoule alone will play a significant role in subduing them. At best, they will appear less prominent and more hydrated; at the worst, nothing will change much. From what I've gathered from reading studies and seeing what people with more mature skin recommend, to see a change in already established wrinkles, you'd need a combination of exfoliation, specific treatments, and anti-aging ampoules. The exfoliation would remove layers and layers of cells that constitute these wrinkled areas (this is one I'd propose: SkinCeuticals Blemish + Age Defense Serum), treatments like laser or peels would assist with that, and the last step would be ampoules such as this one. Basically, if you have more mature skin, you'd need a more potent ampoule, but this one is good nonetheless.

Anti-aging: Skin aging is a mix of sagging, wrinkles, and discoloration, and the ingredients present in this ampoule all work synergistically to combat these issues. This product is packed with antioxidants to fight free radicals (These cause chemical changes in the skin that lead to aging. The ingredients are also very hydrating and promote moisture retention (dehydrated, dry skin ages faster). And a good portion of them promotes collagen production pathways (which usually decreases with age). Some offer anti-hyperpigmentation and photoprotective effects (which are always an issue as sun damage is a significant cause of premature skin aging, and skin tends to get discoloration and dark spots as it matures). Long story short: if you're looking for a product to add to an anti-aging preventative routine, this one is a fantastic choice.

Radiant glow: A healthy, well-nourished, and hydrated skin equivalents to a radiant glow, which is precisely what you'll end up getting with this serum. I have personally seen a difference in the glow and my overall look as I look fresher and more well-rested.

Reduce Blemishes: If by blemishes they mean pimples, then no. I used this serum for a couple of weeks on its own without any other products, and I got back my occasional acne near my jaw area, so this did not diminish the acne appearance rate. However, if they mean overall skin discoloration by ''blemishes'', there are a couple of anti hyperpigmentation ingredients: so in theory, yes. But the result I got wasn't really out of this world. If you have a hyperpigmentation issue, I'd recommend SOME BY MI Galactomyces Pure Vitamin C Glow Serum, which has yielded much more substantial results with my skin.

Firming: experience the surprisingly fast lifting effect of syn-coll:
First, we need to understand what causes skin to lose its firmness and 'resilience': As you get older, your skin declines in elasticity due to slower tissue regeneration, lower elastin (elastic protein) levels and an increase in production of elastase (the enzyme that degrades elastin), UV exposure also reduces the functionality of the elastic fiber network, furthermore, a decrease in collagen production, and of facial tissue also contribute to saggier skin.
Two ingredients are involved with elastin synthesis in this ampoule: Persimmon leaf extract which inhibits Elastin degrading enzymes ( That are often overexpressed when the skin is exposed to UV rays), and Palmitoyl Tripeptide-5, with a mechanism of action not fully understood when it comes to how it interact with elastin production pathways, but a couple of studies showing that applying 1% or 2.5% of this ingredient (also known as Syn-Coll) yields ''an improvement of firmness'' in volunteer subjects. From this information, in theory, this product should help with firmness, but I personally have not experienced noticeable results. And I'd recommend trying out a product exclusively formulated to target firmness related issue if that is one of your main concerns (like the Primera Wild Seed Firming Water which has soybean extracts which promote elastin and collagen production and inhibits elastase activity)
As you can see from the before and after pictures, my skin is plumper, more radiant, and just overall healthier. Note that the discoloration marks pointed out by arrows in the pictures are acne scars and irritation spots.
As I'm testing this out during the dryer winter months, I can attest to the high hydration. The product is also easily layer-able if you have very dry skin, but since it's only 20ml, investing in a toner like the Klairs Supple Preparation Facial Toner would probably be more cost-efficient.
From everything I've stated in the claims and ingredients in-depth list, it's pretty obvious that I'd recommend this product to all skin types since it is preventatively anti-aging. Even if that' not your goal, it's a great ampoule to maintain healthy skin. The lack of sensitizing ingredients is sure to please sensitive skins, but a patch test is always recommended depending on your sensitivity levels. Even oily skins are sure to enjoy it as it doesn't leave a tacky feeling behind.
+PROS:
Very good price/quality ratio

No essential oil/fragrance or any other sensitizing ingredients

Gets absorbed very fast and doesn't leave any stickiness behind

I don't usually care about packaging, but the pipette is very nicely built

5.5 pH

Almost instantly plumps up the skin
-CONS:
20ml is very little compared to other serums of its genre who offer at least 30ml

The packaging doesn't allow you to see how much of the product you have left (but this might be because some of the ingredients are sensitive to light)

Score: 4.5/5 ——— It would have gotten a higher score if it more adequately delivered on its claims of firmness and 'anti-wrinkle.' Otherwise, this is a pretty great product, incredibly nicely priced, which is sure to yield positive skin results.
+AMAZON
+Yesstyle: (using this link): US$ 14.76 (If you use my code: DEWILDE you can get up to 5% off on any YesStyle purchase at checkout)