[REVIEW] Petitfee Oil Blossom Lip Mask, Camellia Seed Oil (Before and After)
Price (Using this link): 11.03$ (If you use my code: DEWILDE you can get up to 5% off on any YesStyle purchase at checkout)
Texture: Semi-smooth semi-hard balm

What you get: 15 g

Cruelty-free: Yes

Instagram: @petitfee_korea

+INGREDIENTs
Ingredients: Diisostearyl Malate (Emollient), Dipentaerythrityl Hexa C5-9 Acid Esters (Texture Enhancer + Emollient), Hydrogenated Polyisobutene (Emollient + Viscosity Controlling), Microcrystalline Wax (Viscosity Controlling + Emulsion Stabilising), Caprylic/Capric Triglyceride (Emollient) , Beeswax (Emollient + Viscosity Controlling + Emulsifying + Eerfuming) , Ceresin (Viscosity Controlling + Emulsion Stabilising) , Petrolatum (Emollient), Butyrospermum Parkii (Shea) Butter, Eclipta Prostrata Extract, Euphorbia Cerifera (Candelilla) Wax (Perfuming + Viscosity Controlling + Astringent + Emulsion Stabilising ) , Curcuma Longa (Turmeric) Root Extract, ♦️ Fragrance, Phenoxyethanol (Preservative) , Tocopheryl Acetate, Sorbitan Sesquioleate (Emulsifying) , Silica Dimethyl Silylate (Emollient + Viscosity Controlling + Emulsion Stabilising) , Melia Azadirachta Leaf Extract, Ci 77891 (Colorant + Sunscreen), Melia Azadirachta Flower Extract, Moringa Oleifera Seed Oil , Corallina Officinalis Extract, Melia Azadirachta Bark Extract, Ocimum Sanctum Leaf Extract, Camellia Japonica Seed Oil, Simmondsia Chinensis (Jojoba) Seed Oil, Argania Spinosa Kernel Oil, Limnanthes Alba (Meadowfoam) Seed Oil

💮Interesting Ingredients:
Butyrospermum Parkii (Shea) Butter: Moisturizer + Anti-aging (Vitamin A) +Anti-fungal + Anti-inflammatory + Wound healing (Boosts collagen production and promotes cell regeneration)

Eclipta Prostrata Extract:  Antioxidant + Photoprotective (has been shown to absorbs both UVA and UVB irradiation, as well as protect skin cells from UVB-induced toxicity)

Curcuma Longa (Turmeric) Root Extract: Antioxidant (polyphenols) + Anti-inflammatory + Wound healing

Tocopheryl Acetate: Most commonly used form of Vitamin E (Most abundant antioxidant found in human skin, works as a photoprotective agent + Anti-inflammatory ). Popular culture suggests that it also helps in wound healing, but this is not adequately backed up by research.

Melia Azadirachta Leaf Extract: Antibacterial + Antifungal + Anti-inflammatory

Melia Azadirachta Flower Extract: Antifungal (hydroxycoumarin) + Anti-inflammatory (Monoterpenes)

Moringa Oleifera Seed Oil: Antioxidant + Source of vitamins A, C, and E + 🔴Contains Oleic acid, a good emollient, but some studies found a correlation between it and acne formation. However, do note that the studies were made on higher amounts of Oleic Acid than those present in Moringa Oleifera.

Corallina Officinalis Extract: Maintains skin barrier (Regulate lipid barrier processes) + Anti-Aging (Quickens cellular turnover)

Melia Azadirachta Bark Extract: Not enough studies are made on its topical application to the skin.

Ocimum Sanctum Leaf Extract (Tulsi): Antimicrobial + Anti-inflammatory

Camellia Japonica Seed Oil: Anti-aging (Promotes collagen stimulation pathways and reduces MMP-1 expression (this is an enzyme which degrades collagen and is often over-expressed when the skin is exposed to sun damage)) + Moisturizing 

Simmondsia Chinensis (Jojoba) Seed Oil: Rich in Vitamins A, D, and E.

Argania Spinosa Kernel Oil: Antioxidant + Hydrating + Anti-flaking agent (dry patches)

Limnanthes Alba Seed Oil (Meadowfoam): Emollient + Antioxidant + Skin-soothing
♦️Controversial Ingredient:
Parfum/Fragrance: Perfuming *Has the potential to sensitize your skin
A lot of people assimilate alcohol and fragrances in skincare to dehydration and irritation. I would recommend that you watch this video: "Is Alcohol Safe in Skincare Products?" (by Liah Yoo, who worked at Korea's largest beauty company, AmorePacific and now also has her brand: KraveBeauty) and consult the links provided in the infobox which refer to published scientific studies and articles. The main point is: yes, alcohol and fragrance can be very stripping and irritating to the skin, but it all depends on how they are used and combined in the final formulation and their ratio, the reactions they have with other ingredients, etc.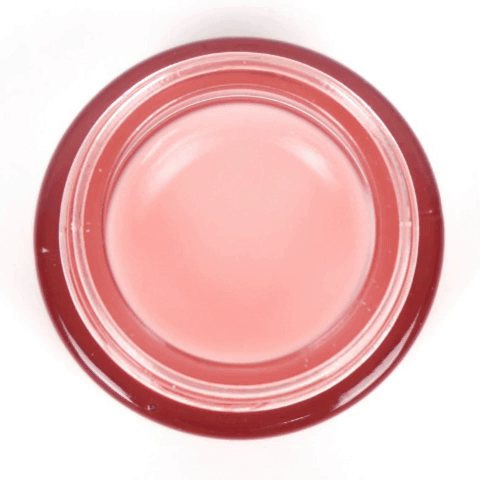 +claims

[Claims put together from e-pamphlet]


Night repair care makes lips healthy overnight: There are many emollients, moisturizing, hydrating, and antioxidative ingredients that make up this lip mask, which has personally made my lips softer and healthier-looking overnight. However, when it comes to chapped and cracked lips, this hasn't been a solution due to the simple fact that the 'protective oil layer' isn't long-lasting at all. Whether I use it during the day or at night, it usually disappears from my lips within an hour. Dry and chapped lips need a heavy moisture layer to shield them and keep hydration in to heal them eventually. Due to its short-lasting nature, this isn't a lip mask that will achieve this. If, however, your lips look fine or are only mildly dry, this will do the job.

Barrier coating balm type formulation tightly coats your lips and prevents water evaporation: Not at all. This is my issue with this product; it's hugely short-lived and does not 'tightly' coat anything. When I was using the LANEIGE Lip Sleeping Mask, I would wake up with layers of it still on my lips, and even when I used it during the day, it would last a long while. In comparison, I've never woken up with anything on my lips left from the PETITFEE Oil Blossom Lip Mask, and I find myself re-applying the product several times a day due to its constant gradual disappearance. Both of my roommates who have also used it have experienced the same thing.

Volume up your lips with vitamin E and shea butter and prevent the creation of free radicals to improve lip wrinkles: I think that this is probably a bad translation from Korean to English because there are no ingredients in this lip mask to 'volume up' lips: for that you'd' need to irritate your lips or at least put something on them that would promote blood flow to the area. By volume up, they might mean make your lips shine - which is true until the product disappears after you've layered it on. Or they might mean 'level up' your lips. If that's the case, I agree up to a certain level since this has left me with softer lips, and the ingredients used are pretty good ones. Since there are antioxidants, it's a good preventative measure for anti-aging too.
Sorry for the difference in light but since this was taken during the night and then during the day, I can't really tweak it (also lip pictures are always very awkward to take and look at). As you can see, my lips became smoother overnight, but this is achievable with all good lip balms.
Note: You'll need to layer on the product during the night if you want to see a difference (use the spatula that comes with it, and this should be accurate)
As someone with overly dry and chapped lips, this hasn't become the lip mask of my dreams. I prefer very occlusive balms or oils as I tend to layer them on the skin surrounding my lips, which Is usually the driest part (pretty!). The PETITFEE Oil Blossom Lip Mask consistency isn't appropriate for spreading on nearby skin, and it's not occlusive enough for me. My lip mask of choice is still going to be the LANEIGE Lip Sleeping Mask, as it's the only product I've used so far that completely heals my lips overnight, even when they are extremely dehydrated and chapped during snowy mountain winter days.
Having also tried the Klavuu lip mask, I will say that I prefer the PETITFEE one as it did make my lips smoother - although the Klavuu one is longer lasting. 
Would I recommend this product? Meh. I think the Laneige one is way better, and if you're looking for a more affordable lip treatment, you're better off using a regular lip balm that you can find at a convenience store. I don't see the point in buying this particular lip mask unless it's just something you want to test out. If you're going to try it out, be my guest, it's not bad, but it's not great either.


+PROS:
Will make your lips smoother

Nice ingredients list

Adequate for people with typical lips
-CONS:
Stays on for a very short time

Not hydrating enough (for me)

Not occlusive enough for me, or people with very dry/chapped lips

👄Score: 2.6/5 ——— Okay lip mask, doesn't stay on for too long, it will make your lips smoother overnight if you layer on the product, but it's not occlusive, hydrating, or moisturizing enough for people with very dry or chapped lips.
+Yesstyle: 11.03$ (If you use my code: DEWILDE you can get up to 5% off on any YesStyle purchase at checkout)