Where to run in Beirut: Top 9 Locations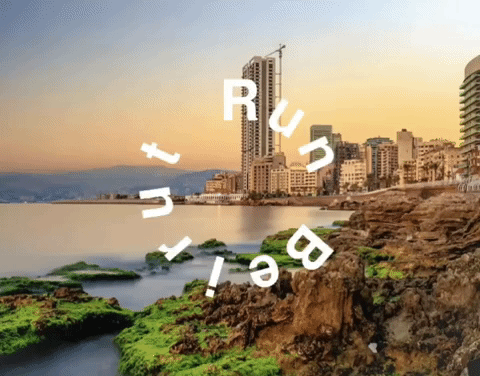 +As you probably know, Beirut has been rocked by an explosion on the 4th of August, all places mentioned on the list are currently functional except for the neighborhoods of Mar Mkhaeil and Gemayyzeh. If you wish to donate to help the city, here's the Lebanese Red Cross link.
1.AUB greenfield
The AUB Greenfield is a large area built for sports practices and matches such as football, track and field, and rugby. AUB students and Charles Hostler Student Center members can access it free of charge, and AUB faculty, staff, and alumni may have access, provided they are members of the center - fees vary depending on your position and whether you're getting a Short term or Long term membership. The greenfield is ideal for people who seek to build strength and efficiency in their runs rather than simply enjoy a good run around the neighborhood. It's a 400-meter distance around the oval, which makes it easy to set up speed workouts and monitor your progress as you go. The ground is covered with artificial grass, coal, and tartan rubber, which is easier on your muscles and joints than the hard concrete. Well-maintained fields are rare in Beirut, which also makes it a nice chance of sceneries for the multiple-days-runner.
2.horsh beirut park
Horsh Beirut, literally meaning Beirut Forest, is the biggest green spot left in the city and the ideal place to get away from the urban jungle and enjoy the fresh air and greeneries. You can run around the park's perimeter, around 2km, with about 0.5 km of additional inner pathways. It is often crowded on weekends, but not to the point where you do not enjoy your time. Apart from its beauty, Horsh Beirut is known for its history: once a large pine forest, deforested over the years, heavily bombed in 1982 during the war, and even used as a Palestinian refugee camp for some time. It was restored and reopened to the general public in 2015. The park is open from 7 am to 1 pm on weekdays, and 7 am to 5 pm on weekends.
3.Camille Chamoun Stadium
Camille Chamoun Stadium is the largest arena in Lebanon. It is mostly used to host national football matches but also serves as an athletics facility, although it seems that only very serious runners use it. It's not the most well-maintained place out there but does the job. It's free and opens 24 hours a day, so it is ideal for runners who want to enjoy a run in a place other than the usual corniche or practice running up and down flights of stairs.
Raouche is the stretch situated between Ramlet el Bayda and Cornich El Manara. You can spot the famous Pigeon Rock, also known as Raouche Rock, as you run there. It's a popular tourist destination due to the beautiful view from the seaside road featuring these impressive rock formations and the gorgeous Mediterranean sea. It's less crowded than other places like Cornich El Manara during weekdays and weekends. The stretch is around 2km, and if you're running towards El Manara, there is a steep road that will get you to Sporting, some people practice running up and down this road since it's rather challenging. Since you'll be running along the sea, try to go around sunset time as you'll also get to enjoy breathtaking views of the colorful sky.
Beirut Waterfront reveals a different side of the city. It is a new establishment with concrete rocks and floors, surrounded by gorgeous views of the sea and mountains. This vast, protected, pedestrian open space has security guards everywhere. You can do various activities like running, jogging, and even rent a bicycle from Beirut by Bike nearby. The waterfront stretches 1.3 km along the sea with varying widths of 45 to 110 m depending on where you're running. You can enjoy being a proximity to the sea during the year's hotter months as the lower section gets opened to the public.
Cornich El Manara is an extended flat pedestrian area along the sea, lined with palm trees, and extending up to 5 km. Families and couples often enjoy a stroll there, contributing to the site being quite crowded during the weekends (pre-COVID-19); nonetheless, you will still have your personal space as the area is quite large. As this is a more popular street, your run or jog will often be accompanied by people-watching, fishers chattering, and various vendors trying to sell local food and - you guessed it- a beautiful view of the sea. This area is also bike-friendly with the only bicycle road in Beirut and very safe as police officers often patrol the site on their bicycles.

Ramlet El Bayda is Beirut's last remaining public beach. It is a rarety in a city where public spaces are very scarce. Several NGOs organize cleanups year-round to make this place more hospitable - but don't go barefoot if you're planning on running here. You'll often see families and groups of friends enjoying the serenity of waves crashing on the shore or playing handball or racquetball on the beach's outskirts. Running on dry, loose sand strengthens your arches, ankles, and other below-the-knee muscles more than running on harder surfaces, so if you're a novice runner, better avoid this area and come back when you're more confident in your skills. Sunsets are particularly enjoyable here but note that the majority of the beach isn't well-lit.
Baabda Forest is located in the Greater Beirut area and can be reached within less than 30 minutes from the capital center. This forest is the closest big green area to Beirut as most natural reserves and parks are far from the densely populated city center. Running there is great if you prefer to be in less crowded places as you won't see many people, especially during weekdays. Also, running on softer surfaces like forest trails does not strain your joints, and there's plenty of room to increase your distance as you gain endurance, making it easier for you to enjoy exercising for a longer time.
Dbayeh Marina is another seaside corniche with a gorgeous sea view located about 10 km away from central Beirut - which should take you less than 30 minutes by car. It's a great area for running because the road leading to it is not widely used, so you will rarely have traffic or car pollution. The pavement is very wide and stretches 3km along the sea. Boats also usually roam the area, and there are clear views of the east's green mountains, giving you yet another enjoyable view as you run.