[REVIEW] Glossier Balm Dotcom (Before and After)
+Balm Dotcom Unflavored [Basic ingredients of all the flavored versions]+
Petrolatum, Ricinus Communis (Castor) Seed Oil, Beeswax/Cera Alba/Cire D'Abeille (Emollient + Viscosity Controlling + Emulsifying + Perfuming), ♦️Lanolin, Theobroma Grandiflorum Seed Butter, Oryza Sativa (Rice) Bran Extract, Helianthus Annuus (Sunflower) Extract, Rosmarinus Officinalis (Rosemary) Leaf Extract, Tocopheryl Acetate, Tocopherol

💋Interesting Ingredients:
Petrolatum: 'The most effective occlusive agent known today' Basically, it stops the skin from losing water.

Ricinus Communis (Castor) Seed Oil: 🔴[Not enough research] ''It has been shown to enhance the transdermal penetration of other chemicals and to be a UV light absorber.''

Theobroma Grandiflorum Seed Butter: Antioxidative + Quality Moisturizer (Has higher water-retention capacities than shea butter) + Potentially anti-inflammatory 

Oryza Sativa (Rice) Bran Extract: Antioxidant + Vitamin E and fatty acids anti-aging (vitamin E plus vitamin B and squalane) Antioxidants like beta-carotene and lycopene enzymes like CoQ10 provide active component

Helianthus Annuus (Sunflower) Extract

Helianthus Annuus Seed Oil (Sunflower): Emollient (Softens and soothes and acts as a moisturizer) + Hydration (Fatty Acids) + Anti-inflammatory (Linoleic acid)

Rosmarinus Officinalis (Rosemary) Leaf Extract: Anti-inflammatory (Rosmarinic acid, carnosic acid, and carnosol, exhibit anti-inflammatory activities in particular acne-causing pathogens response) + Antioxidant (Rosmarinic acid and caffeic acid)

Tocopherol (Natural)+ Tocopheryl Acetate (Synthetic): Vitamin E (Most abundant antioxidant found in human skin, works as a photoprotective agent + Anti-inflammatory ). Popular culture suggests that it also helps in wound healing, but this is not adequately backed up by research.
♦️Controversial Ingredient:
Lanolin: This is the secretion made from the skin glands of sheep to condition their wool. It has emollient properties and is often used in ointments but has a bit of a bad reputation because some studies show that it might be an allergen/irritant. These studies are all made on people who are considered high‐risk patients (eczema patients/skin with ulcers) and use a higher concentration of Lanolin than what you'd find in this product. Some studies also demonstrate that this ingredient isn't particularly sensitizing (Example 1, 2, 3). If you have wounds near your lips, sensitive skin, or dermatitis, it's better to be safe than sorry and stay away from this ingredient. Otherwise, the majority of people with just dry or midly chapped lips should be just fine.
+Example of add-on ingredients to flavored version [Rose Balm Dotcom]+
Silica (Viscosity Controlling + Absorbent/Mattifier), Alumina (Pigment carrier), Triethoxycaprylylsilane (Used to coat pigments), ♦️BHT, ♦️Citronellol, ♦️Geraniol, ♦️Linalool, Red 7 Lake (CI 15850), Iron Oxides (CI 77492).
♦️Controversial Ingredient:
BHT: (Antioxidant + Preservative) There is some contradicting research on this ingredient. The Cosmetic Ingredient Review expert panel has assessed this ingredient to be safe when used in cosmetic products. Some research shows that oral intake of high doses of BHT could lead to cancer or significant lung/liver/kidney damage, while other research could not reproduce the same data. BHT used in cosmetic formulations is very low in concentration, so the consensus is that it is safe. But since this is a lip product and it can get ingested, I still thought I'd mention the history of this ingredient here for you to make a conscious decision. I personally think it's present in low enough concentration not to cause any harm. [Final Report on the Safety Assessment of BHT.]

Citronellol + Geraniol + Linalool: Perfuming - these ingredients have a chance of irritating or sensitizing your skin.

+instructions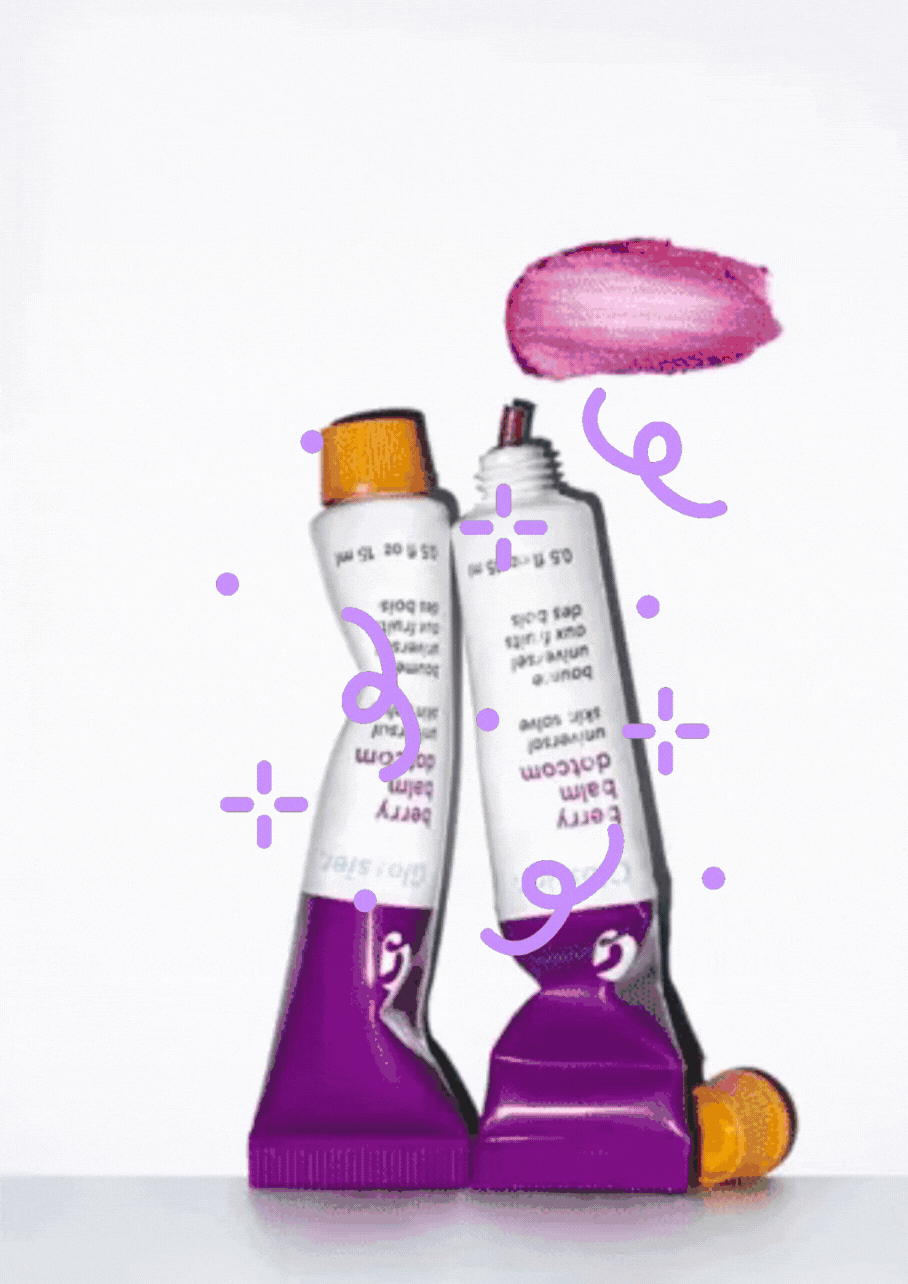 +CLAIMS ON BENEFITS

Claims taken from the Glossier product page.

Packed with antioxidants and natural emollients to nourish dry, chafed skin: Yes, this balm has some nice antioxidants and natural emollients. The only thing I will say is that the original unflavored Balm Dotcom isn't as nourishing and doesn't stay on as long as the other ones. If your lips are dry or chapped, the flavored balms should take care of them. But if they're very dry or very chapped, none of the different versions -flavored or not- are enough to nourish them back to life.

Formulated with nature's heavy-duty moisturizers; Castor Oil, Beeswax, and Lanolin: These are all good occlusive moisturizing ingredients, but although the flavored balms are moisturizing - at least more so than vaseline, for example - I don't think they are 'heavy-duty' moisturizing. They're good and should be moisturizing enough for most, but people with chronically chapped lips (like me) aren't going to be fully satisfied.

Dense, waxy texture stays in place to seal in moisture: The unflavored Balm Dotcom doesn't really stay in place, and I found myself re-applying it throughout the day. But the flavored ones are long-lasting, and they do stay in place. The unflavored version very much resembles the consistency of vaseline (petroleum jelly), but I still prefer vaseline over it. The flavored one's consistency is smoother and feels like a fancier, more 'luxurious' version of vaseline. One thing to point out is that this is so occlusive that I don't think any of the 'perfuming' ingredients will interact much with your skin, meaning that the majority of skins will probably not be irritated by the flavored versions - but again, I'm not a chemist nor a skincare formulator, this is just a humble observation.

Leaves lips looking smooth and hydrated, not shiny: As I said above, the unflavored balm doesn't really do anything. Whether I re-applied it throughout the day or layered it on during the night, my lips still needed to be rehydrated and remoisturized, and I found myself reaching for my other balms (notably my favorite one: the Beesline Lip care (6.45$)). As for the Rose Balm Dotcom that I tried, it did achieve this claim. I've used it on different occasions, particularly some during which my lips were very dry, chapped and the skin under my lower lip was red (yum!), and it proved to be a good healing balm. Not a wonderful one, but a good one nonetheless. The balm isn't really glossy when it comes to 'shine,' but it's definitely a bit shiny, as shiny as vaseline would look anyway, but in a sleeker way.

Our cult-favorite, do-everything lip balm: Glossier suggests that this product isn't only catered for lips and that you could use it as a sort of universal salve - just like vaseline. I would advise against this for the simple fact that it contains Lanolin. Logic would follow that if you need to apply an occlusive balm on your face or your body, you're probably having some kind of irritating reaction or eczema. It's best to be safe than sorry when it comes to irritating reactions (see the above in-depth ingredient list for more information on Lanolin).
I ended up really liking the flavored version of this balm. If you're debating which one to get, I would suggest any flavored ones as they more or less have the same kind of ingredients (the tinted ones don't have a noticeable tint). If you have very sensitive skin or chapped lips, I would advise against buying any of them: The flavored versions contain coloring pigments and perfuming ingredients that could be irritating to your skin type, and the non-flavored original balm Dotcom isn't moisturizing or hydrating enough to really do anything. 
For all other skin types, although I don't believe this is the best lip balm I've ever used, I get the hype surrounding the cute packaging and the brand image itself. The price and quality ratio is good because you get a lot of products for only 12$, which will last you a pretty long time. I think the majority of people will like this balm, but if you consider yourself someone with very dry, damaged chapped lips, or these are the kind of skin issues you often get, I would still suggest either trying the Beesline Lip care if you live in a moderate or hot climate (it solidifies when it's cold), or the Laneige Lip Sleeping Mask (I know people are often quick to assume it's an overhyped product, but if you have very dry lips, this is a life savior).
+PROS:
Flavored Balm Dotcoms are moisturizing and occlusive enough for most people.

Nice price/quality ratio.

A little goes a long way.

Cute packaging and brand - I don't usually care for these sort of things, but it's always nice in balm form
-CONS:
Presence of fragrance and color pigments in flavored balms - this can irritate your lips if you have very sensitive skin.

The unflavored original balm dotcom doesn't really do much of anything, and you need to constantly re-apply it.


👄Score: 3/5 ——— This isn't the greatest lip balm product of all times, but it's definitely healing and occlusive enough for most people's lips.