[REVIEW] NEOGEN Dermalogy Bio-peel Gauze Peeling Wine Pads (Before and After)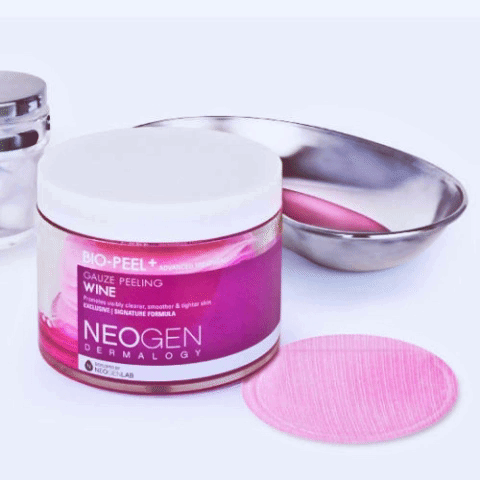 What you get: 30 sheets

Cruelty-free : Yes

Price (use this link for the gentle version and this link for the newer 'normal' version): 27.90$ and 25.90 depending on the version

Texture: The smooth side feels just like any good quality cotton pad would, the rough side is meshed cotton and is more texturized but it's not harsh.
+INGREDIENTS
Ingredient List: Water (Aqua), Butylene Glycol, Glycerin, Wine Extract, Alcohol Denat., PEG/PPG-17/6 Copolymer, Tromethamine, Benzophenone-5, 1,2-Hexanediol, Sodium Hyaluronate, Chamomilla Recutita (Matricaria) Extract, Vaccinium Angustifolium (Blueberry) Fruit Extract, Rubus Idaeus (Raspberry) Fruit Extract, Vaccinium Angustifolium (Blueberry) Fruit Extract, Coptis Japonica Extract, Tartaric Acid, Glycolic Acid, Lactic Acid, CI 15985, CI 17200, CI 42090, Carbomer, PEG-60 Hydrogenated Castor Oil, Phenoxyethanol, Ethylhexylglycerin, Disodium EDTA, Fragrance (Parfum)
Key Ingredients:

Wine Extract: The major benefit you get from wine extract comes from Resveratrol: Antioxidant (Scavenges free radicals and increases cellular expression of enzymatic antioxidants) + Anti-Aging (Reduces production of enzymes that break down collagen)

Benzophenone-5: Filters out both UVA and UVB rays, you can find this ingredient in a lot of sunscreen, if you're wondering what it's doing here, it's probably because the product comes in a clear packaging and this was used to protect or delay the product from photo-degradation.

Sodium Hyaluronate : Hydrating (water binding properties) + Wound healing (promotes micro circulation)

Rubus Fruticosus (Blackberry) Fruit Extract: Anti-Aging (Reduces production of enzymes that break down collagen) + Antioxidant (Scavenges free radicals)

Rubus Idaeus (Raspberry) Fruit Extract: Antioxidant (Vitamin C, beta-carotene, glutathione, quercetin, and vitamin E) + Prevents hyper-pigmentation (Inhibits Melanin forming activity of Tyrosinase)

Vaccinium Angustifolium (Blueberry) Fruit Extract: Antioxidant (Polyphenols + Vitamin C)

Tartaric Acid + Glycolic Acid + Lactic Acid : All of these are forms of AHAs (Alpha Hydroxy Acids), which are a class of acids that reduce cell adhesion in the top layer of the skin (decrease cellular bond between corneocytes) which leads to an exfoliating effect. AHAs have also been shown to increase the production of mucopolysaccharides and collagen in the skin. [ Anti-Acne + Anti-Aging + Brightening ]

Coptis Chinensis Root Extract: Anti-Inflammatory + Anti-acne (Inhibits inflammation pathways triggered by P. acnes)

Alcohol Denat. + Fragrance (Parfum): +A lot of people assimilate alcohol and fragrances in skincare to dehydration and irritation. I would recommend that you watch this video: "Is Alcohol Safe in Skincare Products?" (by Liah Yoo, who worked at Korea's largest beauty company, AmorePacific and now also has her own brand: KraveBeauty) and consult the links provided in the info box which refer to published scientific studies and articles. The main point is: yes, alcohol and fragrance can be very stripping and irritating to the skin, but it all depends on how they are used and combined in the final formulation (their ratio, the reactions they have with other ingredients, etc…).
+The ingredient list above is of the old formulation which has been rebranded and renamed as ''Dermalogy Bio-peel Gentle Gauze Peeling Wine''. It's gentle compared to the newer formulation, but if you've tried this pad in the past (2018 and before), that's probably the formulation that you've used. The newest one is the ''Dermalogy Bio-Peel Gauze Peeling Wine'', it doesnt have any alcohols and fragrance and instead of AHAs they started using PHAs (Polyhydroxy acids) which have a larger molecular structure that presumably serves as to not penetrate the skin as much, which makes them gentler and less sensitizing [Lactobionic Acid + Gluconolactone], yes it's confusing because the older version is labeled as 'gentle' instead of the newest one, but bare with me. This is the ingredient list of the new formulation:
Water, Dipropylene Glycol, Vitis Vinifera (Grape) Fruit Water (5%), Glycerin, Diglycerin, 1,2-Hexanediol, Wine Extract (100ppm), Gardenia Jasminoides (Gardenia) Fruit Extract, Vitis Vinifera (Grape) Seed Extract, Hyaluronic Acid, Rubus Idaeus (Raspberry) Fruit Extract, Hydrolyzed Hyaluronic Acid, Vaccinium Angustifolium (Blueberry) Fruit Extract, Sodium Hyaluronate, Lactobionic Acid, Glyceryl Caprylate, Gluconolactone, Lavandula Angustifolia (Lavender) Oil, Citrus Aurantium Bergamia (Bergamot) Fruit Oil, Pelargonium Graveolens (Geranium) Flower Oil, Rosa Damascena (Rose) Flower Oil, Mentha Viridis (Spearmint) Leaf Oil, Chamomilla Recutita (Matricaria) Flower Oil, Octyldodeceth-16, Phenyl Trimethicone, Butylene Glycol, Ethylhexylglycerin, Tromethamine, Carbomer, Disodium EDTA

+All new ingredients are in bold, they serve the same purpose as the older ones (stabilizing, texturizing, conditioning, … ), additional anti-oxidants have been added (the grape extracts and gardenia), and instead of fragrances, oils are used. Oils are controversial, some people say they're sensitizing, others say they have more benefits than just smelling nice (lavender has shown some antibacterial effects in a recent study), overall my point of view is that they probably do have skin benefits that haven't been researched on, but they probably are also sensitizing to some types of skin, as always, do a patch test and see what happens (you can buy individual pads here for 12$) or simply don't buy this if you have sensitive skin.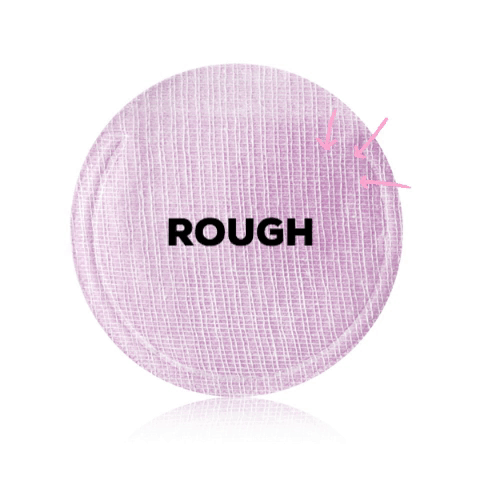 +CLAIMS:
Gentle Peeling; the manual exfoliation pads combined with chemical peeling effects of the wine serum help remove dead skin cells, cleanse and purify the skin: The great thing with the Neogen pads is that they use cotton as an Exfoliator, and even though they messed it up and textured it, cotton is still pretty smooth and mild compared to the majority of physical exfoliators out there. As for the chemical part, all of the AHAs used have research on them that proves their efficacy and safety (at certain concentration levels) on skin. My only note is that the claims say that the wine serum helps remove dead skin cells/cleans/purifies, and I can't find any actual research that proves this, only random blog posts that put out random claims. Resveratrol has many benefits, but exfoliating isn't one of them, here the exfoliating is due to the cotton and AHAs combination and it works.

Anti-Aging; the wine serum containing Resveratrol delivers firmer, healthier and stronger skin: Yes, Resveratrol has anti-aging properties, so do other ingredients on this list (see Key ingredients), furthermore, exfoliating is an active part of any anti-aging regime since it helps other ingredients to penetrate the skin more. This is a preventative treatment, If you have skin with wrinkled and fine lines, the Neogen Bio-Peel Gauze Peeling Wine might help smooth over some fine lines but it won't have any drastic effect on wrinkles. Your skin won't look noticeably firmer, but it will look healthier and 'stronger' since that's what exfoliation usually achieves.

Smoother skin; patented 3-layer 100% cotton gauze pads deliver smoother, improved skin texture: Exfoliation (when formulated and applied right) and smoother skin go hand in hand, so that's an obvious yes. The 3-layer pads aren't the only cause of that improved skin texture, the ingredients and formulation are probably doing a better job than the pads, but as always, from a marketing standpoint, this is how they get you interested.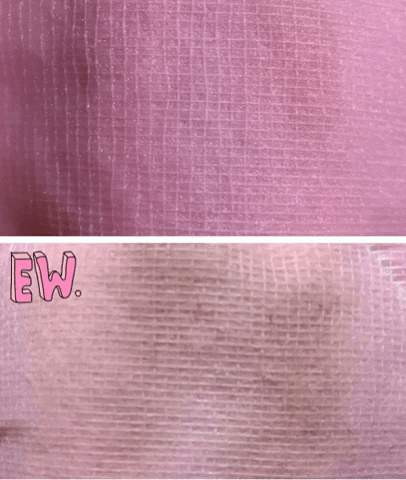 Fun to use

Smells wonderful

Not harsh on skin

Great ingredients that work
CONS:
Probably sensitizing if you have very sensitive skin

The pad only fits 2 fingers, so when you press down on your skin to exfoliate, the areas in contact with these 2 fingers will get more force of exfoliation than the rest, which is fine because you'll probably will go all over your face with these 2 fingers, but the point is I think it's a waste of material for the pad to be circular if it only fits 2 fingers, a rectangular pad would have been more logical.
Score: 4.0/5 --- This doesn't get a full score, because as I age, I tend to gravitate towards chemical exfoliants than physical ones (just a preference). Otherwise, these pads are great.
+AMAZON (old version with old packaging)
+Yessytle: Use this link for the gentle version and this link for the newer 'normal' version(If you use my code: DEWILDE you can get up to 5% off on any Yesstyle purchase at checkout)