[REVIEW] Krave Beauty Oat So Simple Water Cream (Before and After)
Price: US$ 28

Texture: Lightweight gel, silky and airy.

What you get: 2.7 OZ / 80 ML

Cruelty-free: Yes

Instagram: @kravebeauty
+INGREDIENTS
Ingredients: Water, Butylene Glycol (Moisturizer/Humectant + Solvent + Viscosity Controlling), Caprylic/Capric Triglyceride (Emollient), Squalane, 1,2-Hexanediol (Solvent), Trehalose (Moisturizer/Humectant), ♦️Behenyl Alcohol, Ammonium Acryloyldimethyltaurate/VP Copolymer (Viscosity Controlling), Avena Sativa (Oat) Meal Extract


🌾Interesting Ingredients:
Squalane: Naturally produced by the body (production slows dramatically after age 30), repairs, deeply moisturizes, and has anti-aging benefits.

Avena Sativa (Oat) Meal Extract: Anti-inflammation (diminishes inflammatory response pathway) + Antioxidant (reactive oxygen species are reduced) + Anti-irritant (improves skin dryness/texture/itch)
♦️Controversial Ingredients:
Behenyl Alcohol: A fatty alcohol (non-drying) + Emollient + Viscosity Controlling + Emulsion Stabilising
+INSTRUCTIONS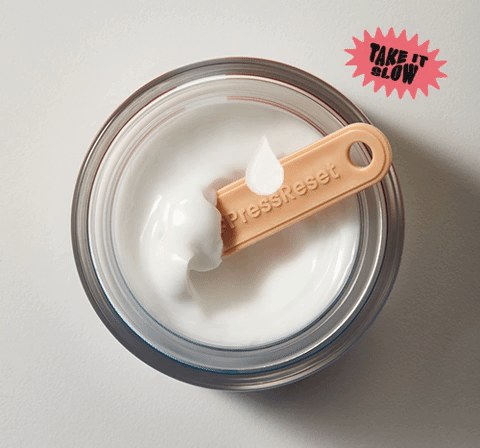 +CLAIMS

Claims taken from the Krave Beauty product page.


1.A lightweight, cooling moisturizer/calming feel: Definitely lightweight. Even way too lightweight to my liking. The texture feels like it has more empty space than actual atoms. It's like whisked air - which in theory sounds amazing - but in actuality provides you with very little to quench your moisture or hydration needs. When you initially apply it, there is a cooling effect since this is a gel-based cream, but this effect is fleeting. As for the calming effect, I have an on-and-off relationship with redness and irritation, and this did not trigger it, so I guess this checks out. I've also had my usually mask-acne that flares back up whenever I stop using exfoliating products, and while this cream did not calm it in any way, it also didn't further trigger it, which is a win in my book.
2.Feels like a burst of instant hydration on the face/A Cool Drink of Water for Thirsty Skin: Fam... No. Like, not even close. There is a burst of instant hydration as you remove the cream from the jar, place it on your skin and proceed to pat it in. But it's like a 0.3-second burst. After that, you're left with an 'I don't feel hydrated enough' feeling, which has made me re-apply the Oat So Simple Water Cream quite a few times during the day. And no, the hydration was never quenched unless I applied so much of the cream that I ended up looking like an overglazed diabetes-inducing donut.
3.As you work it in, it quickly absorbs and makes itself right at home with your skin: Yes, this cream gets absorbed relatively quickly.
4.You'll feel like you just hit the refresh button on your skin/made with simple ingredients and is simple to use: The concept behind the Oat So Simple Water Cream was that Krave Beauty wanted to formulate a very simple and straightforward cream to '#pressreset' whenever your skin would get irritated or damaged. So if you had overused exfoliants or had been sunburnt and wanted to use simple ingredients with lower chances of further irritating your damaged skin barrier, you could glance at their cream and pat yourself on the back for having something to nurse it back to life. In theory, the formulation works, the ingredients are simple, and the two main 'active' ones (Squalane and Oat) have excellent anti-inflammatory, anti-irritant, and moisturizing properties. My only issue with this cream is that it's not hydrating or thick enough to entirely give you what it claims to provide. Quoting myself from other reviews:
A compromised skin barrier constitutes of the following points: Dryness, tightness, flakiness, inflammation, acne (in places you don't usually get acne), itchiness, stinginess, and sensitivity to a good portion of skin products. If you have a combination of these issues, your skin barrier is probably not in top shape. There are several articles and research papers that have investigated how skin barriers heal. I'll refer to this one: Repairing a Compromised Skin Barrier in Dermatitis: Leveraging the Skin's Ability to Heal Itself [source] as it is the most comprehensive and straight to the point one I could find. Essentially, the article states that an unhealthy skin barrier results in a lipid deficiency; these are essential components of skin cells and aid in the maintenance of moisture, protection, and repair processes. This deficiency often leads to the activation of skin inflammation, initially triggered to aid the skin in its reparation (since inflammation is a defense mechanism), but with a compromised skin barrier, the mechanism often overshoots and results in a "dry, scaly, inflamed and irritated skin." At this point, your skin becomes prone to "excessive water loss, deficient lipid production, an elevated pH, susceptibility to infection and inflammation (acne), and contact sensitization (you become sensitive to products you wouldn't normally react to)." Hence, to aid in the healing of your skin barrier, you will need to provide it with: hydration to minimize water loss, moisture to act as a barrier against irritants and allergens, and minimize inflammation and sensitizers exposure (like fragrance or exfoliating agents).
Now for the most efficient skin-barrier repairing apparatus, you'll need ingredients like the ones present in the AXIS-Y Artichoke Intensive Skin Barrier Ampoule or The Ordinary Niacinamide 10% + Zinc 1%. But let's say you're worried about adding a lot of ingredients, and you want to keep it simple. At its basis, a compromised skin barrier is a lipid deficiency, which means a moisture deficiency. Hence you need a good potent moisturizer. This doesn't mean that it has to be thick; it just means that it has to be thick enough - a lot of water gel moisturizers achieve this. And in my opinion, this one just isn't and does not. So yes, the Krave Oat So Simple Water Cream is made with simple ingredients, but perhaps a future reformulation should consider thickening up the product a bit or at least adding more hydration into it. And to answer the claim: NAH.
I've been using this cream for a couple of weeks, and there are no noticeable differences in my skin - it actually got a few new bumps since I haven't been exfoliating, but this is not the cream's fault. The before&after is hence a direct one. I just want you to notice that my fine lines do not get plumped whatsoever and that the overall appearance of my skin does not change. Note that I've used a nickel-size of the product on this cheek alone to show you that even when you pile it on, you won't necessarily end up with 'plumper' or glossier skin.
I've recently moved to Florida (as I like to now remind you in all of my new posts), and one of the things I was most excited about wasn't to go to the beach, have nice weather or even be in a free land (sorry Lebanon I love you and you will forever have my heart but wtf). Nay. One of the things was trying out Skincare brands that I couldn't get my hands on in Lebanon. Imagine me, patiently waiting by the door, day after day, waiting for the mailman to deliver me the Oat So Simple Water Cream. And imagine me applying it on my face and needing to look back at the jar to ensure myself that yes, indeed, there was something on my skin; it wasn't just air that I had applied.
I've tried very hard to like this cream because I love the concept of Krave beauty (and I hope their others products won't disappoint me), but I can't lie, this just ain't it. It's not that it's a bad product. It's just that it doesn't really do anything, except for leaving my skin with a silky finishing texture - but even this goes away as soon as I wash off the product.
One positive thing is that people with oily skin won't find it too thick or heavy. As such, if you have this skin type, perhaps this could be a good match for you. Alternatively, for oily skin, there are two moisturizers I recommend (both lightweight but providing an actual 'oompf' of hydration): The Pyunkang Yul Nutrition Cream and the Laneige Cream Skin Refiner. If you have sensitive skin, yes, this has really low chances of irritating your skin, but keep in mind that you'll probably need to pile it on.
I know that many people ended up liking this cream, and I would have to if I didn't look at it from a critical point of view: it's lightweight, gets absorbed quickly, leaves a silky finish, and has minimal ingredients. But compared to similar creams, it lacks hydration and moisture, which is kind of the point of a moisturizer.
Many people also seem to achieve their hydration/moisture needs by mixing in the Oat So Simple Water Cream with one of their favorite oils or serum, but personally, If I'm going to pay 28$, a cream needs to perform on its own as a stand-alone. So no, I don't recommend it, but I also won't particularly stop you from trying it. Just take what I said into consideration and maybe use a powerful hydrator alongside it.
+PROS:
Gets absorbed very easily and quickly

Leaves you with a silky-touch finish

Has really low chances of irritating any skin type
-CONS:
Not hydrating enough for the majority of skin types

Not moisturizing enough for the majority of skin types

Bad quality/price ratio
☁️2.2/5——— Not hydrating or moisturizing enough. I ended up having to reapply it a couple of times a day.