[REVIEW] AXIS-Y Artichoke Intensive Skin Barrier Ampoule (Before and After)
Price (using this link): US$ 25

Texture: A little gooey liquid

What you get: 30 ml

Cruelty-free: Yes

Instagram: @axisy_official

+INGREDIENTS
Ingredients: Water, Aloe Barbadensis Leaf Water, Butylene Glycol (Moisturizer/Humectant + Solvent + Viscosity Controlling), Sodium Hyaluronate, Centella Asiatica Extract, Glycerin, Betaine (Moisturizer/Humectant), Glycyrrhiza Glabra (Licorice) Root Extract, ♦️Alcohol, Cynara Scolymus (Artichoke) Extract, Sorbitol(Moisturizer/Humectant) , Sorbitan Sesquioleate (Emulsifying), Hieracium Pilosella Extract, Rheum Palmatum Root Extract, Althaea Rosea Flower Extract, Aloe Barbadensis Leaf Extract, Dimethyl Sulfone, Chlorphenesin (Preservative + Antimicrobial /Antibacterial), Xanthan Gum (Viscosity Controlling + Emulsifying + Surfactant/Cleansing + Emulsion Stabilising), PEG-60 Hydrogenated Castor Oil (Emulsifying + Surfactant/Cleansing), Ethylhexylglycerin (Preservative), Polyglutamic Acid, Beta-Glucan, Arginine, Linum Usitatissimum (Linseed) Seed Extract, Hibiscus Esculentus Fruit Extract, Aloe Barbadensis Leaf Juice, Arctium Lappa Root Extract, Hibiscus Mutabilis Flower Extract, Corchorus Olitorius Leaf Extract, Allantoin, Carbomer, Adenosine, Melaleuca Alternifolia (Tea Tree) Leaf Oil


🥬Interesting Ingredients:
Aloe Barbadensis Leaf Water: Aloe Barbadensis Leaf's water is not well researched, but usually water extracts have the same properties as their non-water counterparts but weakened down. Here are the known properties Aloe Barbadensis Leaf Extract (Present in this Ampoule) + Aloe Barbadensis Leaf Juice (Present in this Ampoule):  Treats burns (Inhibits thromboxane, which causes a restriction in blood supply to affected skin tissues) + Moisturizer (mucopolysaccharides (water-binding) along with amino acids and zinc) + Wound Healing (Stimulates Collagen production pathways)+ Anti-inflammation (Magnesium lactate in the gel prevents Histamine production).

Sodium Hyaluronate: Hydrating (water-binding properties) + Wound healing (promotes microcirculation)

Centella Asiatica Extract: Wound healing (promotes collagen production) + hypertrophic scar healing properties in particular

Glycerine: Widely used as a quality Hydrator (occurs naturally in skin and its chemical structure attracts water). You can find this ingredient in most good skin-replenishing products.

Glycyrrhiza Glabra (Licorice) Root Extract: Prevents hyperpigmentation (Inhibits Melanin forming activity of Tyrosinase)

Cynara Scolymus (Artichoke) Extract: Anti-inflammatory + Antioxidant + Anti-aging ("improved the expression of genes involved in anti-aging mechanisms")

Rheum Palmatum Root Extract: 🔴[Not enough research]

Althaea Rosea Flower Extract: Antioxidant (polyphenols)

Polyglutamic Acid: Moisturizing. Claims have emerged on its ability to hold water 5 times more than Hyaluronic Acid, which would supposedly make it a better hydrator, but the molecule of Polyglutamic Acid is bigger than HA; hence it does not penetrate the skin as deeply. Its effects are mostly strictly reserved for upper skin layer moisture and hydration. [source]

Beta-Glucan: Protects against irritation and environmental stress (the molecules link together to form a barrier on the surface of your skin) + Antibacterial (stimulate white blood cells to attack pathogens) + Hydrating (acts as a humectant (chemical structure attracts and traps water molecules)) + Anti-aging (Boosts collagen production)

Arginine: Antioxidant + Hydrating (acts as a humectant (chemical structure attracts and entraps water molecules)) + Anti-aging (increases collagen production through different pathways)

Linum Usitatissimum (Linseed) Seed Extract: Moisturizing + Potentially Wound Healing

Hibiscus Esculentus Fruit Extract:  (The study focuses on seed extracts, which are contained in the fruit) Antioxidant + Prevents hyperpigmentation (Inhibits Melanin forming activity of Tyrosinase)

Arctium Lappa Root Extract: Antioxidant + Anti-inflammatory 

Hibiscus Mutabilis Flower Extract: Antioxidant 

Corchorus Olitorius Leaf Extract: Hydrating + Antioxidant 

Allantoin: Moisturizing ( Emollient: provides a layer of protection to help prevent water loss)

Adenosine: Anti-aging (collagen stimulation pathway) + Wound healing (collagen stimulation pathway) + Anti-inflammatory (inhibits neutrophils, white blood cells part of the inflammation response) 

Melaleuca Alternifolia (Tea Tree) Leaf Oil: Anti-acne (has Antibacterial, Antifungal, and Antiviral properties)
♦️Controversial Ingredient:
Alcohol: Antimicrobial/Antibacterial + Solvent + Viscosity Controlling + Astringent [Before raging on about how alcohol is going to dry out your skin: yes, alcohol can be overly stripping and drying, but the way it is incorporated in this particular formulation doesn't make it so. It just works as a great solvent here]

**A lot of people assimilate alcohol and fragrances in skincare to dehydration and irritation. I would recommend that you watch this video: "Is Alcohol Safe in Skincare Products?" (by Liah Yoo, who worked at Korea's largest beauty company, AmorePacific and now also has her own brand: KraveBeauty) and consult the links provided in the infobox which refer to published scientific studies and articles. The main point is: yes, alcohol and fragrance can be very stripping and irritating to the skin, but it all depends on how they are used and combined in the final formulation and their ratio, the reactions they have with other ingredients, etc…
+INSTRUCTIONS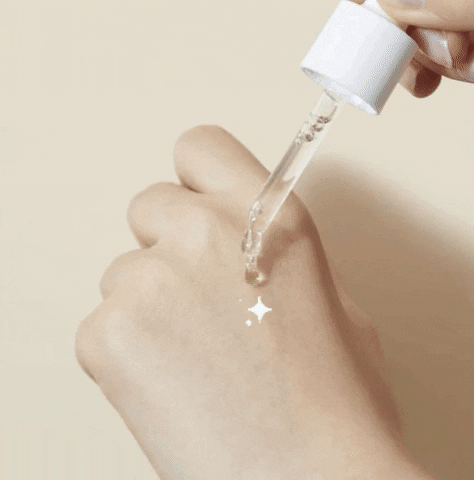 +CLAIMS
Claims taken from the product page of AXIS-Y.
Retains moisture and deeply hydrates + LTR technology locks in moisture and keeps skin hydrated for more than 6 hours. Easily and quickly absorbed into your skin within 3 seconds: Yes. As I always do when I test products, I've only used this one without anything else, and it was enough for my skin's moisture and hydration needs. If you have dehydrated skin, the product is also very layer-able. However, you may need an additional moisturizer depending on your dryness - and it will eventually become sticky if you really pile it on. As for how long it lasts, I usually put two drops of it around 10/11 am, and I don't feel the need to re-apply anything until the late afternoon.
If you look at the in-depth ingredients list above, it has a good amount of anti-inflammatory ingredients, and the majority of the other ones are hydrating, which contributes to calming down irritation since hydration contributes to a healthier skin barrier. However, I wouldn't go as far as to state that this calms down irritation and inflammation directly. I always talk about this, but the Klairs Midnight Blue Calming cream does this particular job quite quickly, so if you're having a reaction or some sort of reddening, peeling, or drying of the skin, using it has higher chances of yielding quick results. On the other hand, the AXIS-Y Artichoke Intensive Skin Barrier Ampoule needs a more extended period to work. For example, the 'before' picture here is of my skin after a 16 hours flight. This is my skin's reaction whenever I take a flight that is longer than 3 hours: overjoyed by the fact that I am traveling, it decides to pop up some friendly new zits, fine lines, and dry texture to accompany me in my voyage. It usually takes about two weeks of self-care with a couple of products to go back to my pre-flight skin, but I'm happy to report that this ampoule had it bounce back after about three days. The point is, it will calm down skin... eventually.*Please note that here the texture is due to irritation; if you have texture due to acne, this probably won't be effective.
3.Builds up skin barrier for plump, healthy skin: In my experience, this has been a huge yes. When I had my period this month, instead of birthing new craters of acne, my skin was like: 'oh, you have your period..okay, cool' and carried on with being pimple-free. This being said, apart from the occasional zit, my skin's barrier isn't really compromised to begin with, for me to confidently state that this ampoule helps. Instead, I want to give a scientific basis to the validity of this claim. Starting with the definition of a compromised skin barrier as it is more or less an amalgamation of the following points: Dryness, tightness, flakiness, inflammation, acne (in places you don't usually get acne), itchiness, stinginess, and sensitivity to a good portion of skin products. If you have a combination of these issues, your skin barrier is probably not in top shape. There are several articles and research papers that have investigated how skin barriers heal. I'll refer to this one: Repairing a Compromised Skin Barrier in Dermatitis: Leveraging the Skin's Ability to Heal Itself [source] as it is the most comprehensive and straight to the point one I could find. Essentially, the article states that an unhealthy skin barrier results in a lipid deficiency; these are essential components of skin cells and aid in the maintenance of moisture, protection, and repair processes. This deficiency often leads to the activation of skin inflammation, initially triggered as to aid the skin in its reparation (since inflammation is a defense mechanism), but with a compromised skin barrier, the mechanism often overshoots and results in a "dry, scaly, inflamed and irritated skin." At this point, your skin becomes prone to "excessive water loss, deficient lipid production, an elevated pH, susceptibility to infection and inflammation (acne), and contact sensitization (you become sensitive to products you wouldn't normally react to)." Hence, to aid in the healing of your skin barrier, you will need to provide it with: hydration to minimize water loss, moisture to act as a barrier against irritants and allergens, and minimize inflammation and sensitizers exposure (like fragrance or exfoliating agents). Looking at the in-depth list above, you can immediately see that most ingredients present in this formulation are hydrating, anti-inflammatory, wound-healing, and antioxidative (which also maintains skin health). One thing to note is that usually when I label an ingredient as 'hydrating,' it means that research and clinical trials have shown that it reduces transepidermal water loss. The only thing that the AXIS-Y Artichoke Intensive Skin Barrier Ampoule does not provide is an ingredient that directly influences ceramides' production (the skin's most abundant lipids). So something like Niacinamide or the presence of ceramides would have been the cherry on top. If your skin barrier is particularly compromised, try combining this ampoule with The Ordinary Niacinamide 10% + Zinc 1%. Both products together would probably work wonders.
The before picture is even before the plane ride so that you can see the change in my skin without a random burst of irritation. You can see that my skin was generally fine but did have a bit of texture and a little redness here and there. Whereas in the after picture, it just looks overall healthier and more supple.
One thing to point out is that if your skin is completely fine and dandy, this ampoule will only keep it fine and dandy and act as a support rather than a miracle. 
I am personally at my last drop of this product as I write this article, and this is something that I would repurchase if my job didn't consist of continually trying new products. Any skin type would benefit from using this ampoule since the ingredients synergetically work to maintain it healthy. In particular, its anti-inflammatory properties are of interest since research shows that inflammation speeds up aging in the skin and all other tissues and organs [source example]. This ampoule would provide the necessary hydration and protection for normal skin types, which should be part of any skincare routine.
For oily skin, as someone with combination oily/acne skin, I didn't find it heavy on my skin, but this will depend on how oily your skin is. For dry skin, you can easily layer it on depending on how dry your skin is. Although there are no potentially sensitizing ingredients for sensitive skin types, a patch test is always recommended. As mentioned above, there is alcohol, but please read the paragraph on it and inform yourself before reaching an opinion. Finally, for my fellow acne skin types, this has meager chances of irritating your acne. For me, it worked to make my acne formation almost null. But if you have active acne, this isn't an exfoliating product, so it won't actively get rid of it. Check this article out instead: [10] Anti-Acne products that actually work + A Skincare routine.
Note: This is named the Artichoke Intensive Skin Barrier Ampoule; Artichoke itself isn't particularly notable. This is only emphasized to make the product more marketable. It's the entirety of ingredients that work together to give this ampoule its benefits.

+PROS:
Semi-instant plumping up of the skin

Reduces acne breakouts

Reduces skin redness and irritation

Contributes to a healthier skin barrier

Hydrating enough for most people

No nonsense ingredients (essential oils, fragrance)
-Cons:
None
🟢Score: 4.5/5 ——— A great ampoule would have gotten a higher score if it incorporated something that directly influences ceramides production to aid in skin-barrier rebuilding.

+❗This product was sent to me by AXIS-Y❗[But science-based logic doesn't lie]
+Yesstyle: If you use my code: DEWILDE you can get up to 5% off on any Yesstyle purchase at checkout. [this ampoule is currently sold out at the majority of resellers, you can purchase it directly from AXIS-Y's website, I'll update this post when Yesstyle has it back in stock]