[REVIEW] LANEIGE Cream Skin Refiner (Before and After)
Cruelty-free : No

Price (use this link): 21.56$ (If you use my code: DEWILDE you can get up to 5% off on any yesstyle purchase at checkout)

Texture: Water-like with a fine film

What you get: 150 mL
+ingredients
Ingredient List: Purified Water (Solvent), Butylene Glycol (Solvent +Penetration enhancer + Humectant), Glycerin, Meadowfoam Seed Oil, 1,2-Hexanediol (Solvent), Polyglyceryl-10 Stearate (Helps water and oil mix), Glyceryl Stearate Citrate (Helps water and oil mix + Smooths skin by forming a barrier over it), Sodium Stearoyl Glutamate (Helps water and oil mix), Inulin Lauryl Carbamate (Helps water and oil mix), Glyceryl Caprylate (Helps water and oil mix + Antimicrobial ), Ethylhexylglycerin (Preservative), Propanediol (Preservative), Disodium EDTA (Chelating), Camellia Sinensis Leaf Extract, Tocopherol

🥛Interesting Ingredients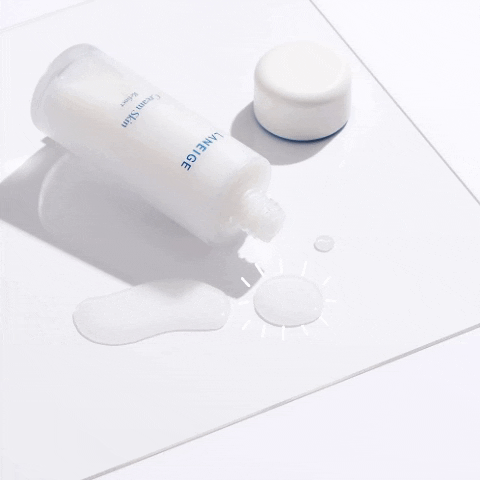 +claims
A cream melts into a skin refiner. LANEIGE created Cream Blending Technology™ to combine the benefits of both cream and skin in a single bottle to satisfy your skin's hydration needs: 'Skin' is the term Koreans use to refer to toners. The benefits of modern-day toners are kind of the same as serums, they used to be stand-alone products, but the line between them and serums/essences/employees has been blurred throughout the years. You can find toners that are purely hydrating, anti-aging, anti-acne, the types are endless, and you can use most of them just like you would any serums. Now, that being said, there are a few benefits that lightweight toners do offer as they prep your skin to accept more products. Here's an example to understand the concept: If you wet a sponge a bit before applying more water, the water will get absorbed more easily than if you had immediately drenched your sponge in it, and the same concept applies to your skin. The texture of the Cream Skin Refiner is incredibly water-like, with some hints of creaminess as you pat in the product. It gets immediately and very easily absorbed by the skin, and you can instantly feel and see your face becoming more supple and hydrated. The issue with 'skins' is that you still feel the need to add additional products on your skin to lock in whatever factor that they provide, and the issue with most creams is that even when they are gel-like and lightweight, you can still feel them on your skin. Unlike these products, the Cream Skin Refiner gets instantly absorbed just like a toner would, but also leaves you with a feeling that your skin is moisturized and the hydration won't evaporate into thin air, just like a cream would, but without the unwanted properties of both products.

White Leaf Tea Water reinforces skin barrier. Rich in amino acids, White Leaf Tea Water moisturizes, soothes and strengthens the skin barrier, thereby restoring the skin to its healthy condition: According to the Laneige website, ''White leaf tea water is made by harvesting the first tea leaves in spring… has a much greater amino acid content than ordinary green tea''. While I haven't found any concrete evidence to back this claim up, from a purely botanical perspective younger leaves do have more water and protein content as the plant tends to concentrate all nutrients to young, growing leaves. So this claim isn't far fetched at all, even insects prefer to eat younger leaves since they are usually richer in nutrients. That being said Camellia Sinensis Leaf Extract is the second to last ingredient on the list, which means that it's one of the ingredients with the lowest concentration in this formula. Moreover, this ingredient is usually listed high up or at least midway trough most other formulation (you can search ''Camellia Sinensis Leaf Extract'' on my website and you'll see that) which is why I don't think that it has much of an added benefit. You can't attribute moisturizing, soothing and strengthening factors to just one ingredient, especially when it's so low in concentration. I do think that the Cream Skin Refiner is very moisturizing, and it does strengthen the skin barrier since it hydrates and protects it, which will contribute to its restoration in the long run if you're also using other skin care products with that end goal in mind, but these properties are thanks to the combination of ingredients present in the formulation, with a special thanks to Glycerin and Meadowfoam Seed Oil, not the White Leaf Tea Water.

Mild and safe moisturizing solution. Cream Skin Refiner is filled with mild and safe ingredients which provides moisturizing effects for dry, sensitive skin: Although this product is very moisturizing, it's still mild because its water-like texture allows your skin to breathe. As for the ingredients list, there's obviously the possibility of you getting irritated by anything, but the ingredients themselves are kind of known to rarely cause irritation, so yes, this is good for sensitive skin and obviously great for dry ones.
This is also a product I reach for whenever I'm in a hurry and don't have time to do my full skincare routine: I quickly pat it on, add some sunscreen, and I'm good to go. The great thing is that the moisture and hydration last all day long. I've tested it on its own for about a week, would apply it at 10 am, and my skin would still look and feel supple till 9 pm-ish. I also tend to really sweat and become overheated when I workout, so my skin usually ends up looking and feeling very tight, I've recently started using this before my workouts and It has also worked quite well (I still get red but my skin feels less tight).

If you have normal, dry, or sensitive skin or a combination of these, I would definitely recommend this product for all the reasons mentioned above. If you have dry skin and you need to layer on moisturizers, I particularly recommend this, even though you'll still end up needing to use a moisturizer on top of it, at least you'll be layering on more breathable products on top of each other rather than really occlusive moisturizers. If you have oily skin, and it's also dehydrated, I don't particularly recommend this. You'd be better off with something that is purely hydrating without emollient and occlusive properties: I'd suggest the Skinfood Royal Honey Propolis Enrich Essence or the Klairs Supple Preparation Facial Toner. However, if you have oily skin and you're still looking for a moisturizer (or you have a combination of dry/normal/oily skin), I think you'll end up liking this. As for my acne-prone friends, I would not recommend this to you, not because it might trigger your acne (chances are it won't), but because you're better off using a moisturizer with actives that target acne in it, or at least actives that target acne scars.
For someone like me who doesn't like to particularly use moisturizers, but still needs to during the winter, this is great. I don't think I'll use it during summer, as I'd probably prefer switching to something with more actives in it (unless my skin gets irritated than this is a great simple toner/cream to get back to).
+Pros:
Very thin and lightweight texture

One layer should be enough for most normal skin types.

Gets absorbed quickly

Very moisturizing and hydrating

Locks in everything, but still allows additional products to pass

A very interesting and new concept
-Cons:
Skin becomes sticky as you apply more layers (in comparison to other water-like toners)

Although the price point is acceptable for the amount of product, you can find other pure toners or creams with the same price point that offer more than just a hydrating and moisturizing factor.





🐄Score: 4.5/5 — Light, hydrating, and moisturizing. This is a very simple yet effective and innovative product that doesn't cast a shadow that it can't fill (you get the point, it doesn't pretend to do things it can't achieve). It didn't get a full score because they could have incorporated more active ingredients in the formulation… more soothing ones for example? I feel like the only reason this is getting a high score is due to the innovation, but in a couple of years when everyone copies the texture, we will look back at this product and think that it's very basic. Nonetheless, for now this is a stand-alone, distinguished formulation.




+AMAZON
+Yesstyle: link 
(If you use my code: DEWILDE you can get up to 5% off on any yesstyle purchase at checkout)