[REVIEW] Skinfood Royal Honey Propolis Enrich Essence (Before and After)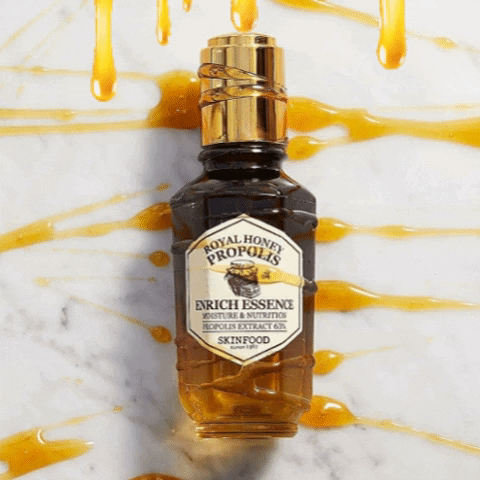 What you get: 50mL

Price (use this link): 29.90$ (If you use my code: DEWILDE you can get up to 5% off on any yesstyle purchase at checkout)

Texture: Slightly-thicker-than-water

Cruelty-free : No
+INGREDIENTS
🍯Ingredients: Propolis Extract (63%), Honey Extract (10%), Royal Jelly Extract (10%), Butylene Glycol (Solvent + Penetration Enhancer + Humectant), Dipropylene Glycol (Solvent), Portulaca Oleracea Extract, Glycerin (Moisturizer), Beta-Glucan, Lactobacillus Ferment, Saccharomyces Ferment, Sodium Hyaluronate, Hydroxyethylcellulose (Viscosity Control), Disodium EDTA (Chelating), Carbomer (Viscosity Control), Arginine
Key Ingredients:
Propolis Extract (63%) + Honey (10%): Antimicrobial + Antiviral + Anti-fungal + Antioxidant (Flavonoids)+ Anti-inflammatory (suppresses different inflammatory mediators) + Wound healing (antibacterial)

Royal Jelly Extract (10%): Most studies of Royal jelly are about supplementation of it, not topical administration, people give claims that it moisturizes, helps in wound healing and is a great anti-oxidant but I can't find any good research on this ingredient.

Portulaca Oleracea Extract : Anti-inflammatory + Anti-irritation [Clinical findings]

Beta-Glucan: Protects against irritation and environmental stress (the molecules link together to form a barrier on the surface of your skin) + Antibacterial (stimulate white blood cells to attack pathogens) + Hydrating (acts as a humectant (chemical structure attracts and traps water molecules)) + Anti-aging (Boosts collagen production)

Lactobacillus Ferment + Saccharomyces Ferment: Antioxidant (Antioxidant enzymes/Compounds)

Sodium Hyaluronate : Hydrating (water binding properties) + Wound healing (promotes micro circulation)

Arginine: Antioxidant + Hydrating (acts as a humectant (chemical structure attracts and entraps water molecules)) + Anti-aging (increases collagen production through different pathways)

+If you're confused about the differences between Propolis, Honey and Royal Jelly, here's a link that sums it up pretty nicely: Difference Between Royal Jelly, Propolis & Honey
+CLAIMS
Reselling sites have created their own e-brochures and added claims of their own here and there, but as always, I will only address those made by the brand itself.
A fully nutritious essence that contains 63% black bee propolis extract, 10% royal jelly extract, and 10% black honey extract to build a firm barrier for radiant and moist skin: Yes, that is the exact compositional ratio of each bee derived product, and yes, you are left with more radiant and moist skin. Honey and its derivatives have proven benefits when topically applied and people have exploited these benefits from the time of the pyramids till now. [ Propolis was listed as an official drug in the London pharmacopoeias of the 17th century. + In the Balkan states propolis was applied to treat wounds and burns ]


What I love about this product is that it's simple, with proven ingredients that work, and it addresses a problem that a lot of us face: skin moisture. Lack of moisture has been associated to contribute to the development of skin diseases and premature aging, and the bottom line comes down to this: moisturized and hydrated skin is happy skin.
PROS:
Very moisturizing and doesn't clog pores

Dropper is of very good quality and easy to use

Absorbed quickly and easily and doesn't leave a sticky feeling

Great active ingredients with lots of data supporting their positive activity on the skin (except for Lactobacillus Ferment, which doesn't have a lot of research on it when it comes to topical skin application)

Suits all skin types (Yes, you too my oily skin friend)
CONS:
Price is on the more expensive side for something that is just hydrating/moisturizing

🐝Score: 4.0/5 --- Nice and simple product that works. It doesn't get a 5 because I always like it when my serum do something extra, and this one doesn't.
+AMAZON
+Product Link (Yesstyle)
(If you use my code: DEWILDE you can get up to 5% off on any Yesstyle purchase at checkout)