[REVIEW] I'm From Honey Mask (Before and After)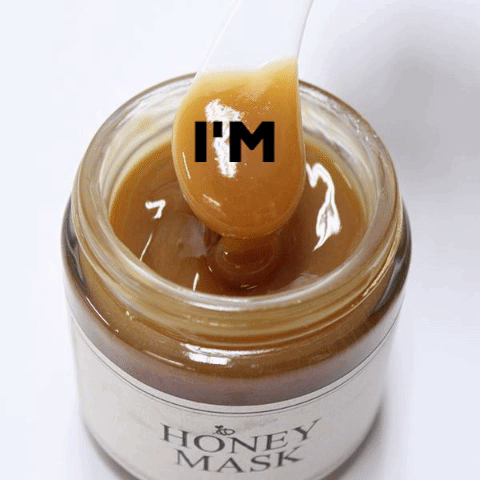 Price (use this link): 37.90$ but they're always having sales on this item (If you use my code: DEWILDE you can get up to 5% off on any Yesstyle purchase at checkout) [Mini version:6.71$]

Texture: Soft gooey honey

What you get: 120g
+INGREDIENTS:
🍯Ingredients: Honey, Caprylic/Capric Triglyceride, PEG-7 Glyceryl Cocoate, Disteardimonium Hectorite, Macadamia Integrifolia Seed Oil, Helianthus Annuus (Sunflower) Seed Oil, Pentylene Glycol, Microcrystalline Wax, Polysorbate 20, Butyrospermum Parkii (Shea) Butter, Beeswax, Tocopheryl Acetate, Argania Spinosa Kernel Extract, Corylus Avellana (Hazel) Seed Oil, Simmondsia Chinensis (Jojoba) Seed Oil, Snail Secretion Filtrate, Water, Bambusa Vulgaris Water, Nelumbo Nucifera Flower Water, Aloe Barbadensis Leaf Water, Propolis Extract, Beta-Glucan, Bee Venom, Citrus Paradisi (Grapefruit) Fruit Extract, Sophora Angustifolia Root Extract, Eugenia Caryophyllus (Clove) Flower Extract, Eucalyptus Globulus Leaf Extract, Punica Granatum Fruit Extract, Bambusa Vulgaris Extract, Butylene Glycol, Glycerin  
Key INGREDIENTS:
Honey: Antioxidant, helps wounds heal, forms a barrier on the skin to soothe and protect, moisturizing, antibacterial.

Macadamia Integrifolia Seed Oil, Helianthus Annuus (Sunflower) Seed Oil, Butyrospermum Parkii Butter, Tocopheryl acetate , Snail Secretion Filtrate, Bee venom , Propolis , Beta glucan…. : anti-aging, anti-acne, antioxidant, moisturizing, anti-inflammatory, skin conditioning, strengthen the skin's protective barrier, promote healthy collagen production, reverses sun damage.

Microcrystalline Wax : Derived from petroleum and purified for use in cosmetics. Used as a thickener and to give products a semi-solid smooth texture which, I'm guessing, is what helps to give this product more consistency than pure honey which would drip off your face.
+HOW TO USE IT
The mask comes with a silicon spatula which makes the application much easier, you could alternatively use your fingers, but even after you wash them this mask tends to leave a residue behind so I wouldn't advise that. It has a honey scent (I usually can't smell anything so if even I can smell it, I'm guessing it's powerful) that is kind of earthy if you're into that stuff. As you can see, I also coated my lips with the mask because it's winter where I live and I need all the moisture and hydration I can get.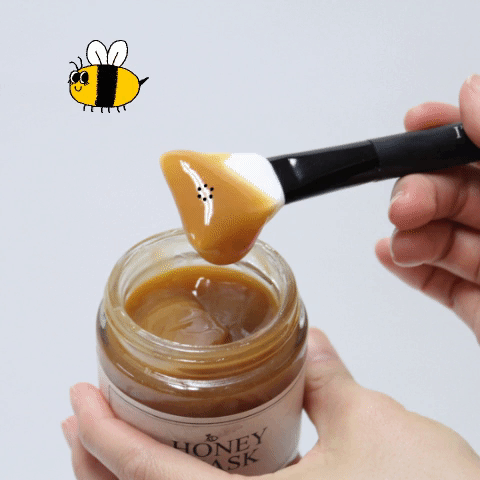 ''This wonderful honey mask provides intense moisture that can make your skin smooth, firm and hydrate'' + ''Bouncing skin": This is one of the most moisturizing and hydrating face masks I have ever used. Actually, you know what, scratch that, this is the most moisturizing and hydrating face mask I have ever used. My skin felt bouncy and smooth and fresh and glowy and BLABLA you get the point. This mask is great if you have dehydrated or dry skin. With masks that are this hydrating and moisturizing, the skin, usually freaks out, because the excess moisture creates a barrier that is too tough to penetrate and seals in things you wouldn't want to be sealed in (dirt, bacteria, excess sebum, …) which created blackheads, whiteheads and triggers acne inflammation or milia. Amazingly, this did not happen to me with this mask (that I used twice a week for over 2 months now) and I'm someone that has hormonal acne so I think it's safe to say that the chances of this product making you break out are very slim, which are probably due to all of the anti-inflammatory anti-acne anti-bacterial ingredients mentioned above.

"Nourishment" + "Recovering": It doesn't take extensive analysis to conclude that yes, obviously, this is a nourishing product, just look at the ingredient list, I mean…38.7% honey as the first ingredient? Come on. As for recovering, well it depends. If you're sunburnt (which my cousin was at one point and I made her use it), this mask will definitely help you recover, with any type of redness, it will tend to reduce it, but if you have active acne inflammation (which I do, on a daily basis, at least in one area of my face because hormones are awesome) this isn't really going to make it go down in any way, it might prevent further acne from popping out, I can't really tell, because I have my acne under control, and it usually always appear on the same exact spots one week before my period and this didn't prevent it from appearing.

''Wrinkle repairing": Honestly for wrinkle repairing, meh. I have nasolabial folds (smile lines) because my cheeks are the size of little planets and the fat pulls down because gravity is a thing, and this mask did not help in any way, so far only the Orc Pack and Facial Pilates Mask have worked to visibly lessen the fine lines, and even then, only for a few hours so… but then again, I am not the most wrinkly person I know. I will say this: when I get very tired my forehead tends to show fine lines and this made them plumper so they showed a bit less.

"Whitening": Whitening: take this term VERY lightly (pun not intended I'm sorry lol), this is a Korean mask, and Koreans like to label some of their products as whitening, what this means to us westernized folks is brightening, and yes, this mask is brightening. Obviously, again, this is thanks to the awesome ingredients, some of them increase the cell turnover, which speeds up the flaking of your upper damaged skin layer to reveal the smoother newer one below, other contains Vitamin C which is known to have a lightening effect on the skin and fade away scars. So yes, this is is whitening/brightening/lightening.
+If you have oily skin, it's because you're overproducing sebum (which moisturizes your skin, essentially trapping what is inside of it), and usually this is due to an oil imbalance, you might be using harsh products, have broken your skin barrier, or a hormonal imbalances, either way, usually the consensus is that you should still hydrate/moisturize your skin to help it reach a normal balance, and I agree, but I did some research and most people with very oily skin did not react well with this mask, it's just too hydrating and moisturizing for your type of skin, you would need something much milder, so I wouldn't recommend it for oily skin.
+PROS:
Reduces redness

Brightens skin

Moisturizes and hydrates

Does not block pores

Does not cause breakouts

Cool texture that does not droop
-CONS:
Kind of expensive if your skin isn't in need of this level of hydration and moisture

Leaves a film residue which might be annoying

The lid of the jar tends to crack very easily
🐝Score: 4.0/5 --- I'm from honey mask is a great product with great ingredients, as I said, I would recommend it for dry/normal/combination skin but if you have oily skin, stir clear from it.