[REVIEW] Aromatica Orange Cleansing Sherbet (Before and After)
I like wearing the occasional mascara, liquid eyeliner, blush, subtle highlighter and even eyeshadow. A lip tint also never hurts. I find myself often not ending up wearing any makeup because taking it off is such a hassle and the easiest way to remove it is using makeup wipes and tugging on my skin is a big no. I've looked around for cleansing balms but they all seem to be composed of coconut oil (which inflames the core of my soul with acne) or a very long list of ingredients (which I find completely pointless because the balm is only going to be sitting on my skin for a maximum of 2 minutes). I eventually found the Aromatica Orange Cleansing Sherbet for 15$ and a short ingredient list and decided to try it out.
Texture: Balm that melts right away and becomes oily with a slight texture to it

What you get: 150g

Cruelty-free : yes

Price (use this link): 36$ [Is usually priced at 22.9$ on Yesstyle and frequent sales make it go down to as much as 15$] (If you use my code: DEWILDE you can get up to 5% off on any Yesstyle purchase at checkout)
+INGREDIENTS
🍊Ingredient list: Helianthus Annuus Seed Oil, Sorbeth-30 Tetraoleate (allows water/oil interaction), Polyethylene, Prunus Armeniaca Kernel Oil, Orbignya oleifera seed oil, Limonene, Cananga Odorata Flower Oil, Cedrus Atlantica Wood Oil, Tocopherol, Citrus Aurantium Dulcis (Orange) Peel Oil, Benzyl benzoate (Solvent, Fragrance, Antimicrobial), Linalool
🗝Key Ingredients:
Cananga Odorata Flower Oil + Cedrus Atlantica Wood Oil + Citrus Aurantium Dulcis Peel Oil: Natural Fragrances + Some have antibacterial and anti-acne claims, but there isn't enough research on essential oils in general when it comes to topical skin application. Some types of skins easily get irritated by essential oils, others don't react in any way, if you're interested, I'd recommend reading this blog post [Are Essential Oils in Skin Care Harmful or Helpful?] by The Klog for more info.
🤔Questionable Ingredient:
+Polyethylene is a synthetic ingredient that has received hate here and there in the skincare world due to it basically being a form of plastic. However, do note that the Cosmetic Ingredient Review (CIR) Expert Panel has reviewed this ingredient in this study, notably: Final report on the safety assessment of polyethylene and has found that ''polyethylene was safe for use in cosmetics and personal care products''. Here's a review on Polyethylene as an ingredient in skincare if you don't want to get into the scientific stuff: Polyethylene. There is always the possibility of any ingredient to react badly with skin, especially synthetic ones, at the end of the day you chose what you apply on your skin, but always be knowledgeable about it.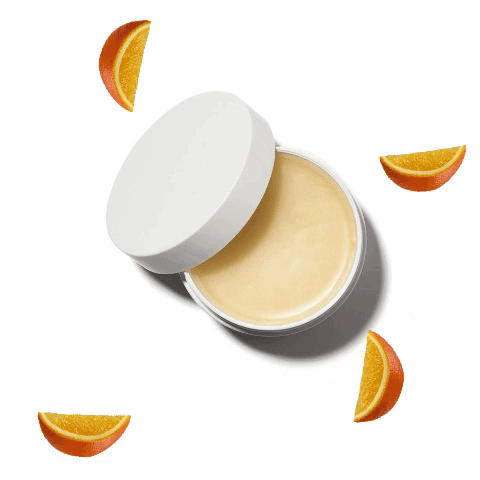 +CLAIMS
AROMATICA's Orange Cleansing Sherbet removes impurities and all traces of make-up and balances oil production in the skin: I tried wearing different makeup brands and different types of makeup (waterproof, tinting,…) and the sherbet was always able to remove every trace of it. Do note that I don't wear any foundation, but I'm pretty sure that it would also dissolve that (or you might need to use the two step cleansing method). As for balancing oil production, I'm not really sure, oily skin has different causes, one of them is your sebaceous glands overproducing sebum due to a range of reasons, and some people have experienced that adding oil to their skincare routine tends to stabilize that overproduction. My T zone (which gets very oily) hasn't been acting up as it usually does, this may be due to a range of reason (I've been taking care of my skin religiously this year), but a good thing to point out is that the Orange sherbet hasn't worsened or broken out my skin in any way. I used it on an active pimple three days in a row and the pimple didn't even get irritated.

A sherbet type cleanser of fresh feeling leaves skin deeply cleansed, moisturized and soft: I use this cleansing balm the exact way the instructions say and I then proceed with a toner instead of using a second water based cleanser (which is what people usually follow with). My skin is always left completely cleansed, moisturized and soft (although not to an very 'deep' extent).

Plant-derived canola oil and organic babassu seed oil allow the cleanser to dissolve grime and dead cells: This one is basically a re-statement of the first claim, and again, I agree with it 100%.
I know that this balm didn't react with that one pimple I had, but the truth is, even though I have skin that tends to be hormonal/oily in the T zone, my skin barrier is currently pretty strong, so I won't break out from most products that contain fragrance/essential oils. The point is, if you have acneic skin, specifically acneic skin that is still currently breaking out, very sensitive skin, or skin that shows signs of a damaged skin barrier, you're better off without it. I would only recommend the Orange Cleansing Sherbet to people with normal/dry/oily skin.
PROS:
Smells wonderful (If you like citrus smell)

More enjoyable to use than most cleansing products

Not harsh on skin

Nourishing and not stripping in any way
CONS:
Pricey (unless you buy it on Yesstyle)
🔸Score: 4.0/5 --- I absolutely adore this product, it worked great on my skin, but it doesn't get a 5.0 because on their website, it's mentioned that this is for ''all skin types'' and I think it's misleading.
+AMAZON
+Product link
(If you use my code: DEWILDE you can get up to 5% off on any Yesstyle purchase at checkout)