[REVIEW] Skinfood Royal Honey Essential Eye Cream (Before and After)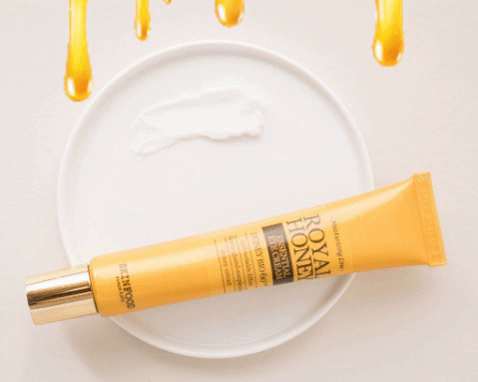 What you get: 30mL

Cruelty-free : No

Price (use this link): 22.90$ (If you use my code: DEWILDE you can get up to 5% off on any Yesstyle purchase at checkout)

Texture: Thick cream
+INGREDIENTS
Ingredients: Water, Honey Extract, Glycerin, Cetyl Ethylhexanoate, Butylene Glycol, Royal Jelly Extract, Cetearyl Alcohol, Isostearyl Neopentanoate, Cyclopentasiloxane, Butyrospermum Parkii (Shea) Butter, Propylene Glycol, Behenyl Alcohol, Polyglyceryl-3 Methylglucose Distearate, Beta-Glucan, Imperata Cylindrica Root Extract, Argania Spinosa Kernel Extract, Cetearyl Glucoside, Polyacrylate-13, Stearic Acid, Sodium Pca, Palmitic Acid, Propolis Extract, Polyisobutene, Arginine, Phenoxyethanol, Ethylhexylglycerin, Sorbitan Isostearate, Peg-100 Stearate, Glyceryl Stearate, Carbomer, Oleic Acid, Polysorbate 20, Honey, Linoleic Acid, Adenosine, Peg-8, Biotin, Disodium Edta, FragranceSodium Polyacrylate, Sodium Cocoyl Glutamate, Glucose, Alcohol Denat., 1,2-Hexanediol, Linolenic Acid, Caprylyl Glycol, Citric Acid, Ppg-26-Buteth-26, Peg-40 Hydrogenated Castor Oil, Potassium Sorbate, Tripeptide-29, Palmitoyl Pentapeptide-4, Palmitoyl Tripeptide-1, Palmitoyl Tetrapeptide-7, Tocopherol,
🐝Intersting Ingredients:
Honey Extract + Honey: Antioxidant +Wound Healing (forms a barrier on the skin) + Moisturizing + Antibacterial

Glycerin: Widely used as a quality Hydrator (occurs naturally in skin and its chemical structure attracts water). You can find this ingredient in most good skin replenishing products

Royal Jelly Extract: Most studies of Royal jelly are about supplementation of it, not topical administration, people give claims that it moisturizes, helps in wound healing and is a great anti-oxidant but I can't find any good research on this ingredient

Butyrospermum Parkii Butter + Glucose + Imperata Cylindrica root extract: Moisturizing

Beta-Glucan: Protects against irritation and environmental stress (the molecules link together to form a barrier on the surface of your skin) + Antibacterial (stimulate white blood cells to attack pathogens) + Hydrating (acts as a humectant (chemical structure attracts and traps water molecules)) + Anti-aging (Boosts collagen production)

Argania Spinosa Kernel Extract: Wound Healing + Anti-inflammatory (Inhibits Edema formation)

Propolis Extract: Antimicrobial + Antiviral + Anti-fungal + Antioxidant (Flavonoids)+ Anti-inflammatory (suppresses different inflammatory mediators) + Wound healing (antibacterial)

Arginine: Antioxidant + Hydrating (acts as a humectant (chemical structure attracts and entraps water molecules)) + Anti-aging (increases collagen production through different pathways)

Oleic Acid + Linoleic Acid + Linolenic acid: Moisturizing + Anti inflammatory + Wound healing + their combination is said to lighten pigmentation (Suppress melanin production)

Adenosine: Anti-aging (collagen stimulation pathway) + Wound healing (collagen stimulation pathway) + Anti-inflammatory (inhibits neutrophils, white blood cells part of the inflammation response)

Biotin: Most studies of Biotin are about supplementation of it, not topical administration, people give claims that it moisturizes/soothes the skin

Tocopherol: Vitamin E
🍺Alcohols: Cetearyl Alcohol + Behenyl Alcohol + Alcohol Denat
A lot of people assimilate alcohol and fragrances in skincare to dehydration and irritation. I would recommend that you watch this video: "Is Alcohol Safe in Skincare Products?" (by Liah Yoo, who worked at Korea's largest beauty company, AmorePacific and now also has her own brand: KraveBeauty) and consult the links provided in the info box which refer to published scientific studies and articles. The main point is: yes, alcohol and fragrance can be very stripping and irritating to the skin, but it all depends on how they are used and combined in the final formulation and of their ratio, the reactions they have with other ingredients, etc…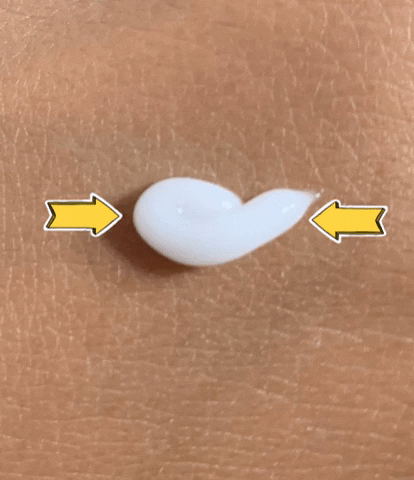 +CLAIMs
Claim taken From the skinfood website.

A luxurious eye cream featuring rich, aged honey that firms the delicate eye area: I don't agree with any of these statements, the product is of very good quality but it does not feel luxurious. Having tried luxurious eye creams before (from my mother), the Royal Honey Essential Eye Cream doesn't have the smoothness and effortless application that most luxurious products do. Furthermore, it simply can't firm the eye area because the ingredients don't specifically promote Elastin expression and production (which is the protein that mainly works to firm skin).
+As you can see from the pictures above, the cream gets absorbed very quickly and leaves very little shine behind.
Here's my advice: if you have really dry skin, especially near the eyes, or if you have more mature skin (early 30's and onward) you will absolutely love this eyecream, but if you have oily skin or skin that tends to clog easily, you're better off trying something like the TOSOWOONG - SOS Spot Whitening Vita Vitamin Eye Cream. For someone like me who has never had any particular problem with her undereye area and who's just using eyecreams as a preventative method, I'll have to pass.
PROS:
Really rich moisturizer

Absorbed quickly by skin
CONS:
Too rich if you're skin doesn't need it
🍯Score: 2.5/5 --- This product just isn't for me, but I do acknowledge that it could work well for other people based on the ingredients (again, if you have a really dry eye area, or more matured skin, try it out!)
+AMAZON
+Product link (Yesstyle).
(If you use my code: DEWILDE you can get up to 5% off on any Yesstyle purchase at checkout)