[REVIEW] AXIS-Y Quinoa One Step Balanced Gel Cleanser (Before and After)
Price (using this link): US$ 25.29 (If you use my code: DEWILDE you can get up to 5% off on any YesStyle purchase at checkout)

Texture: Lightweight almost liquid-like gel

What you get: 180ml, 6.08 fl. oz.

Cruelty-free: Yes

Instagram: @axisy_official
+INGREDIENTS


Ingredients: Water, Decyl Glucoside (Surfactant/Cleansing + Emulsion Stabilising), Sodium Cocoyl Glutamate (Surfactant/Cleansing), Chenopodium Quinoa Seed Extract, Glycerin, Sodium Lauroyl Glutamate (Surfactant/Cleansing), Betaine (Moisturizer/Humectant), Glycine Soja (Soybean Oil), Melaleuca Alternifolia (Tea Tree) Extract, Chlorphenesin (Preservative + Antimicrobial/Antibacterial), Hydroxyacetophenone , Ethylhexylglycerin (Preservative + Deodorant), Camellia Sinensis Leaf Extract, Humulus Lupulus (Hops) Extract, Ocimum Tenuiflorum Extract, Centella Asiatica Extract, Calendula Officinalis Flower Extract, Prunus Amygdalus Dulcis (Sweet Almond) Fruit Extract, Citric Acid (Buffering), ♦️Geranium Maculatum Oil, Allantoin


🌱Interesting Ingredients:
Chenopodium Quinoa Seed Extract: Hydrator (Essential fatty acids) + Vitamin C and E + Antioxidant + Might promote Collagen production (Lysine and Methionine)

Glycerine: Widely used as a quality Hydrator (occurs naturally in skin and its chemical structure attracts water). You can find this ingredient in most good skin-replenishing products.

Glycine Soja (Soybean) Oil: 🔴[Not enough research] Most data on soybean is on Glycine Soja Sprout Extract + Glycine Soja Seed Extract, which is: Anti-inflammatory (flavonoids) + Anti-Aging (Elastin and collagen-stimulating effects) + Photoprotection (Polyphenols). The oil itself has some emollient and antioxidative compounds but is not researched enough to really state anything solid. 

Melaleuca Alternifolia (Tea Tree) Leaf Extract: Tea Tree leaf oil is known to be anti-acne (has Antibacterial, Antifungal, and Antiviral properties), but the leaf extract itself is not well researched. Usually, oils are more concentrated than the extracts, so you could assume that the extract has the same properties but with less potent action. [Also note that some people use the terms leaf extract and leaf oil interchangeably, so this could also be the case]

Hydroxyacetophenone: Acts as a preservative and might have some antioxidative properties (depend on derivative used)

Camellia Sinensis Leaf Extract (Green tea): Antioxidant (Polyphenol) + Anti-inflammatory (Polyphenol) + Antimicrobial (Catechins)

Humulus Lupulus (Hops) Extract: Antioxidant + Anti-inflammatory + Antibacterial (Against P. acnes and S. aureus, two bacteria involved in acne proliferation) + Anti-acne (due to mentioned properties)

Ocimum Tenuiflorum (Tulsi) Extract: 🔴[Not enough research]

Centella Asiatica Extract: Wound healing (promotes collagen production) + hypertrophic scar healing properties in particular

Calendula Officinalis Flower Extract: Anti-inflammatory + Antioxidant 

Prunus Amygdalus Dulcis (Sweet Almond) Fruit Extract: 🔴[Not enough research]

Allantoin: Moisturizing ( Emollient: provides a layer of protection to help prevent water loss)

♦️Controversial Ingredient:

Geranium Maculatum Oil: [Not enough research] Potentially antimicrobial + Perfuming
+INSTRUCTIONS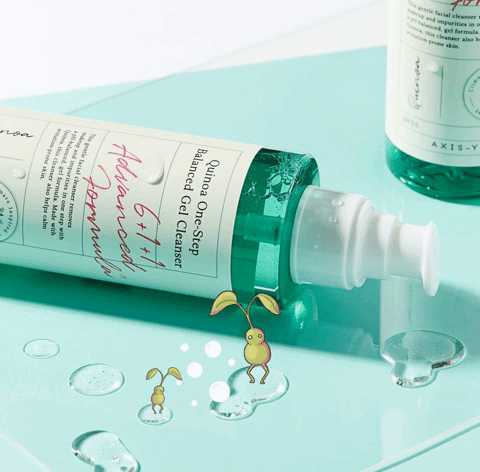 +CLAIMS ON BENEFITS
Claims from the AXIS-Y product page.


1.Gently but effectively cleanse the skin, clears makeup and pores in one step: This is one of the most efficient cleansers I've ever used. It doesn't sting the eyes. It removes makeup, mascara, and eyeliner - without giving you this weird black smudge under the eyes the day after. It also removes excess oils and sweat. The only thing it doesn't do is balance out my oily T-zone or altogether remove waterproof makeup, but I forgive it. While I still prefer the AXIS-Y Sunday Morning Refreshing Cleansing Foam because it leaves me feeling like I don't have oily skin for the rest of the day, I keep reaching for the Quinoa One Step Balanced Gel Cleanser when I don't have the patience to double-cleanse. I've also been traveling around for the past few months, and I've been packing it as a stand-alone cleanser. This isn't the best cleanser out there, it doesn't hydrate the skin, and you will need to follow up with a serum or moisturizer. Its texture also isn't the most luxurious, but this is THE most convenient cleanser I've ever used. If you wear makeup or need to double-cleanse because of how oily your skin is and lazy, you'll probably really like this product.
2.Removes excess keratin and free radicals: I think it's interesting to first shed a bit of light on Keratin and Free radicals, but feel free to skip to the underlined answer to this claim at the end of this paragraph. Keratin is an important protein produced by cells called Keratinocytes and contributes to your skin's rigidity, waterproof properties, and skin barrier functions. I'm not going to give you a biology lesson, but here's the gist of it: "The best-known function of keratins and keratin filaments is to provide a scaffold (through self-bundling and by forming thicker strands) for epithelial cells and tissues to sustain mechanical stress, maintain their structural integrity, ensure mechanical resilience, protect against variations in hydrostatic pressure and establish cell polarity[...]Keratins and keratin filaments are involved in other than mechanical functions, such as cell signaling, cell transport, cell compartmentalization, and cell differentiation." [source]. So yea, an important protein, to say the least. As for free radicals, they are molecules with unpaired electrons that destroy skin cells to 'steal' electrons from them. They can cause oxidative stress, premature aging, skin damage, and even cancer. All the hype surrounding antioxidative serums is due to their ability to fight these molecules and protect the skin against them. But it's also important to note that "there is increasing evidence that free radicals act as signals for cell adaptation in a variety of cell types and the nature of the mechanisms by which free radical species influence gene expression is the subject of much current research," [source]. Going back to the claim, AXIS-Y probably just means that this cleanser is going to remove dead skin cells ('dead' Keratinocytes make up the upper layer of the sin) and excess free radicals. Since it does not have any exfoliating ingredients, it won't remove dead skin cells, only the super loose ones that normally shed away as you wash your face and live your life. For the part of the free radical, this cleanser does have some antioxidants, so this claim is probably valid, but keep in mind that you're washing everything away.
3.Rebuilds skin for a supple and smooth complexion, the combination of quinoa and healthy nutrients remove environmental toxins to reveal healthy, lively skin: Although this cleanser has some nice antioxidative and moisturizing ingredients, I have not found that it has made a remarkable difference in my skin. If you've been using a cleanser with a lot of fragrances or harsh cleansing ingredients, transitioning to this one will have a noticeable effect as your skin will surely become smoother and more supple since you'd be upgrading to a kinder formulation. But if you've been using a good cleanser, and you start using this one, chances are you won't see any difference in your skin. As such, since the last cleanser I used was also from AXIS-Y (the Sunday Morning Refreshing Cleansing Foam), I didn't see any increase in suppleness or smoothness. Also, note that the Quinoa One Step Balanced Gel Cleanser doesn't have any chemical or physical exfoliant, so it can't make your skin smoother unless your skin had texture due to irritation. And even then, although there are anti-inflammatory ingredients in it, it isn't powerful enough to subdue an irritating reaction. For this, I would recommend checking out the Klairs Midnight Blue Calming Cream in conjunction with the AXIS-Y Artichoke Intensive Skin Barrier Ampoule (both of these are great to combat any irritation or inflammation). As for 'rebuilding skin,' this product will do no such thing, not because it's not good enough but for the simple fact that no cleanser has the power to rebuild skin since it's only sitting there while you cleanse your skin and then washed off. Finally, for 'removing environment toxins' and the last part of the claim, as I said in the past claim point above, this is an excellent cleansing agent, so yes, definitely.
4.Delivering a gentle and hydrating wash at your skin's natural pH: While it is definitely gentle and you won't feel like you're stripping your skin out of anything, I wouldn't go as far as to state that it's hydrating. If I don't moisturize or hydrate my skin after using this cleanser (this is how I tested it), my skin doesn't feel uncomfortable, but it definitely feels like it needs hydration. The only cleanser to have ever left my skin more hydrated after its use is the Pyunkang Yul Low pH Pore Deep Cleansing Foam (10$). As for the pH part, the AXIS-Y Quinoa One Step Balanced Gel Cleanser has a 5.5 pH. Here's the paragraph I always copy and paste from past reviews when it comes to pH:
Here's an excerpt from ''ALL ABOUT CLEANSING & HOW TO CHOOSE A GENTLE CLEANSER'' by Michelle from Lab Muffin blog: ''Skin is acidic, meaning it has a low pH (around 4 or 5). This is important because a lot of the biochemical reactions that occur in the Skin only work within a narrow pH range. Surfactant-containing cleansers are particularly good at changing skin pH for long amounts of time, meaning that if your cleanser has a particularly high pH, then it's going to hinder your skin from repairing itself. High pH also makes Skin swell and reduces its flexibility.'' So, the bottom line is, pH is important. That being said, most tap water pH lies around the 6.5 or 9.5 margins depending on where you live, so even if you apply a pH-appropriate cleanser to your face, you might end up washing it off with non-appropriate pH water. I guess for products to truly take all of this into consideration, they should formulate a product whose pH, when mixed with water, would be around 5. I don't personally care much about pH. As I've said in many reviews. However, some studies on compromised skin barriers have found that unhealthy skin barriers usually have an elevated pH [ex: Repairing a Compromised Skin Barrier in Dermatitis: Leveraging the Skin's Ability to Heal Itself [source]]. So if you have signs of such an issue, which usually are 'dry, scaly, inflamed, and irritated skin.', then nit-picking products with appropriate pH would benefit your skin.
Either way, the ph is appropriate in this cleanser so that's a good thing if you have a compromised skin barrier.
Keep in mind that the product doesn't foam up as much as you would expect a cleanser to, but its liquidy soft foam texture makes it more appropriate to use around your eyes as it won't irritate them or make you feel uncomfortable - I don't know if this is a 'me' thing, but I hate using foaming products near my eyes. As you can see from the before and after pictures, everything is removed except for the waterproof eyeliner and mascara.
I would basically recommend this product to people who are looking for the closest thing to a one-step cleanse to remove any dirt or makeup from their skin. If you don't mind a two-step cleanse and aren't lazy, then there are better ones out there. If you have normal, oily, or combination skin, this should work well if that is your goal; otherwise check out the AXIS-Y Sunday Morning Refreshing Cleansing Foam. If you have dry skin or sensitive skin, don't use this, it's not hydrating enough, and the presence of the Geranium Maculatum Oil could potentially irritate your skin, try out the Pyunkang Yul Low pH Pore Deep Cleansing Foam instead.
If you have acne-prone skin, again, don't try this out, the Geranium Maculatum Oil could also trigger your acne. As I always say, it's better to use acne-specific cleansers if you have active acne or at least something without any potential irritants, check out this post instead: [10] Anti-Acne products that actually work + A Skincare routine.

+PROS:
Appropriate pH

Gets rid of the majority of makeup products and types

Great cleansing properties

Convenient One-step-cleanser for any simple or lazy skincare routine (or for when you're traveling and don't want to overpack)
-CONS:
Presence of Geranium Maculatum Oil which could potentially irritate sensitive skin
🌱🌱Score: 2.9/5 --- This is a very convenient cleanser. I would have given it a much higher score if it didn't have Geranium Maculatum Oil, and if it was a bit more hydrating, I still prefer the AXIS-Y Sunday Morning Refreshing Cleansing Foam over it.