[REVIEW] L'Oréal Revitalift Laser X3 Anti-Ageing Power Eye Cream (Before and After)
+INGREDIENTS
Ingredients: Aqua / Water, Dimethicone (Emollient), Glycerin, Silica (Viscosity Controlling + Absorbent /Mattifier), Acrylamide/Sodium Acryloyldimethyltaurate Copolymer (Viscosity Controlling + Emulsion Stabilising), Prunus Armeniaca Kernel Oil / Apricot Kernel Oil, Triethanolamine (Buffering), Dimethicone/ Vinyl Dimethicone Crosspolymer (Viscosity Controlling), Dimethiconol (Emollient + Moisturizer/Humectant), Caffeine, Isohexadecane (Emollient + Solvent), Adenosine, Disodium Edta (Chelating + Viscosity Controlling), Propylene Glycol (Moisturizer/Humectant + Solvent + Viscosity Controlling), Hydrolyzed Hyaluronic Acid, Hydroxyethylpiperazine Ethane Sulfonic Acid (Buffering), Hydroxypropyl Tetrahydropyrantriol, Polysorbate 80 (Emulsifying + Surfactant/Cleansing), Acrylates/C10-30 Alkyl Acrylate Crosspolymer (Viscosity Controlling + Emulsion Stabilising), Tocopheryl Acetate, Phenoxyethanol (Preservative), Chlorphenesin (Preservative + Antimicrobial/Antibacterial), Ci 77891 / Titanium Dioxide (White Pigment), ♦️Mica
🔦Interesting Ingredients:
Glycerin: Widely used as a quality Hydrator (occurs naturally in the skin, and its chemical structure attracts water). You can find this ingredient in most good skin-replenishing products.

Prunus Armeniaca Kernel Oil (Apricot): Hydration (Fatty Acids) + Anti-inflammatory (Linoleic acid) + Source of Vitamin E

Caffeine: Antioxidant (slows down photoaging process) + Wound healing (promotes microcirculation)

Adenosine: Anti-aging (collagen stimulation pathway) + Wound healing (collagen stimulation pathway) + Anti-inflammatory (inhibits neutrophils, white blood cells part of the inflammatory response)

Hydrolyzed hyaluronic acid: Hyaluronic Acid is a relatively big molecule that tends not to penetrate the skin very deep. After its rise to popularity, different formulators have created smaller or different versions of this molecule. Hydrolyzed hyaluronic acid means that this molecule has been ruptured into smaller parts. Depending on the final size of the molecule, it can have different properties. L'Oréal does not specify the size, but the properties all center around hydration/moisture, some even exhibiting anti-inflammatory and skin-repairing properties. 

Hydroxypropyl Tetrahydropyrantriol: 🔴[Not enough research] According to the study, Pro-Xylene stimulates the synthesis of Glycosaminoglycans (GAGs). GAGs are usually synthesized in the cell and linked to either elastin or collagen fibers. These molecules participate in maintaining skin structural integrity and are high in water-holding capacity, which means they also hydrate your skin. Note that these claims are only backed by studies made by the manufacturer (Lancome/L'Oréal), and no independent study/research/clinical trials of interest have been made on this ingredient as of date.

Tocopheryl Acetate: Most commonly used form of Vitamin E (Most abundant antioxidant found in human skin, works as a photoprotective agent + Anti-inflammatory ). Popular culture suggests that it also helps in wound healing, but this is not adequately backed up by research.
♦️Controversial Ingredients:
Mica (Colorant): "Earth-derived silicate minerals included in products to give them sparkle and shine as well as varying degrees of opacity." [considered safe for use in cosmetics]
+INSTRUCTIONS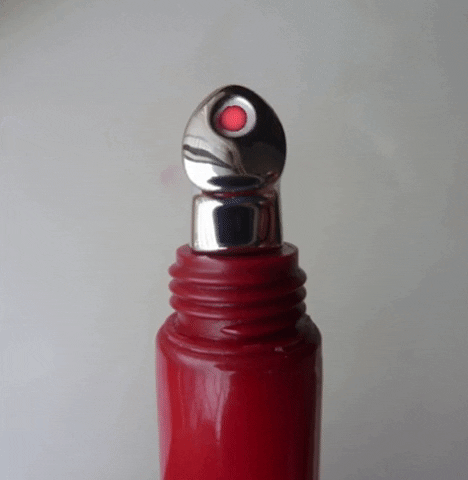 +CLAIMS
Claims from L'Oréal's product page.


Corrects wrinkles: enriched with fragmented Hyaluronic Acid, to repair and correct the appearance of wrinkles: Wrinkles are mainly caused by a loss of collagen and elastin. So to reduce or 'correct' them, you need ingredients to stimulate both of these proteins. As you can see from the in-depth ingredient list above, this eye cream contains Hydroxypropyl Tetrahydropyrantriol, which stimulates Glycosaminoglycan synthesis. Glycosaminoglycans are part of the extracellular matrix (your skin), but they don't play as significant roles as collagen and elastin do, so they won't notably affect how deep a wrinkle is. The claim itself is formulated in a very 'marketable' way, using words like 'correct' and 'appearance.' These are words companies use when they can't show that their products physically changes wrinkles. 'Appearance' means your wrinkles will look less prevalent when you use this eye cream, but not that the structure itself will improve. Since the formulation contains good hydrating and moisturizing products, it will plump up any fine lines you may have in that area. The point is, this appearance is not long-lasting. When you finish using the L'Oréal Revitalift Laser X3 Anti-Ageing Power Eye Cream, you'll probably eventually go back to how your skin initially looked

Reduces eye bags: enriched with Caffeine, it helps stimulate microcirculation* to deflate eye bags. The innovative metal applicator provides additional cooling: If by eyebags, they mean puffy eyes: Puffy eyes are influenced and caused by a variety of things like genetics, lifestyle, tiredness, diet, allergies, and whether you cry a lot or not - for example, in 2020, eye puffiness probably increased tenfold. Since this eye cream contains a good mix of anti-inflammatory ingredients, Caffeine that promotes microcirculation, and a metal point that can contribute to a cooling effect: yes, it will reduce eye puffiness. However, if by eye bags they mean dark circles, as I've mentioned in this post: ''Dark circles are influenced by genetics, lifestyle, tiredness, and diet - among other things. But from an anatomical perspective, the skin under our eyes is thinner, making it so that the darkly colored blood vessels underneath it are more apparent. There is also the general form of the area, characterized by a depression below the eye, forming the tear trough: in some people, it's just deeper and creates shadowing, darkening it. Taking these things into consideration, you would need ingredients that promote collagen/elastin (to thicken up the area), as well as anti-inflammatory/depuffing ones (to make it less apparent), and brightening ones (brightening the skin there follows the same logic as applying an under-eye concealer).'' There are anti-inflammatory ingredients in this cream, but no brightening ones, so the claim is invalid in that case - or barely valid. Do note that there is the presence of Mica which is going to make your eye area appear brighter - but this will just be a temporary makeup-like effect.

Firms: enriched with Pro-Xylane™, this strengthens the support fibers firming and plumping the skin: This is an ingredient that I've talked about when reviewing SkinCeuticals H.A. Intensifier: "Hydroxypropyl Tetrahydropyrantriol has been shown to promote Glycosaminoglycans (GAG) synthesis. These molecules are known to link to collagen and Elastin fibers to maintain skin structural integrity, and Hyaluronic Acid also helps with that since it is also a GAG. Elastin is the elastic protein that gives skin its firmness, so this serum should also help with that. I haven't seen much of a difference in firmness. I prefer skincare products that directly target elastin production rather than help it maintain its structure ( something like the Primera Wild Seed Firming Water)." I maintain the same thing here, your eye area won't get firmer with this eye cream, but it will get plumped up thanks to the hydrating and moisturizing ingredients.
I don't have a particularly dry or problematic under-eye area, only a couple of fine lines which got plumped up from the cream.
L'Oréal always likes to make wild claims about its products. As you can see, I feel like the majority of these claims are not met. However, technically speaking, all of these claims have ingredients that back up what they say; it's just that all in all, the ingredients are present in too low of a concentration to make a real noticeable impact. Your eye area is probably going to be less wrinkly, less puffy, and more firm, but for the most part, the change will barely be noticeable - at least that's my experience.
Now, this does not mean I don't like this product, as this is one of my favorite eye creams from L'Oréal. There are no fragrances or irritating compounds like ethylhexylglycerin (a common preservative in a lot of eye creams, which is irritating to some people) and no colorants. The only 'gimmicky' ingredient is Mica, used to make your eye area shine more, but it is a safe mineral.
Moreover, the ingredients are good hydrators and moisturizers and keep my under-eye area hydrated and moisturized throughout the day. Anyone in their teens or twenties, or people just looking to prevent or delay fine lines and wrinkles in the eye area can use this cream to do so. While it is not actively anti-aging, it is consequently anti-aging since it is a good Hydrator and Anti-inflammatory product: inflammation and dryness enhance signs of aging, and a lot of research shows that inflammation in particular speeds up aging in the skin (and all other organs).
So would I recommend this eye cream? If you have an extremely dry under-eye area, then no, you need something more moisturizing like the Mizon Snail Repair Eye Cream. If you have a sensitive eye area, this may or may not work. In theory, the presence of anti-inflammatory ingredients shouldn't further irritate/sensitize your skin. If you have a very mature eye area, try looking for an eye cream that contains retinol instead, there's the L'Oreal Paris Skincare Revitalift Triple Power Anti-Aging Eye Cream, Under Eye Treatment, with Pro-Retinol with a similar formulation and the addition of pre-retinol if you want to try it out (I haven't). For all other skin types: this is a good eye cream to try out. I still prefer the Purito Centella Green Level Eye Cream ($10.18), which contains way more interesting ingredientS. But I have to admit that the L'Oréal one is easier to get your hands on no matter where you are in the world, so it's more convenient.
+PROS:
Good hydrator/moisturizers

Presence of many anti-inflammatory ingredients

Convenient to buy and find

No 'bad' ingredients

No Ethylhexylglycerin (Rare for eye creams)
-CONS:
Over the top claims

There are much more interesting eye creams at an even lower price range

Metal tip doesn't 'slide' on the skin as effectively as it could

The material this product is made out of makes it so that when you reach its half or 3/4 it becomes annoying to squeeze it out
⚡2.6/5 ——— An okay eye cream, there are better ones on the market for lower prices, but this one isn't bad and it's quite convenient to find and buy.
+AMAZON
+Yesstyle: If you use my code: DEWILDE you can get up to 5% off on any Yesstyle purchase at checkout. [this Serum is currently sold out at the majority of resellers, you can purchase it directly from AXIS-Y's website, I'll update this post when Yesstyle has it back in stock]