[REVIEW] SkinCeuticals H.A. Intensifier
Price (use this link): 100$ [Note that the one sold on Amazon has been reported to be a fake version of the product, as such, limit yourself to the official website, or trusty resellers]

Texture: Slightly viscous

What you get: 30 ml

Cruelty-free: No

Instagram: @skinceuticals

+Ingredients
Ingredients: Aqua/Water/Eau, Cyclohexasiloxane (Emollient + Solvent), Glycerin,♦️Alcohol Denat , Hydroxypropyl Tetrahydropyrantriol, Propylene Glycol (Moisturizer/Humectant + Solvent + Viscosity Controlling) , Dipotassium Glycyrrhizate, ♦️Polysilicone-11, ♦️Polymethylsilsesquioxane, Sodium Hyaluronate , Dimethicone (Emollient + Silicone), Tocopherol , Phenoxyethanol (Preservative), Capryloyl Salicylic Acid , Octyldodecanol (Emollient + Perfuming), Bis-PEG/PPG-16/16 / PEG/PPG-16/16 Dimethicone (Emollient + Emulsifying + Skin conditioning + Surfactant), PEG-20 Methyl Glucose Sesquistearate (Emulsifying) , Ammonium Polyacryloyldimethyl Taurate (Viscosity Controlling + Emulsion Stabilising), Caprylyl Glycol (Moisturizer/Humectant + Emollient + Deodorant), Xanthan Gum (Viscosity Controlling + Emulsifying + Surfactant/Cleansing + Emulsion Stabilising), Dextrin (Viscosity Controlling + Moisturizer/Humectant + Absorbent/Mattifier), Oryza Sativa Extract, Rice Extract, Disodium EDTA (Chelating + Viscosity Controlling) , Caprylic/Capric Triglyceride (Emollient) , Sodium Hydroxide (Buffering), Adenosine, ♦️Citrus Nobilis Peel Oil/Mandarin Orange Peel Oil, ♦️Limonene, ♦️T-Butyl Alcohol, Cellulose Acetate Butyrate (Film Forming) , Polyphosphorylcholine Glycol Acrylate (Film Forming), ♦️Polyvinyl Alcohol, Sodium Chloride (Viscosity Controlling), Butylene Glycol (Moisturizer/Humectant + Solvent + Viscosity Controlling) , Pentaerythrityl Tetra-Di-T-Butyl Hydroxyhydrocinnamate (Antioxidant + Preservative)

🔮Interesting Ingredients:
Glycerine: Widely used as a quality Hydrator (occurs naturally in skin and its chemical structure attracts water). You can find this ingredient in most good skin-replenishing products.

Hydroxypropyl Tetrahydropyrantriol: 🔴[Not enough research] According to the study, Pro-Xylene stimulates the synthesis of Glycosaminoglycans (GAGs). GAGs are usually synthesized in the cell and linked to either elastin or collagen fibers. These molecules participate in maintaining skin structural integrity and are high in water-holding capacity, which means they also hydrate your skin. Note that these claims are only backed by studies made by the manufacturer (Lancome/L'Oréal), and no independent study/research/clinical trials of interest have been made on this ingredient as of date.

Dipotassium Glycyrrhizate: Prevents hyperpigmentation (Inhibits Melanin forming activity of Tyrosinase) + Help preserve hyaluronic acid content in the skin)

Sodium Hyaluronate: Hydrating (water-binding properties) + Wound healing (promotes microcirculation)

Tocopherol: Vitamin E (Most abundant antioxidant found in human skin, works as a photoprotective agent + Anti-inflammatory ). Popular culture suggests that it also helps in wound healing, but this is not adequately backed up by research.

Capryloyl Salicylic Acid: A derivative of Salicylic Acid created by L'Oréal. It "has a larger molecular size and along with its fatty acid structure has been shown to penetrate the skin slower than salicylic acid," which means that it is less irritating and milder in effect than when it comes to anti-acne and peeling capacities. Studies made on this ingredient are all supported by L'Oréal, a noteworthy one proves its efficacy as a peeling agent in reducing hyperpigmentation and fine lines. 

Oryza Sativa (Rice) Bran Extract: Antioxidant + Anti-aging + Moisturizing [ Vitamin E, vitamin B, Squalane, Beta-carotene, Lycopene enzymes like CoQ10]

Rice Extract: This nomenclature encompasses an array of different extracts, from oil to water to starch, bran, etc.. Nothing can be accurately associated with this ingredient as there is not enough information in its name (it could be used as an abrasive, absorbent, surfactant, …)

Adenosine: Anti-aging (collagen stimulation pathway) + Wound healing (collagen stimulation pathway) + Anti-inflammatory (inhibits neutrophils, white blood cells part of the inflammatory response)
♦️Controversial Ingredients:
Polysilicone-11 + Polymethylsilsesquioxane: Film-forming + Texture enhancer + Protective barrier formers.

+The majority of negative claims associate to silicones stem from unproven myths. I suggest reading this piece to form an opinion: ''Silicone in Skin Care'' by Paula's choice.

Alcohol Denat: Antimicrobial/Antibacterial + Solvent + Viscosity Controlling + Astringent

Citrus Nobilis Peel Oil/Mandarin Orange Peel Oil + Limonene : Perfuming

T-Butyl Alcohol: Perfuming + Solvent

Polyvinyl Alcohol: Viscosity Controlling

+A lot of people assimilate alcohol and fragrances in skincare to dehydration and irritation. I would recommend that you watch this video: "Is Alcohol Safe in Skincare Products?" (by Liah Yoo, who worked at Korea's largest beauty company, AmorePacific and now also has her own brand: KraveBeauty) and consult the links provided in the infobox which refer to published scientific studies and articles. The main point is: yes, alcohol and fragrance can be very stripping and irritating to the skin, but it all depends on how they are used and combined in the final formulation and of their ratio, the reactions they have with other ingredients, etc…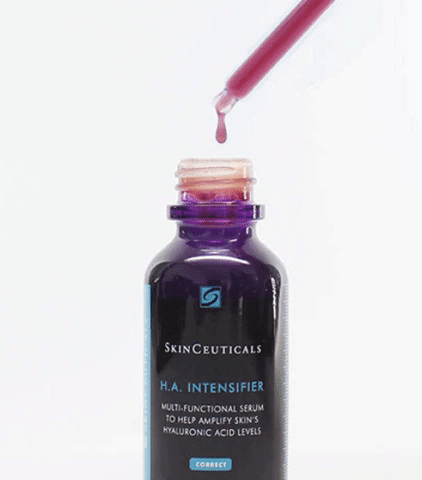 +CLAIMS
Claims taken from [Skinceuticals.com]

Amplifies skin's hyaluronic acid levels by 30%: Everyone and their mother knows about Hyaluronic Acid (HA) by now, but in case you haven't heard about this ingredient whose been creeping up in the majority of skincare products, here's the gist of it: it's a molecule that attracts and binds water to the skin, which results in the plumped-up appearance of fine lines and wrinkles. This type of water-based moisture also helps with wound healing [source]. The body naturally produces HA, but as you age, "According to the journal DermatoEndocrinology, the most dramatic histochemical change observed in aging skin is the marked disappearance of sodium hyaluronate in the top layer of skin.", so incorporating it in any skincare routine is of interest. According to research made by Skinceuticals using this particular product with a combination of their cleanser and sunscreen, the skin's HA levels went up to 30% after 12 weeks, which is good. While I can't attest to 30%, I personally also felt like my skin was more hydrated and plump. However, I feel like most hydrating products on the market achieve this hydration and plumpness level these days. HA started gaining popularity in 2017, and every year after that, we saw an increase in HA serums. At this point, almost every hydrating or anti-aging products out there have some concentration and form of this molecule; if you search for "Hyaluronic Acid" on my website, you'll probably end up with an extensive list of 3/4 of the products I've ever reviewed. What I'm trying to say is that I'm not impressed by the result because it's not a 100$-worthy result.

Reduces the look of crow's feet, nasolabial folds (parenthesis around the mouth or laugh lines), and marionette lines (lines from the corners of the mouth down to chin) for smoother, firmer skin: It does reduce all of these fine lines, but if you have deep established wrinkles, that aren't due to a lack of sleep or hydration, it won't dramatically change their appearance, only plump them the tiniest bit up. Your skin will get smoother if it's dry, to begin with, but if you have a texture problem, although SkinCeuticals H.A. Intensifier contains one exfoliating agent (Capryloyl Salicylic Acid, see in-depth ingredient list above for more information), this ingredient only makes it more adequate to use on acne-prone skin, but should not be considered as something that will actively change the texture of your skin (try something like the SOME BY MI Aha/Bha/Pha 30 Days Miracle Toner instead). As for "firmer skin," Hydroxypropyl Tetrahydropyrantriol, or what Skinceuticals markets as "Proxylane™" has been shown to promote Glycosaminoglycans (GAG) synthesis. These molecules are known to link to collagen and Elastin fibers to maintain skin structural integrity, and Hyaluronic Acid also helps with that since it is also a GAG. Elastin is the elastic protein that gives skin its firmness, so this serum should also help with that. I personally haven't seen much of a difference in firmness. I prefer skincare products that directly target elastin production rather than help it maintain its structure ( something like the Primera Wild Seed Firming Water).

Delivers long-lasting hydration: During the winter months, this serum was a great add-on to my routine, but I still felt the need to follow up with a moisturizer to seal in the hydration. During spring and summer, the hydration was long-lasting and quite adequate.

Unique serum-gel texture format creates a smooth canvas on skin: I didn't enjoy the texture, as I found it to silicon-y to my likings - I have nothing against silicone, particularly the ones used in this serum, as they are non-comedogenic and suitable for sensitive skin types. And although it is fast-absorbing, it does leave a little tackiness behind. This is great if you intend to use it as a primer under makeup, but not so great if you don't.

Can be used as home care after dermal fillers; always consult with a physician for individual regimen recommendations: I never heard about dermal fillers aftercare involving serum application. The majority of aftercare focuses on massaging the area if lumps occur or using Tylenol if there is pain. Doctors usually recommend not touching the areas for 3-4 hours afterward.
The good thing with this serum is that it doesn't rely on just Hyaluronic Acid but also incorporates interesting ingredients like Dipotassium Glycyrrhizate and Oryza Sativa (Rice) Bran Extract (you can read about them in the in-depth ingredient list above). Overall the SkinCeuticals H.A. Intensifier is a good product that delivers on an adequate portion of its claims. Still, there are a couple of problems, but I won't discuss the controversy surrounding alcohol and silicones as I've done so above. First, it contains perfuming ingredients (Citrus Nobilis Peel Oil/Mandarin Orange Peel Oil and Limonene), which can be sensitizing to any skin type.
Second, the price is far from adequate. This is not a product that is worth 100$. There are hundreds of products that deliver the same results, some better ones that cost a fraction of the price with less controversial ingredients. My favorite would be the SKIN&LAB Red Serum, which has sodium hyaluronate at the top of its list and is packed with antioxidative and anti-inflammatory ingredients. This one costs 36.90$, and I've experienced better, more noticeable results with it. Still, you can also find cheaper alternatives if you want to. I usually love SkinCeuticals products, and they've worked wonders with my skin in the past, but they don't usually contain fragrance in their formulation, which makes this one odd.
As for recommending it: Sensitive skin type should pass due to the presence of fragrance. Acne-prone skin types would benefit from the slight exfoliation incorporated in the formula. Still, I would encourage you to read this post [10] Anti-Acne products that actually work + A Skincare routine, which would recommend more suitable products. Due to its consistency, I feel like people with really oily skin wouldn't enjoy the texture. This leaves us with combination, normal, and mature skin. This product is suited for all of you, but I would still not particularly recommend it due to its price point: why buy a 100$ product when you can get better results at a lower price?
PROS:
Interesting ingredients that hydrate and maintain a healthy skin barrier

Long-lasting hydration

You won't need to use a moisturizer above it unless it's extremely dry and cold
CONS:
Presence of fragrance has the potential to irritate the skin

Very poor price/quality ratio

Although not a con for me, it has denatured alcohol and silicones, which a lot of people don't like

🌚 Score: 2.5/5 ——— A good Hydrating product, extremely inadequately priced (hence the low score), with fragrant ingredients that serve no purpose.
+Yesstyle: If you use my code: DEWILDE you can get up to 5% off on any Yesstyle purchase at checkout