[REVIEW] Mizon Snail Repair Eye Cream (Before and After)
Price (using this link): US$ 12.50 (If you use my code: DEWILDE you can get up to 5% off on any YesStyle purchase at checkout)

Texture: Soft, gooey, not sticky

What you get: 25ml

Cruelty-free: Yes

Instagram: @mizon_official
+INGREDIENTS
Ingredients: Snail Secretion Filtrate, Glycerin, Butylene Glycol (Moisturizer/Humectant + Solvent + Viscosity Controlling), Limnanthes Alba (Meadowfoam) Seed Oil, Niacinamide, Cetearyl Olivate (Emulsifying), Sorbitan Olivate (Emulsifying), Glyceryl Stearate (Emollient +Emulsifying), Phytosqualane, Octyldodecyl Myristate (Texture Enhancer + Skin-Softening + Emollient), ♦️Cetearyl Alcohol, PEG-100 Stearate (Surfactant/Cleansing + Emulsifying), Beeswax, Dimethicone (Emollient), Stearic Acid (Emollient + Viscosity Controlling), Sodium Hyaluronate, Polyacrylate-13 (Thickening agent + Emulsifier), Polyisobutene (Viscosity Controlling), Polysorbate 20 (Emulsifying + Surfactant/Cleansing), **Sodium Hyaluronate, Hydrolyzed Wheat Protein (Moisturizer /Humectant), Prunus Amygdalus Dulcis (Sweet Almond) Seed Extract, Palmitoyl Pentapeptide-4, Portulaca Oleracea Extract, Betula Platyphylla Japonica Juice, Adenosine, 1,2 octanediol, ♦️Ethylhexylglycerin (Preservative) , Tropolone, Disodium EDTA (Chelating + Viscosity Controlling)
🐌Interesting Ingredients:
Snail Secretion Filtrate: Antioxidant + Wound healing (promotes extracellular matrix assembly and inhibit metalloproteinases production (their overproduction is directly linked to chronic wounds and the formation of scars)

Glycerine: Widely used as a quality Hydrator (occurs naturally in skin and its chemical structure attracts water). You can find this ingredient in most good skin-replenishing products.

Limnanthes Alba Seed Oil (Meadowfoam): Emollient + Antioxidant

Niacinamide: Anti-aging (promotes collagen production and Ceramides synthesis) + Antioxidant (Against UV-induced photocarcinogenesis and photo immunosuppression) + Anti-inflammatory ( Possible reductions in total sebaceous creation of lipids, overproduction being one of the causes of acne) + Anti-hyperpigmentation (Inhibits Melanin pigment to reach most skin cells)

Phytosqualane: This is the plant extract form of  Squalane: Naturally produced by the body (production slows dramatically after age 30), it repairs, deeply moisturizes, and has anti-aging benefits.

Sodium Hyaluronate: Hydrating (water-binding properties) + Wound healing (promotes microcirculation)

**Sodium Hyaluronate: This ingredient is present in the formulation twice, at different concentrations; this is perhaps because they are of different molecular sizes as Sodium Hyaluronate exists in hydrolyzed and cross polymeric forms, some products use these different sizes and claim that this helps in the penetration of the ingredient. Or maybe it's just a typo lol.

Prunus Amygdalus Dulcis (Sweet Almond) Seed Extract: 🔴[Not enough research]

Palmitoyl Pentapeptide-4 (Another name for Matrixyl, Palmitoyl Pentapeptide-3, or pal‐KTTKS): Anti-aging (Firming/Wound Healing/Moisturizing): stimulates the production of Elastin, Fibronectin, Glycosaminoglycan and collagens (Types I, III and IV). A lot of data back up these claims, and several clinical trials have shown statistically significant decreases in deep wrinkle and skin roughness as well as increases in skin elasticity (results after an average of 8 weeks). However, it is important to note that these results were obtained at a concentration of 3% (30000 ppm) and that most manufacturers recommend this ingredient to be used at approximately 2% (20000 ppm) concentration. Here the concentration used is unknown.

Portulaca Oleracea Extract : Anti-inflammatory + Anti-irritation [Clinical findings]

Betula Platyphylla Japonica Juice: 🔴[Not enough research] Antioxidant

Adenosine: Anti-aging (collagen stimulation pathway) + Wound healing (collagen stimulation pathway) + Anti-inflammatory (inhibits neutrophils, white blood cells part of the inflammatory response)
♦️Controversial Ingredient:
Cetearyl Alcohol : Emollient + Viscosity Controlling + Emulsifying + Surfactant/Cleansing + Emulsion Stabilising [This is a fatty alcohol, so it's non-drying and non-irritating]

Ethylhexylglycerin: Either used as a texture enhancer or a preservative. I don't give particular importance to researching these types of ingredients; going to different sites and comparing what's being said about them usually allows me to determine whether they are considered safe to use or not. For this one, incidecoder, Paula's choice, skincarisma, and cosdna all had nothing negative to say. However, the European Union has "classified it as an irritant with limited evidence of eye toxicity," so some people react badly to it, and I happen to be one of those people. Not all eye cream formulations containing Ethylhexylglycerin irritate my eyes; while some have turned the area red immediately upon application, this one didn't have such an obvious reaction. Also, note that EWG used to classify it as "an irritant with limited evidence of eye toxicity" but now has changed its score from 1/10 to 2/10 as more organizations are classifying it as an irritant. Will the score get higher? Stay tuned to find out.
+instructions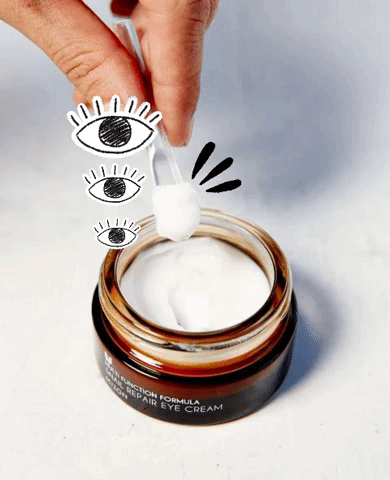 +claims
Claims taken from the product page of Mizon.
Repairs skin, as viscous snail mucin, strengthens skin, repairs damage, and restores vitality: According to Mizon, this product is composed of 80% snail Snail Secretion Filtrate (yum), which has been shown to improve wounds and act as a good moisturizer. My only titbit with this is that you wouldn't necessarily need wound repair near the eye area. Wounds on the face are usually from acne scars, as acne is technically an open wound. If not from that, you could get wounded by something falling on your face, your cat scratching you, your cat falling on your face, or anything random that everyday life likes to surprise us with, particularly in this glorious year of 2020. But daily life doesn't wound the eye area, and acne seldom appears underneath your eye. So… I don't really see the point of having an eye cream being wound healing, but hey, that's just me. Now for the vitality part, my under eye area looked nicer while I was using this, and I was easily able to make a couple of people believe I had slept 5 hours when I pulled a couple of all-nighters. I'm not complaining.

Contains EGF (Epidermal Growth Factor) a cell component of our body which starts deteriorating in our mid-20 and helps maintain healthy skin around the eye: EGF's are proteins which influence collagen synthesis and other protein involved in the maintenance of healthy bouncy skin. This eye cream contains Palmitoyl Pentapeptide-4, and yes, this particular ingredient has been proven to be anti-aging as it ''decreases deep wrinkles and skin roughness as well as increases skin elasticity '' by acting the way EGFs do. However, these findings are for a concentration of 3 to 2% of this ingredient in a skincare product. Although the concentration here is not disclosed, since the snail filtrate is at 80% already, I doubt this EGF is present in enough concentration to make a significant difference. From looking at the overall ingredients, this eye cream isn't going to tighten your skin or supplement it with the magical nutrients that it needs. Instead, it will maintain it healthy by keeping it highly hydrated and moisturized, but that's about it.

 Effective improvement of both tiny and deep wrinkles as Adenosine tightens up the eye area: I don't have any deep, prominent wrinkles near my eye area, but I do have fine lines, and I can report that this gets rid of them all when applied. However, the result is not long-lasting. This isn't a product that will make your eye area better in the long run, it's going to make it look nicer while you use it, but when you stop using it, you'll notice the difference the second day. The reason for that is that the lines are plumped up thanks to all the hydration and moisture, but that's about it. Although the cream has some nice anti-aging ingredients like Adenosine, Palmitoyl Pentapeptide-4, and Niacinamide, their seemingly low concentration levels don't necessarily improve wrinkles and fine lines. If you don't have wrinkles, this is a good anti-aging step as hydrated and moisturized skin doesn't develop wrinkles as early as dryer skin, but if you already have wrinkles, this won't make this huge difference. Also, a quick note: Adenosine doesn't tighten up the skin. Although it does promote collagen, it doesn't affect elastin, which is the major protein involved in skin elasticity and tightness. 

Brightens up eye area with Niacinamide: Niacinamide has a couple of research behind it, suggesting that it could be used as an anti-hyperpigmentation ingredient: ''Melanin is the pigment that gives your skin its color. It is produced in specialized skin cells called melanosomes, which then transfer the pigment to keratinocytes, the cells that constitute the majority of your skin. Studies have found that when Niacinamide is applied to these cells, this transfer of pigment is significantly inhibited.'' I personally do not have a dark or pigmented under-eye area, so I haven't seen any change in actual pigmentation, but my guess is that while this product would help if your main issue is hyperpigmentation, you should probably choose an eye cream specifically formulated with these kinds of ingredients, not just a random one.

Supplies and protects moisture from evaporating by creating a protective shield to keep the eye area hydrated: Yes, as you've probably grasped from what I've written so far, this is a pretty good moisturizer and hydrator for the under-eye area. I have no complaints on that front.

Absorbs rapidly: Yes, this absorbs pretty rapidly.

Hypoallergenic. It minimizes skin irritation as it contains no artificial fragrance or pigment and uses only skin-friendly plant extracts to prevent irritation: Euh. Not really dude. All that skin-friendly plant thing is marketing. There are plenty of toxic plant extracts out there; just because something comes from mother nature doesn't mean it won't rip your skin to shreds. Now yes, the ingredients here are, for the most part, nonirritating, but alas, our beloved friend Ethylhexylglycerin has found its way in this eye cream. Please read the paragraph written on it in the in-depth ingredient list above if you're not familiar with this preservative. Also, let me reiterate what I always say:
There are many things that can cause irritating/contact dermatitis, some people are allergic to coconut oil or even kiwi or green tea. In contrast, others enjoy these compounds' benefits, but my issue with adding an ingredient like Ethylhexylglycerin is that it is completely unnecessary. There are well-researched preservatives out there, some even derived from natural ingredients and with some added benefits (if you're into that kind of stuff). So why use an ingredient that has the potential to irritate and be toxic to the eye area when specifically formulating an EYE cream? The only benefit is that it's cheaper to formulate, but irritation and inflammation have been linked to premature aging, so the 'benefit' isn't one, to begin with.
   For what it's worth, a lot of eye cream contains Ethylhexylglycerin, so it's not like Mizon is out there playing Eye devil with the hopes of burning your skin to the ground. And in some cases, the formulation makes it so that people like me don't even get a sensitive reaction to it. For example, the TOSOWOONG SOS Spot Whitening Vita-Vitamin Eye Cream has never irritated me. But again, others like the Kylie Skin Eye Cream made it spontaneously turn red. So you never know. The Mizon one, for the most part, didn't have any adverse effect on my eye area, but I did get the occasional tiniest tingling sensation. From what I've gathered from other reviews, this is the case with a handful of people, and some even experience a bit of a slight burn.
   Now for the recommendation part. If you have sensitive skin, it's going to be a simple no. If you have very mature skin, it's also going to be a no. It's going to be 'I guess if you want to for all other skin types. I'm not going to go out of my way to recommend this product to anyone for the simple fact that there are cheaper eye creams out there that deliver moisture with way more interesting ingredients.
+PROS:
It gets absorbed very fast and doesn't leave any stickiness behind

Plumps up fine lines fast

Almost instantly plumps up the skin

Brightens under-eye area

Good moisturizer
-CONS:
It doesn't do much else other than moisturize and hydrate

Slight tingle when applied (if you're sensitive to Ethylhexylglycerin)
🐌Score: 2.9/5 ——— It would have gotten a higher score due to its great moisturizing capacities, but the fact that it doesn't fulfill all its claim and the presence of Ethylhexylglycerin made the score what it is.


+AMAZON
+Yesstyle: (using this link): US$ 12.50 (If you use my code: DEWILDE you can get up to 5% off on any YesStyle purchase at checkout)