[REVIEW] Etude House AC Pink Powder Mask (before and after)
I first bought this product in Tokyo back in 2017, I was looking through Etude house's stuff in Shibuya 109 when I noticed they had a deal going on for the pink powder spot, the pink powder mask, and some cotton swabs. I have hormonal acne and I'm always testing new acne products so I figured why not. I was very skeptical about the mask and didn't even touch it until I finished up the pink powder spot (fell in love) and decided to give it a try. The Etude House AC pink powder mask actually ended up surpassing my expectations and I now prefer it to the spot treatment. Let's start with some information.
Cruelty-free: Yes

What you get: 100ml

Price (using this link): 14.9$ ( If you use my code: DEWILDE you can get up to 5% off on any Yesstyle purchase)

Texture: very smooth
All Ingredients: Water, Kaolin, Propanediol, Zinc Oxide (Ci 77947), Glycerin, Chamaecyparis Obtusa Water, Caprylic/Capric Triglyceride, Cetearyl Alcohol, Glyceryl Stearate, Polyvinyl Alcohol, Stearic Acid, Polysorbate 60, Palmitic Acid, Salicylic Acid, Madecassoside, Melaleuca Alternifolia (Tea Tree) Leaf Oil, Chamaecyparis Obtusa Leaf Extract, Ampelopsis Japonica Root Extract, Allium Cepa (Onion) Bulb Extract, Allium Sativum (Garlic) Bulb Extract, Carica, Papaya (Papaya) Fruit Extract, Glycoproteins, Colloidal Sulfur, Iron Oxides (Ci 77491), Glyceryl Caprylate, Lactose, Lactic Acid, Iron Oxides (Ci 77492), Microcrystalline Cellulose, Butylene Glycol, Sorbitan Stearate, Sucrose, Silica, Zea, Mays (Corn) Starch, Xanthan Gum, Tetrasodium Pyrophosphate, Tocopheryl Acetate, Titanium Dioxide (Ci 77891), Peg-100, Stearate, Hydrogenated Vegetable Oil, Hydroxyethyl Acrylate/Sodium Acryloyldimethyl Taurate Copolymer, Disodium, Edta, Phenoxyethanol, Fragrance
Key Ingredients:
Kaolin and Glycerin: Cleans up your skin without drying it (the way they are incorporated in this formula)

Salicylic acid and Tee tree oil : Will treat acne

Papaya extract: Natural AHA (Chemical exfoliant)

Garlic, Obtusa Water, and Chamaecyparis Obtusa leaf extract: Antioxidants (Anti-aging + Soothing)

Onion bulb extract: Helps with acne scars

Vitamin E beads (tocopheryl acetate): Dissolve during application (Mechanical Exfoliant)

Madecassoside: Derivative of Centella asiatica, which helps soothe skin
It has a 7-FREE system, free of: Animal Ingredients, Mineral Oil, Polyacrylamide, Imidazolidinyl Urea, Triethanolamine, Tar Coloring, and Artificial Fragrance.
+HOW TO USE IT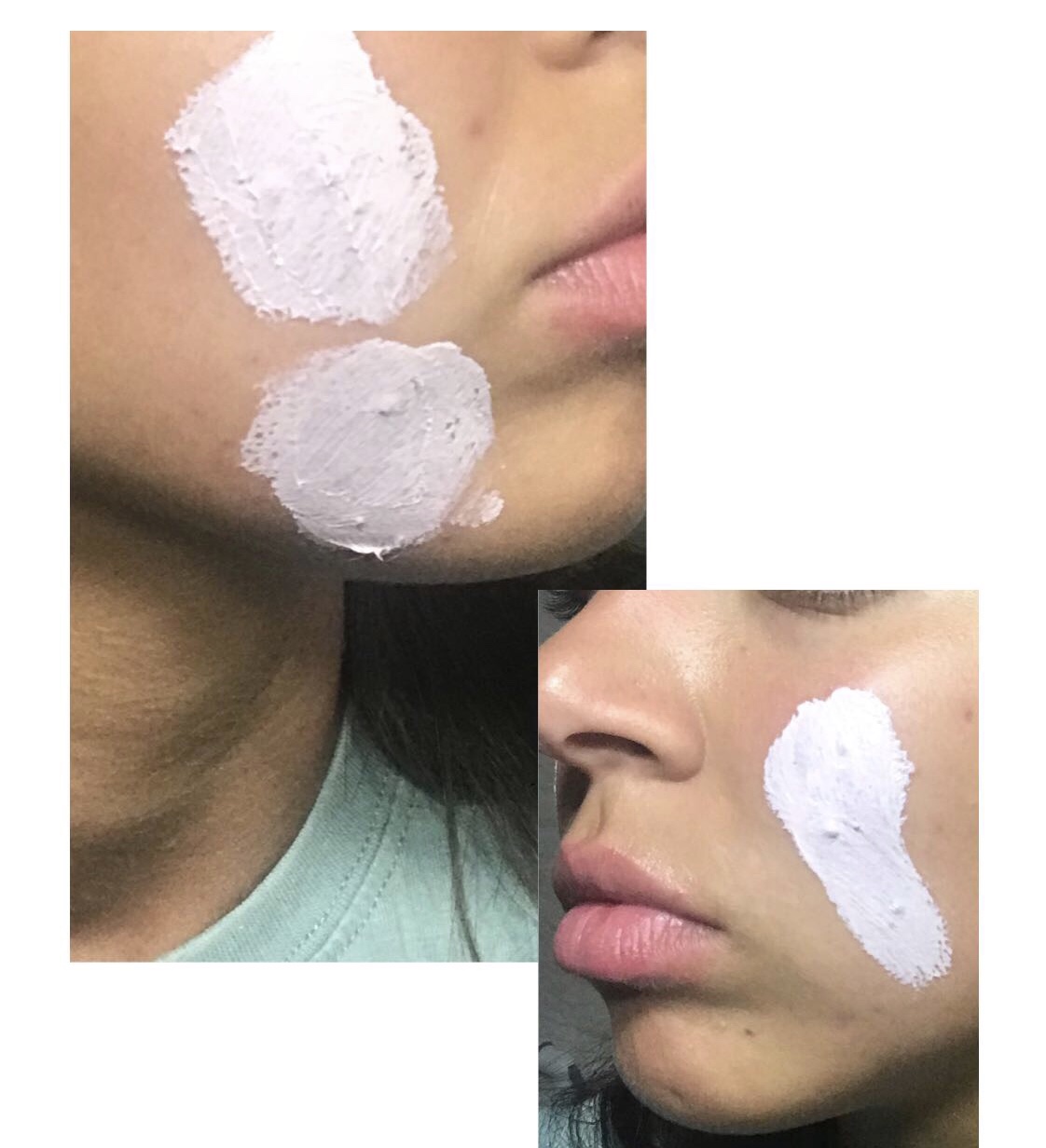 According to instructions:
Apply evenly on clean skin massaging while applying

Wash it off about 10 to 15 minutes later
+Okay so supposedly, you can use this mask all over your face and it will help in the long run with your acne. Notice how I say supposedly. I applied this mask like the instructions said a couple of times and it actually made my skin freak out (the product is too strong for me, and considering I don't really have sensitive skin, it might be too strong for you too). Now I know some products make you break out and that it's actually an indicator that it's working and you need to wait a certain period of time and your skin will adjust and then clear up. So yes, I actually used this mask for an entire month in February 2017, but it made me break out in places I never had acne before (which is an indication that the product isn't actually doing its job), and the acne persisted (in those places) until I completely stopped using the product. Now you might be wondering why I said I loved this mask at the beginning of the post, and the reason is: I don't use it how the instructions dictate.
How I use it:
Apply only as a spot treatment, or in small areas where you know you always get acne and currently have acne

Apply it overnight and wash it off the next morning
+About the Claims (when using it how I mentioned):
It relaxes skin and controls water and oil balance of acne area where applied: Yes it does since it reduces acne.

It eliminates skin waste in pores: Yes and no. When it comes to acne, yes since it's eliminating the sebum, but when it comes to blackheads, no it doesn't, I actually used it a couple of times on my nose and got a pimple there!

Vitamin E mildly eliminates dead skin cell: I can't attest to that since using it for this purpose would mean using it as a mask and rubbing it on your skin, which made me breakout initially.

Pink calamine reduces itchiness for an Antibacterial effect: I don't know about itchiness, my skin never feels itchy, but yes, it does have an antibacterial effect since it reduces acne.
As you can see, this dramatically reduced my inflamed cystic acne in just one night. I was concerned about the safety of using this product for way more than the amount of time recommended, but after some research, It seems that a lot of people actually use it this way. Plus the product itself is made of 60% of the same material used in the pink spot which is used overnight. Either way, I recommend trying it on just one pimple for a few days and seeing how your skin reacts.
These pictures are just one day apart, before and after use (I'm sorry for the quality but I tried it under natural lighting and during the night it's pretty dark... obviously. And the angles differ in the first picture a bit). As you can see, most of the puss from the acne came out. The whole process also sped up the healing and there was no need for an abrasive extraction.
+I highly highly recommend this mask if you're going to use it the way I mentioned, it works better than the pink spot treatment for treating acne when applied the same way. And it's way more affordable for the amount of product you get. When using it this way, you can use it on your pimples every-night until they disappear. But I don't recommend using it as a preventive treatment, as I feel the mask is too strong and will make you breakout. But otherwise, this is a great method to get rid of pimples and particularly cystic acne, overnight (great for emergency acne situations).
+PROS FOR THE WAY I USE IT:
Travel-Friendly product if you buy the small size

Regular use on your inflamed cystic acne will make it disappear

Will last a very very long time

Very Good price/quality ratio

Gets rid of acne fast
-CONS FOR EITHER WAY:
Doesn't work as efficiently on acne that is not inflamed

Will most probably make you break out if used the wrong way

Does not prevent acne
💮Score for the way I use it: 4.0/5 --- This is a great acne skincare product, and an amazing way to get rid of pimples fast, if it didn't cause acne when used all over the face, or if it worked better with non inflamed acne, I would have given it a 5.0.


Product link (Yesstyle).
(If you use my code: DEWILDE you can get up to 5% off on any yesstyle purchase at checkout)
Begone inflamed cystic acne.