[REVIEW] Isntree Real Rose Calming Mask
Price (use this link): 15$ (If you use my code: DEWILDE you can get up to 5% off on any YesStyle purchase at checkout)

Texture:

What you get: 100 mL

Cruelty-free: Yes
+INGREDIENTS

Ingredients: Rosa Damascena Flower Water, Glycerin, Water, Methylpropanediol (Solvent), Betaine (Moisturizing/Humectant), 1,2-Hexanediol (Solvent), Sodium Hyaluronate, Trehalose (Moisturizing/Humectant), Dextrin (Viscosity Controlling + Moisturizer/Humectant + Absorbent/Mattifier), Rosa Gallica Flower Powder, Glyceryl Polymethacrylate (Viscosity Control), Glycine, Serine, Sodium Pca (Skin-identical Ingredient + Moisturizer/Humectant), Sorbitol (Moisturizing/Humectant), Alanine, Arginine, Threonine, Proline, Glutamic Acid, Lysine, Rosa Canina Fruit Oil, Phellodendron Amurense Bark Extract, Theobroma Cacao Seed Extract, Polyglyceryl-10 Laurate (Surfactant/Cleansing + Emulsifying), Geranium Maculatum Oil, Tromethamine (Buffering), Xanthan Gum (Viscosity Controlling + Emulsifying + Surfactant/Cleansing + Emulsion Stabilising), Carbomer (Viscosity Controlling + Emulsion Stabilising), Ethylhexylglycerin (Preservative), Disodium Edta(Chelating + Viscosity controlling)

🌹Interesting Ingredients:
Rosa Damascena Flower Water (60%): Antioxidant + Anti-inflammatory (both properties are thanks to flavonoids, tannins, saponin and triterpenoids present in the water extract)

Glycerine: Widely used as a quality Hydrator (occurs naturally in skin and its chemical structure attracts water). You can find this ingredient in most good skin-replenishing products.

Sodium Hyaluronate: Hydrating (water-binding properties) + Wound healing (promotes microcirculation)

Rosa Gallica Flower Powder: 🔴[Not enough research] But from what I've gathered, this is essentially used as either a natural color pigment or a thickening agent.

Glycine + Serine + Alanine + Arginine + Threonine + Proline + Glutamic Acid + Lysine 🔴[Not enough research]: These are all amino acids, which are the building blocks of peptides and proteins found in the skin. Each has research to back up their effects on the skin, check out this post to find out more. Basically they work very well when combined together and exhibit the following properties: Antioxidant + Conditioning + Repairing + Moisturizing [maintain a healthy skin barrier]

Rosa Canina Fruit Oil: Antioxidant (Vitamin E & Carotenoids) + Emollient (Fatty Acids)

Phellodendron Amurense Bark Extract: Anti-acne (Anti-inflammatory) + Soothing

Theobroma Cacao Seed Extract: Photoprotection (Polyphenols) + Antioxidant + Anti-inflammatory + Anti-aging (Increases skin elasticity by increasing expression pattern of glycosaminoglycans and types of collagen)
🤯Hmm, Ingredients:
Geranium Maculatum Oil: 🔴[Not enough research] Potentially antimicrobial + Perfuming
This document shows the amino acid content of the outermost layer of the skin. Encircled is the one present in the formulation of the Isntree Real Rose Calming Mask. There is a patented formulation called 'Amino Acid Complex' by a company named SK bioland, it contains a lot of the same ones present in this formulation, and a clinical study they made showed that this complex significantly increased the moisture value of the skin, as well as lowered the desquamation score of the skin. The same results could be expected from this mask.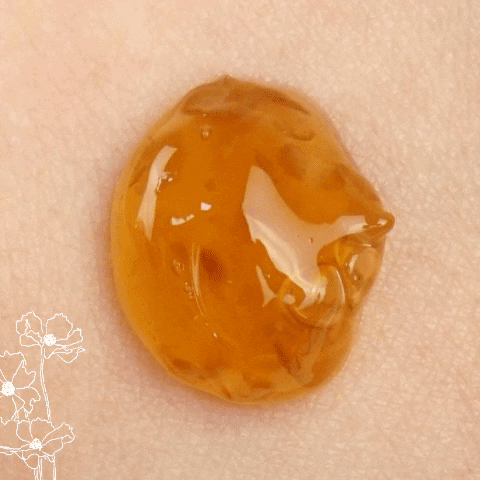 +CLAIMS


Skin Soothing: A skin that needs soothing has either been irritated, sensitized, or inflamed. To give a more concentre example, a sunburnt, allergic, or inflamed by cystic acne skin, is a skin that needs soothing. This mask is very soothing, as its gel consistency keeps it cool when applied to the skin, and it is majoritarily (60%) composed of an Anti-inflammatory ingredient ( Rosa Damascena Flower Water NOT to be confused with rose oil, which contains volatile perfuming compounds and could potentially be sensitizing to the skin). It also has an amino acid concoction as mentioned above, which has been shown to increase the skin protective barrier and overall be very beneficial to the skin (check the in-depth ingredient list above for more details). Last but not least, the mask also contains my favorite oil which has antioxidative, anti-aging and soothing properties (Rosa Canina Fruit Oil, which is known as rosehip oil, again, not to be confused with any fragrant oils, a lot of people use pure rosehip oil on their skin and it has really low chances of irritating your skin). The only ingredient which could potentially be irritating is the Geranium Maculatum Oil, as it functions primarily as a perfuming agent, so keep that in mind when using this mask: if you feel a tingly/irritating sensation, your skin might not tolerate it well. I personally haven't had any bad effect with this mask, but if you have active acneic skin, I'd refrain from using it as your skin is more prone to reacting badly to it since acne is essentially an open wound (it is more inflamed and provides direct access to the deeper layers of your skin).

Vitality Supply: I'm going to say it: This is my favorite vitalizing mask I've tried so far. And I've tried a LOT of masks. There are masks that are more hydrating or moisturizing, but after trying this mask out for 2 days, I went out with some friends and they all commented on how healthy, glowy and plump my skin looked. I've noticed it myself recently, my skin always has this healthy glow to it, no matter how the light hits it. I've never experienced this so soon after trying out any product, the result is very surprising. I'm not going to go over the ingredients in detail again as everything is mentioned in the ingredients list above, but if you go through it you will notice that the majority of ingredients are antioxidants, anti-inflammatory and hydrating. I also think that the amino acid complex present probably plays a big role in bringing this glow to my skin since I've tried products with the other ingredients (but not the complex) before and never gotten such a noticeable result before.

Moisturizing: yes, but not to a notable degree. When you wash off the mask, you can feel it leaving your skin in layers as you rub on the areas with water. So you're able to control how much of it you want off of your skin. If you want the mask to be more moisturizing, you can wash it off less, and keep a thin layer of it on your skin, if you do that, you get more moisture factors in than if you were to completely wash it away. If you choose to completely wash it away, your skin feels hydrated and moisturized, but not incredibly so. Basically people with oily skin will really enjoy that feeling, but people with dryer skin will need to follow up with a moisturizing product or not completely wash off the mask.

Skin tone care: If by 'skin tone' they mean that this will get rid of any hyperpigmentation, then no. There are no potent ingredients in the formulation that directly affect melanin formation or inhibit it. There are potent antioxidants and repairing and hydrating ingredients, and this will help in hyperpigmentation since they will make your skin healthier, and healthier skin works more effectively, but the mask will not directly target the problem itself. If however by 'skin tone' they mean the actual color of your skin, one noteworthy thing to reiterate is how bright this makes your face look. The Isntree Real Rose Calming Mask basically gives you glass skin. Period. I'm not going to sit here and write about how wonderful and healthy and glowy and bouncy my skin looks, just imagine glass skin or google it, and this is what this mask will make your skin look like.

The gel feels very soft and smooth and has a thick enough consistency to allow it to stay as a blob when applied on fingers, but is also supple enough as to easily spread on the skin. This is probably one of the best mask consistencies you could as for because it's not messy, easily spreadable, and the product stays on your face once applied, unlike other ones that tend to drip down if you're standing up. There's also a cooling sensation and a fresh rose scent to it, the scent isn't overpowering to me (but keep in mind that I don't have a very good sense of smell) and actually smells quite nice and natural. As for the cooling sensation, it's there, but it's something you feel initially as you apply the mask, but do not continue to feel as the mask sits on your face. If you like cooling sensations, a good idea would be to put this mask in the fridge prior to using it. Another note is that if you have the type of skin that gets dry or red when you take a shower, putting this mask on prior to showering, and removing it as the last step of your shower should treat that drying/reddening effect.

I think this is a great product and it has become one of my favorite masks to use. I will personally keep on repurchasing it. For oily skin: you will probably really enjoy it, for dry skin: I don't feel like this will bring much to your routine except for the glow, you will probably enjoy the mask but you need one that is more hydrating and moisturizing, something like the I'm From Honey Mask. For sensitive skin, the main ingredient is a very potent anti-inflammatory one, so if you tend to get redness or irritated skin, this would be a great choice, but I am worried about any potential perfuming volatile compounds that could be present in the Geranium Maculatum Oil, especially since it's not one of the last ingredients on the list, hence it's present in higher concentrations than a lot of the filling ingredients… This is why I don't recommend this mask for you, but if you're intent on trying it out for yourself, at least do a patch test beforehand. As for my acne-prone friends, if you have active acne, I know that sometimes it gets frustrating and you want to give your skin some love and hydration, but you'd be better off using something like the Skinfood Royal Honey Propolis Enrich Essence which has ingredients that are well known and researched when it comes to their interaction with different types of acne, so it's safer to use (or check out this post: [10] Anti-Acne products that actually work + A Skincare routine). I'm not saying the Isntree Real Rose Calming Mask is going to make your acne worse, but it could. If however, you have acne-prone skin but you don't have active acne on your face, by all means, try this out, It didn't irritate or break me out in any way.


+One thing to note: This mask is more dark-colored than the pictures used for its advertisement.

+PROS:
Amazing price/quality ratio

Gives you glass skin

I know this is the same point as above but I really want to emphasize how GLOWY your skin looks after using this a couple of times

Very convenient to use (packaging + application + removing it)

Calms down
-CONS:
Contains one potentially sensitizing ingredient (Geranium Maculatum Oil)
🌸Score: 4.9/5 --- I absolutely adore this product, it's affordable and makes your skin look noticeably nicer. It's not going to revolutionize your skin, but for the price and quality, I can't ask for more. The only issue is the presence of one essential oil, which could potentially be sensitizing, which is why it's not getting a full score.