[REVIEW] Etude House SoonJung pH 6.5 Whip Cleanser (Before and After)
Price (use this link): 12.76$ (If you use my code: DEWILDE you can get up to 5% off on any YesStyle purchase at checkout)

Texture: Light foam

What you get: 150 ml

Cruelty-free: Yes
+Ingredients
Ingredients: Water, Glycerin, Sorbitol (Moisturizer/Humectant), Propanediol (Solvent + Moisturizer/Humectant), Lauryl Glucoside (Surfactant/Cleansing), Disodium Cocoyl Glutamate (Surfactant/Cleansing), Panthenol, Madecassoside, Camellia Sinensis Leaf Extract, Butylene Glycol (Moisturizer/Humectant + Solvent + Viscosity Controlling), Citric Acid (Buffering), Glyceryl Caprylate (Emollient + Emulsifying) , Ethylhexylglycerin (Preservative + Deodorant)
*Naturally-derived ingredients 98%, **10 types of harmful ingredients not added. (Animal-derived ingredient, mineral oil, colorant, perfume, polyacrylamide, silicone, imidazolidinyl urea, triethanolamine, PEG surfactants, paraben), **EWG Green grade ingredients.
🧼Interesting Ingredients:
Glycerin: Widely used as a quality Hydrator (occurs naturally in skin and its chemical structure attracts water). You can find this ingredient in most good skin-replenishing products.

Panthenol: Moisturizing (penetrates deep into the layers and gets converted into Pantothenic Acid (B5)) + Anti Acne (B5) + Wound healing (B5)

 Madecassoside: Derivative of Centella Asiatica Extract : Wound healing + hypertrophic scar healing properties + promotes collagen production (Acts as an Antioxidant)

Camellia Sinensis Leaf Extract (Green tea): Antioxidant (Polyphenol) + Anti-inflammatory (Polyphenol) + Antimicrobial (Catechins)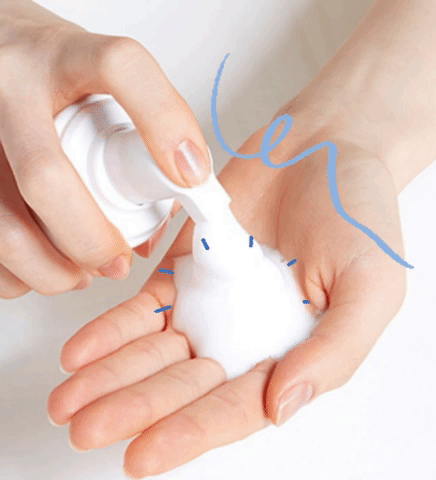 +CLAIMS
[Claims put together from e-pamphlet]
Soothing ingredient panthensoside. Contains panthenol and madecassoside that soothe irritated skin from external stress: Both of these ingredients are wound-healing and moisturizing, so yes, they are pretty soothing. This a good bet as a cleanser if your skin is irritated since it has low chances of further irritating it. But I wouldn't go as far as to say that this is going to soothe your skin. The best it will do is not further disrupt your skin barrier -which is an achievement on its own. But if you're looking for something to calm down inflammation and irritation, there's only one tried and tested product that I can recommend: the Klairs Midnight Blue Calming Cream.

Mild bubble cleanser. Stress-free mild cleansing without irritating the skin: Yes, it's pretty mild, and yes, I haven't personally experienced irritation from it. Cleansing your skin is the most irritating part of any skincare routine. Although the goal is to remove impurities, cleansing agents tend to not differentiate between the oil/sweat/makeup that you want to remove and the rest of your skin barrier (oil/moisture/hydration). This is why some cleansers end up leaving your skin very tight. Everybody has different skin types, so everyone needs are different: very oily skin types will need harsher cleansers (but not stripping), more sensitive ones will need milder ones. I rotate between a bunch of different cleansers depending on how dirty my skin is, the weather, my acne, and whether I'm wearing any makeup. For the days when my skin is very oily or particularly dirty due to sweat or pollution, this SoonJung product isn't enough for me. But for regular days, it does the job. Although I do feel like a bit of my moisture is stripped from my face when I use it - but still, less amount than most cleanser would take away.

Non-irritating, low pH level. Formulated at an ideal pH level that is similar to the Skin's natural pH, helps the Skin become healthier: Here's an excerpt from ''ALL ABOUT CLEANSING & HOW TO CHOOSE A GENTLE CLEANSER'' by Michelle from Lab Muffin blog: ''Skin is acidic, meaning it has a low pH (around 5). This is important because a lot of the biochemical reactions that occur in the Skin only work within a narrow pH range. Surfactant-containing cleansers are particularly good at changing skin pH for long amounts of time, meaning that if your cleanser has a particularly high pH, then it's going to hinder your Skin from repairing itself. High pH also makes Skin swell and reduces its flexibility.'' So, the bottom line is, pH is important. That being said, most tap water pH lies around the 6.5 or 9.5 margin depending on where you live. So if you genuinely care about pH (I don't), the Soon Jung's 6.5 is OK but not ideal, COSRX Low Ph Good Morning Gel Cleanser's at 5.5 would be a better bet, or if you want to stick to the same line, there's the Soon Jung pH 5.5 Foam Cleanser, although I haven't personally tried it. I honestly don't think pH is that big of an issue unless your Skin is seriously experiencing some huge irritation, rashes, or inflammation, so I wouldn't go out of my way to buy a low pH cleanser.
 As you can see from the pictures, you will need to double cleanse if you wear makeup. I recommend something similar to the Bioderma Sensibio H2O Micelle Solution. 
     My favorite sensitive skin cleanser is still the Pyunkang Yul Low pH Pore Deep Cleansing Foam because it's even suitable for oily skin types, takes off most makeup, and is the only cleanser that has not stripped any moisture from my skin and enables me to go about my day without wearing any hydrating products should I choose to - I never choose to, but the option is nice. The Etude House Soon Jung one is a close second to this one: 2 pumps are perfect for cleaning my face. Sometimes more if I feel very oily or sweaty.
      I don't think this is the best cleanser in the world. Although I don't have particularly dry skin, I did feel like it stripped a bit of moisture from my skin. So if you have dry skin, you'll probably need to follow with something hydrating (which you were probably going to do anyway), or try the Pyunkang Yul one instead. If you have sensitive skin, this should work well for you, but if your skin is very sensitive, keep in mind that anything has the ability to irritate it, so do a patch test before using it. If you have acne-prone skin: if you don't currently have any breakouts, this would be fine, but if you are, check this post out instead: [10] Anti-Acne products that actually work + A Skincare routine. If you have normal skin or you're looking to incorporate something non-perfuming that has low chances of disrupting your skin barrier, chances are you'll enjoy this cleanser.
I personally liked using it, and although I wouldn't go out of my way to buy it, I would repurchase it should I find myself looking for a cleanser and finding it on an aisle somewhere. This won't revolutionize your skincare game, but it's always a good idea to incorporate colorant and fragrant free mild cleansers, since the majority seem to be fragrant, colorful, and harsh to the skin - and no one wants that.
+PROS:
Gentle cleanser

Fun foam

Good ingredients
-CONS:
A bit drying to my skin - manageable, but important to point out.
🔹Score: 3.0/5 ——— Nice cleanser geared towards sensitive skins, could have gotten a higher score if it didn't take a bit of the moisture out of my skin.