[REVIEW] Huxley Good Night Sleep Mask (Before and After)
Price (use this link): 25.1$ (If you use my code: DEWILDE you can get up to 5% off on any YesStyle purchase at checkout)

Texture: Light gel/jelly

What you get: 100 ml

Cruelty-free: Yes



+INGREDIENTS

Ingredients: Opuntia Ficus-Indica Stem Extract, Glycerin, Butylene Glycol (Moisturizer/Humectant + Solvent + Viscosity Controlling) , Cyclopentasiloxane (Emollient + Solvent), Cyclohexasiloxane (Emollient + Solvent), Trehalose (Moisturizer/Humectant), Aqua/Water/Eau, 1.2-Hexanediol (Solvent), Opuntia Ficus-Indica Seed Oil, Ceramide NP(Ceramide 3), Sodium Hyaluronate, Beta-Glucan, Centella Asiatica Leaf Extract, Perilla Ocymoides Leaf Extract, Paeonia Suffruticosa Root Extract, Salvia Officinalis (Sage) Leaf Extract, Citrus Grandis (Grapefruit) Seed Extract, Acorus Gramineus Root/Stem Extract, Perilla Frutescens Leaf Extract, Theobroma Cacao (Cocoa) Extract, Hydrogenated Lecithin (Emollient + Emulsifying), Ammonium Acryloyldimethyltaurate/VP Copolymer (Viscosity Controlling), Polysorbate 20 (Emulsifying + Surfactant/Cleansing), Dimethicone (Emollient), Dimethiconol (Emollient + Moisturizer/Humectant), Carbomer (Viscosity Controlling + Emulsion Stabilising), Dimethicone/Vinyl Dimethicone Crosspolymer (Viscosity Controlling) , Propanediol (Solvent + Moisturizer/Humectant), Ethylhexylglycerin (Preservative),♦️Alcohol, Dextrin (Viscosity Controlling + Moisturizer/Humectant + Absorbent/Mattifier), Caprylic/Capric Triglyceride (Emollient), Cetyl Ethylhexanoate (Emollient), Polysorbate 80 (Emulsifying + Surfactant/Cleansing), Tromethamine (Buffering), Disodium EDTA (Chelating + Viscosity Controlling), Phenoxyethanol (Preservative), ♦️Parfum/Fragrance,♦️ Benzyl Salicylate,♦️ Hexyl Cinnamal, ♦️Citronellol

🏜️Interesting Ingredients:
Opuntia Ficus-Indica Stem Extract: 🔴[Not enough research on topical application] Potentially Antioxidative + Moisturizing. According to Mibellebiochemistry, a manufacturer of this ingredient, it has Soothing and Hydrating properties and may help in protecting skin cells against UV light. These claims are only linked to the manufacturer, and no independent study/research/clinical trials have been made with this ingredient, which would validate these claims.

Glycerine: Widely used as a quality Hydrator (occurs naturally in the skin and its chemical structure attracts water). You can find this ingredient in most good skin-replenishing products.

Opuntia Ficus-Indica Seed Oil: Antioxidant + Potentially Wound Healing + Potentially Antimicrobial 

Ceramide NP : ''This lipid prevents the epidermis, or the top layer of the skin, from losing moisture. When people experience dry skin, it is because of a loss of ceramides in the skin, which can also cause itching, flaking, peeling, and scaling.''

Sodium Hyaluronate: Hydrating (water-binding properties) + Wound healing (promotes microcirculation)

Beta-Glucan: Protects against irritation and environmental stress (the molecules link together to form a barrier on the surface of your skin) + Antibacterial (stimulate white blood cells to attack pathogens) + Hydrating (acts as a humectant (chemical structure attracts and traps water molecules)) + Anti-aging (Boosts collagen production)

Centella Asiatica Extract: Wound healing (promotes collagen production) + hypertrophic scar healing properties in particular

Perilla Ocymoides Leaf Extract: Potentially protective effect against UV-induced damage + Antioxidant + Potentially Skin soothing

Paeonia Suffruticosa Root Extract: Anti-aging

Salvia Officinalis (Sage) Leaf Extract: 🔴[Not enough research] Potentially Wound Healing + Potentially Antibacterial

Citrus Grandis (Grapefruit) Seed Extract: This is a preservative and not a very good one at that. (Don't worry, there are other preservatives in this formula). I'm guessing the added value of this ingredient is the fact that most people are going to think that it's 'natural' and 'organic' and it probably does 'something good' to their skin.

Acorus Gramineus Root/Stem Extract: 🔴[Not enough research] Potentially anti-hyperpigmentation

Perilla Frutescens Extract: Antioxidant (Polyphenols) + Anti-inflammatory (linolenic acid)

Theobroma Cacao Extract: Photoprotection (Polyphenols) + Antioxidant + Anti-inflammatory + Anti-aging (Increases skin elasticity by increasing expression pattern of glycosaminoglycans and types of collagen)
♦️Controversial Ingredients:
Alcohol: Antimicrobial/Antibacterial + Solvent + Viscosity Controlling + Astringent

Parfum/Fragrance: Perfuming *Has the potential to sensitize your skin

Benzyl Salicylate + Hexyl Cinnamal: Perfuming. In the EU, they both need to be labeled separately due to their allergenic potential.

Citronellol: Perfuming *Has the potential to sensitize your skin

*A lot of people assimilate alcohol and fragrances in skincare to dehydration and irritation. I would recommend that you watch this video: "Is Alcohol Safe in Skincare Products?" (by Liah Yoo, who worked at Korea's largest beauty company, AmorePacific and now also has her own brand: KraveBeauty) and consult the links provided in the info box which refer to published scientific studies and articles. The main point is: yes, alcohol and fragrance can be very stripping and irritating to the skin, but it all depends on how they are used and combined in the final formulation and of their ratio, the reactions they have with other ingredients, etc…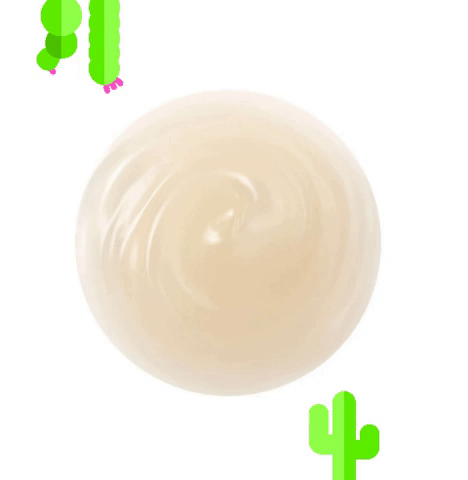 +CLAIMS
[Claims put together from e-pamphlet]

An ultra-nourishing sleeping mask to renew skin by morning: This mask is pretty nourishing. Just look at the ingredient list, although not the best out there or particularly mind-blowing, it's a good one with a nice portion of its ingredients contributing towards that claim. Now I wouldn't go as far as to say that your skin is 'renewed' by morning, it's nice healthy and glowy, but you don't go from having lousy skin to perfect skin with just this mask.

Antioxidant-rich prickly pear seed oil deeply hydrates and plumps the skin: Prickly pear seed oil is a known rich antioxidant, but the majority of this product is actually constituted of the stem extract of prickly pear, and not the oil -although the oil is also high up in the list, hence also high in concentration. The stem extract doesn't have a lot of research to back up any claims. Even so, there are other ingredients in the formulation to make up for that, as most of them are antioxidative. As for the hydration, my cousin has dry skin, usually, when she washes her face in the morning - no matter the cleanser - she always gets a slightly uncomfortable feeling of tightness on her skin: that went away with using this mask. The hydration penetrated her skin enough to leave it so even after cleansing it.

Revealing a more youthfully supple, radiant appearance: Your skin will definitely look radiant and a bit more supple hence youthful, but not in an obvious way. I think this mask's main advantage is that it provides an adequate amount of hydration (except if you have immensely dry skin), and hydration makes your skin radiant and glowy. However, if your routine already has hydrating products in it, this probably won't make much of a difference.

Non-sticky moisture layer: it intensively moisturizes with a non-sticky gel formula that is suitable for overnight use: The non-stickiness depends on the amount of product you put on your skin. The more you put on, the stickier it gets. If you put a tiny amount, it probably won't be sticky, but it probably also won't do much. I disagree with this statement because the product is sticky, although not uncomfortable. As for the moisture level, it's probably adequate enough for anyone, except maybe people with incredibly dry skin. I've personally found that I can pile up the product and not get any breakouts or milia or irritation, so no matter what the weather is like, this should provide you with adequate moisture.
I've enjoyed using this mask during the night and continually woke up with hydrated skin. But I would unfortunately not recommend it to anyone. As you can see from the in-depth ingredient portion above, every ♦️assigned ingredient is a fragrant ingredient except for the alcohol. Fragrance has the potential to irritate and inflame the skin. Even if you are not currently experiencing any irritation, fragrance can be sensitizing in the long run. I recommend reading this article to understand the logic behind that statement: "You might not see the damage on skin's surface, but it can be silently occurring every day, causing minor problems for your skin in the short term and worse problems in the long term." [Why Fragrance-Free Products are Best for Everyone from Paula's Choice website]. I don't personally think all fragrances are the devil. Some products incorporate them in a way where they are at such a low concentration that the probability of interaction with your skin is very low. Other incorporate fragrance that is non-irritating and others have fragrance but are wash-off products. However, the Huxley Good Night Sleep Mask has a lot of fragrance in it: Parfum/Fragrance, Benzyl Salicylate, Hexyl Cinnamal, and Citronellol. In particular, Benzyl Salicylate and Hexyl Cinnamal have been labeled as potentially allergenic by the EU cosmetic regulations. Fragrances don't serve any added benefit to products. If a brand wants their products to smell good, there are fragrant options out there that are known not to irritate, the only issue is that they are more expensive for brands to incorporate in their products, so brands would end up losing a bit of revenue should they use them.
   I have recommended products with fragrances in the past, but they fit a criteria brackets that this sleeping mask does not. The ingredients of this mask are not particularly stunning, the effects are not unique, and there are other better options in the market. Such as the Cosrx Ultimate Moisturizing Honey Overnight Mask that has more or less the same texture and proven ingredients that work, with good results - personally, I'm not too fond of its natural honey scent, but you might be. 
    When it comes to this Huxley mask, I have very sensitive lips, and that's how I test products for sensitive skin: if they get irritated and tingly, the product isn't suitable for sensitive skin. This mask irritated them, and furthermore, when I tried it out as a day cream, I noticed that my skin would start getting uncomfortable within an hour of me putting it on my face (when I slept, I wouldn't notice since I was … asleep). Although it did add a nice glow to my face, the pros do not outweigh this one con in any way, shape, or form. Especially if you have sensitive or acne-prone skin, stay away and check out this blog post instead [10] Anti-Acne products that actually work + A Skincare routine. Also, what I enjoyed with this mask and will miss is the texture. I find it super fun and refreshing to apply. Although I've given you the closest dupe to it in sleeping mask form, something more similar is the Isntree Real Rose Calming Mask, which is probably my favorite wash-off product. Although it has one essential oil, it's a wash-off product, and the ingredients and effects are great.
+PROS:
Leaves skin feeling hydrated

Lightweight gel texture

Aesthetic feel
-CONS:
Contains sensitizing fragrant ingredients
🏵️Score: 1.0/5 ——— It's a no for me. The whole point of skincare is to take care of your skin, not apply irritating, sensitizing compounds to it. The one is for the aesthetic feel of the product and the fact that if Huxley reformulates it with no fragrance, this could be a pretty good sleep mask.