[REVIEW] Shiseido Senka Perfect Whip Cleansing Foam (Before and After)
Texture: Dense silky soft cream
Cruelty-free: No

Price (using this link): $8.76 (Use my code: DEWILDE to get up to 5%OFF)

What you get: 120g
+INGREDIENTS
Ingredients: Water, Stearic Acid (Emollient + Viscosity Control), PEG-8 (Humectant/Moisturizer + Solvent), Myristic Acid (Surfactant/Cleansing + Emulsifying), Potassium Hydroxide (Buffering), Glycerine, Lauric Acid (Surfactant/Cleansing + Emulsifying + Might be Anti-Acne), Alcohol, Butylene Glycol (Humectant/Moisturizer + Solvent), Glyceryl Stearate SE (Emulsifying), Polyquaternium-7 (Anti-static + Film Former (makes it so that the product is continous and supple when applied), PEG/PPG-14/7 Dimethyl Ether (Skin-conditioning), Sodium Hyaluronate, Sodium Acetylated Hyaluronate, Sericin, Hydrolyzed Silk, Disodium EDTA (Chelating), Sodium Metabisulfite (Preservative), Citric Acid, Potassium Sorbate (Preservative), Sodium Benzoate (Preservative), Fragrance

☁️Interesting Ingredients:
Glycerine: Widely used as a quality Hydrator (occurs naturally in skin and its chemical structure attracts water). You can find this ingredient in most good skin replenishing products.

Sodium Hyaluronate : Hydrating (water binding properties) + Wound healing (promotes micro circulation)

Sodium Acetylated Hyaluronate: One of the limitations of Hyaluronate Acid (Known to keep skin hydrated/plump) is that it has a short half-life and gets degraded in the skin. Sodium Acetyalted hyaluronate is a form of this molecule where some of the OH (hydroxyl groups, water-loving and binding) groups that constitute the molecule are replaced by Acetyle groups to make it longer lasting. Little studies exist on this but current ones suggest that this leads to an general increase of the properties of the molecule, notably: Moisture + Anti-inflamation

Sericin (Silk Protein): Moisturizing (Ressembles skin natural moisturizing factors) + Anti-aging

Hydrolyzed Silk: Hydrolized Silk doesn't have a lot of study made on it, but normal Silk exhibits the following qualities: Antioxidant + Antibacterial + Moisturizing + Potential anti-aging

Citric Acid: Anti-aging (AHA + promotes collagen production)




🤔Hmmm Ingredients:
Alcohol (antimicrobial + antibacteria + solvent + viscosity controlling + astringent) + Fragrance (Perfuming)
A lot of people assimilate alcohol and fragrances in skincare to dehydration and irritation. I would recommend that you watch this video: "Is Alcohol Safe in Skincare Products?" (by Liah Yoo, who worked at Korea's largest beauty company, AmorePacific and now also has her own brand: KraveBeauty) and consult the links provided in the info box which refer to published scientific studies and articles. The main point is: yes, alcohol and fragrance can be very stripping and irritating to the skin, but it all depends on how they are used and combined in the final formulation (their ratio, the reactions they have with other ingredients, etc…), I have sensitive skin but my skin did not react negatively to the blue mask in any way. Of course, if you're unsure, a patch test is always recommended.
+Please don't take these statements as facts, they come from multiple studies I've read and I link the most relevant ones, some of these studies are conducted on animal skin, in vitro (in a test tube), on synthetic skin, and some on real human skin, but the concentrations used in these studies and the ones in the products of interests I'm reviewing differ, moreover, the delivering mechanism also differs (how the ingredient is delivered to the skin), the molecular size, ingredient source, and quality also might differ, and these studies rarely consider ingredient interactions which means that they can't predict how a particular ingredient will act among others in a given product. All this to say that the product of interest in this review may or may not give you the good or bad effects that one if its ingredients is stated to have depending on various variables.
+INSTRUCTIONS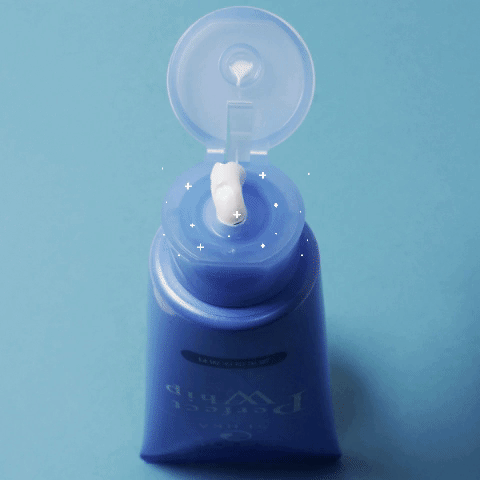 +CLAIMS
Featuring moisturizing technology that gives you more moisturized skin: No, my skin did not feel more moisturized after this product, it's a product that cleans very thoroughly, so if you're looking for something more mild and moisturizing, the Senka Perfect Cleansing Foam won't be it. It is important to note however that this won't make your skin dryer by any means (unless you have very dry skin to begin with), it's not stripping.

Foam particles and fine bubbles with a density of 5 times (compared to our company) slip into pores and skin grooves and adsorb dirt, reach the cause of dullness and drop: As stated above, this product is perfect for deep cleansing. I always reach for it when my skin is particularly oily and dirty and it does a wonderful job at making it clean in a few seconds. This is my cleanser of choice during the summer when I sweat more and naturally produce more oils.
+ On the picture: foundation + concealer + makeup + Matte Kylie lip kit + Waterproof mascara + Lip Stain (A bit of waterproof mascara and lip stain were not fully removed by the cleanser). As you can see from the above picture, the Senka cleanser removed the majority of the makeup present, if you wear a lot of makeup, especially waterproof, you'll still need an oil based cleanser before it, but in comparison to the COSRX Low Ph Good Morning Gel Cleanser, this is more a thorough cleanse.

+PROS:
Awesome experience when washing your face

Will remove good majority of dirt

Very soft product

Very Affordable
-CONS:
Not a very appropriate pH

Not suitable for most sensitive skins
☁️ Score: 3.9/5--- My cleanser of choice during the hot summer days, or whenever I feel like I need a strong cleanse without stripping away the good oils in my skin.
+Yesstyle: link (If you use my code: DEWILDE you can get up to 5% off on any yesstyle purchase at checkout)
+AMAZON: I will not be including an Amazon link here, from what I've seen people randomly get bottles with different formulations (from different years) and assume they're fake (they're not). Since I'm only reviewing the newest formulation, I can't recommend the older versions and will only recommend the yesstyle link above.