[REVIEW] Huxley Secret Of Sahara Oil Essence (Before and After)
Price (use this link): 31.4$ (If you use my code: DEWILDE you can get up to 5% off on any YesStyle purchase at checkout)

Texture: Watery with almost a cream like touch.

What you get: 30 ml

Cruelty-free: Yes
+INGREDIENTS
Ingredients: Opuntia Ficus-Indica Stem Extract, Butylene Glycol (Moisturizer/Humectant + Solvent + Viscosity Controlling), Glycerin, Methyl Gluceth-20 (Moisturizer/Humectant), ♦️Alcohol, Water, Dimethicone (Emollient), 1,2-Hexanediol (Solvent), Opuntia Ficus-Indica Seed Oil, Polyquaternium-51(Moisturizer/Humectant), Ilex Paraguariensis Leaf Extract, Prunus Mume Fruit Extract, Euterpe Oleracea Fruit Extract, Myrciaria Dubia Fruit Extract, Chenopodium Quinoa Seed Extract, Theobroma Cacao (Cocoa) Extract, Hydroxyethyl Acrylate/Sodium Acryloyldimethyl Taurate Copolymer (Viscosity Controlling + Emulsion Stabilising), Betaine (Moisturizer/Humectant), Hydrogenated Lecithin (Emollient + Emulsifying), Xanthan Gum (Viscosity Controlling + Emulsifying + Surfactant/Cleansing + Emulsion Stabilising), Ethylhexylglycerin (Preservative + Deodorant), Sodium Methyl Stearoyl Taurate (Surfactant/Cleansing), Dextrin (Viscosity Controlling + Moisturizer/Humectant + Absorbent/Mattifier), Disodium Edta (Chelating + Viscosity Controlling), Phenoxyethanol (Preservative), ♦️Fragrance
🌵Interesting Ingredients:
Opuntia Ficus-Indica Stem Extract: 🔴[Not enough research on topical application] Potentially Antioxidative + Moisturizing. According to Mibellebiochemistry, a manufacturer of this ingredient, it has Soothing and Hydrating properties and may help in protecting skin cells against UV light. These claims are only linked to the manufacturer, and no independent study/research/clinical trials have been made with this ingredient, which would validate these claims.

Glycerine: Widely used as a quality Hydrator (occurs naturally in the skin and its chemical structure attracts water). You can find this ingredient in most good skin-replenishing products.

Opuntia Ficus-Indica Seed Oil: Antioxidant + Potentially Wound Healing + Potentially Antimicrobial

Ilex Paraguariensis Leaf Extract (Yerba Maté): 🔴[Not enough research on topical application] Potentially Antioxidative + Potentially photochemoprotective

Prunus Mume Fruit Extract: Antioxidant + Reduces/Prevents Hyperpigmentation (Inhibits melanin production)

Euterpe Oleracea Fruit Extract (Acai): Antioxidant (Flavonoids + polyphenols + Anthocyanins) + Vitamins A, C, and E are all present in the fruit, but little research has been done on them in Acai (keep in mind that molecular forms and stability/penetrability/quality of these vitamins vary, so even if an ingredient contains them, it doesn't always mean it actually does something when topically applied)

Myrciaria Dubia Fruit Extract (Camu Camu): Antioxidant

Chenopodium Quinoa Seed Extract: Hydrator (Essential fatty acids) + Vitamin C and E + Antioxidant + Might promote Collagen production (Lysine and Methionine)

Theobroma Cacao Extract: Photoprotection (Polyphenols) + Antioxidant + Anti-inflammatory + Anti-aging (Increases skin elasticity by increasing expression pattern of glycosaminoglycans and types of collagen)
♦️Controversial Ingredients:
A lot of people assimilate alcohol and fragrances in skincare to dehydration and irritation. I would recommend that you watch this video: "Is Alcohol Safe in Skincare Products?" (by Liah Yoo, who worked at Korea's largest beauty company, AmorePacific and now also has her own brand: KraveBeauty) and consult the links provided in the info box which refer to published scientific studies and articles. The main point is: yes, alcohol and fragrance can be very stripping and irritating to the skin, but it all depends on how they are used and combined in the final formulation and of their ratio, the reactions they have with other ingredients, etc.…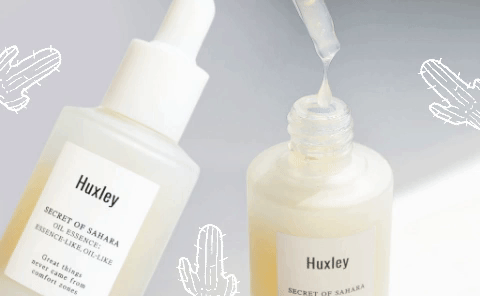 +CLAIMS

[Claims put together from e-pamphlet]

A new type of antioxidant oil essence that keeps the skin refreshed all day long: All of the non filler ingredients of this product have antioxidative properties. Including the one present in the highest concentration, which is the Opuntia Ficus-Indica Stem Extract. However, although this ingredient has some potential, it's important to remember that not enough studies/trial/research has been made on it to firmly claim that it's even an antioxidant, to begin with. However, current data looks promising, and there are the rest of the ingredients to provide that antioxidative feature as well. As for the 'freshness' claim, I wouldn't really qualify the Huxley Secret Of Sahara Oil Essence as incredibly refreshing. Refreshing products leave your skin feeling cool and almost dewy-like. I've had that feeling with the Mamonde Rose Water Toner Pad and the Isntree Real Rose Calming Mask, so mostly with wash-off products. This one is a bit too cream-like in a way to be refreshing.

Optimal balance of oil and essence: I don't know. I always felt like an oil/essence balance would yield products like the SKIN&LAB Red Serum, something close to a type of dry-oil yet a watery product. Instead, this serum is liquid yet almost water-gel-like to the feel. I'm not mad about it, I liked the texture, but it's just not what I had in mind. I would personally opt for oil, a dry oil, or an essence, instead of this weird mixture during the summer, but this oil/essence would be a good fit for my skin during dryer winter months.

Those who want the skin to look vibrant all day long: Yes, this will definitely make your skin look more vibrant. It gives me a well-rested, healthy look whenever I apply it. Although it's not out of this world and I have found other products to provide me with better-looking skin, it still gives vibrancy and will probably last you for a good portion of the day - unless your skin is very dehydrated.

Hydration nourishment: The majority of 'active' ingredients in the formula are packed with nutrients and Vitamins, so yes. As for the hydration levels, they were definitely there but did not amaze me. If you have normal, combination, or even oily skin, then you'll probably be satisfied, but I don't feel like people with dehydrated skin would get enough hydration. I've tried hydrating products like the Skinfood Royal Honey Propolis Enrich Essence, and the Huxley serum doesn't achieve its levels.
Okay so, hear me out, I'm not mad about this product. In fact, I actually like it. While it's not out of this world or incredibly innovative in comparison to other products, it's hydrating enough for me, has some anti-aging potentials thanks to all its antioxidants, and it's pretty aesthetic in terms of packaging. If you have normal, combination, or even oily skin, you'll probably enjoy it. But if you have very mature skin or dry skin, I don't really see the point of adding this to your routine. However, if you have sensitive or acne-prone skin, there is fragrance in here, so be careful about that. I didn't experience any irritating feeling or acne breakouts, but it's important to note that fragrance can be sensitizing in the long run, so even if you don't react badly to it now, you might in the future. This product has a really low fragrance concentration, but it's still a possibility.
What I am mad about is the price range and the amount of product that it gets you. You're essentially paying around 20/40$ (depending on where you're getting the Secret of Sahara oil essence) for a hydrating antioxidative 30 ml product. The majority of the Korean Beauty market is composed of hydrating antioxidative products such as the Missha Time Revolution The First Treatment Essence Rx [Pro Ferment] (150 ml for 20.96$ or 27.6$ depending on where you buy it), the Skinfood Royal Honey Propolis Enrich Essence (50 mL for 28$), or the Klairs Fundamental Watery Oil Drop (50 mL for 31$). I would much rather spend more money on a 50mL product than spend less money on a 30mL product, for the simple fact that 30 ml is literally nothing in terms of quantity. Usually, 30mL products have something more to them than just hydration and antioxidants. I run through hydrating serums like a turkey trying to escape death on Thanksgiving, so 30 ml on my big face won't last me for long.
One last thing: I despise this dropper with all my heart. Sometimes it works, sometimes it doesn't, and I feel like it picks up the tiniest bit of oil/essence. Granted, that amount is sufficient: I've used it on all my face for the before and after pictures above, but I still want more product.
+PROS:
Absorbs easily

Good antioxidative product

Aesthetic feel
-CONS:
Contains Fragrance

Bad quality/price ratio



⭐Score: 3.0/5 ———I will gladly continue to use this product, but will probably not repurchase it. It's a nice quality Hydrator with good antioxidant properties, but most products can be defined this way in 2020's beauty market.