[REVIEW] Benton Snail Bee High Content Lotion (Before and After)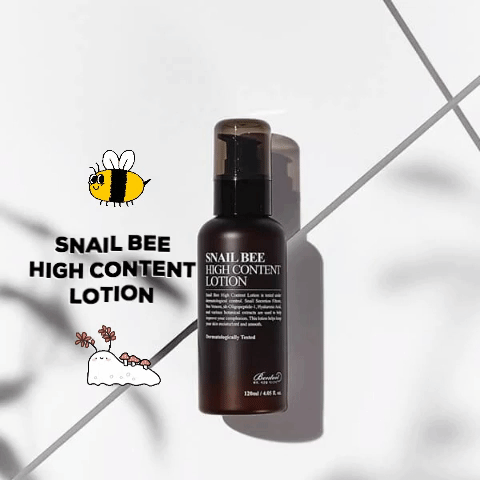 Texture: Sticky but light

Cruelty-free: Yes

Price (using this link): 17.90$ (If you use my code: DEWILDE you can get up to 5% off on any Yesstyle purchase at checkout)

What you get: 120mL


+INGREDIENTS
Ingredients: Aqua (Water), Butylene Glycol (Penetrating enhancer + humectant), Snail Secretion Filtrate, Glycerin, Cetyl Ethylhexanoate (Emollient), Niacinamide, Sodium Hyaluronate, Cetearyl Olivate (Emulsifier), Sorbitan Olivate (Emulsifier), Simmondsia Chinensis (Jojoba) Seed Oil, Palmitic Acid (Emollient), 1,2-Hexanediol, Pentylene Glycol (Solvent + Antimicrobial), Zanthoxylum Piperitum Fruit Extract, Pulsatilla Koreana Extract, Usnea Barbata (Lichen) Extract, sh-Oligopeptide-1, Bee Venom, Cetearyl Alcohol (Emulsifying), Xanthan Gum (Viscosity control + Emulsifying), Stearic Acid (Emollient), Tocopheryl Acetate, Althaea Rosea Root Extract, Aloe Barbadensis Leaf Extract, Panthenol, Lauric Acid, Myristic Acid (Surfactant), Aloe Barbadensis Leaf Juice, Beta-Glucan, Plantago Asiatica Extract, Diospyros Kaki Leaf Extract, Salix Alba (Willow) Bark Extract, Ulmus Campestris (Elm) Extract, Laminaria Digitata Extract, Adenosine, Polysorbate 20 (Emulsifying), Lecithin (Emollient)
🐌INTERESTING INGREDIENTS:
Snail Secretion Filtrate: Antioxidant + Wound healing (promotes extracellular matrix assembly and inhibit metalloproteinases production (their overproduction is directly linked to chronic wounds and the formation of scars)

Glycerine: Widely used as a quality Hydrator (occurs naturally in skin and its chemical structure attracts water). You can find this ingredient in most good skin replenishing products.

Niacinamide: Anti-aging (promotes collagen production and Ceramides synthesis) + Antioxidant (Against UV-induced photocarcinogenesis and photo immunosuppression) + Anti-inflammatory ( reductions in total sebaceous creation of lipids, overproduction is one of the causes of acne)

Sodium Hyaluronate : Hydrating (water binding properties) + Wound healing (promotes micro circulation)

Simmondsia Chinensis (Jojoba) Seed Oil: Rich in Vitamins A, D and E.

Zanthoxylum Piperitum Fruit Extract + Pulsatilla Koreana Extract +Usnea Barbata (Lichen) Extract: These 3 extracts form a popular natural Korean preservative called ''EURO-NApre'', which is presumably one of the safest natural preservative out there on the market right now. Logic follows that synthetic preservative are more irritating and less safe for the skin - I don't particularly agree with this claim, some natural things are cytotoxic, others aren't, I think the world 'natural' is coveted right now and Benton is probably playing on it, which is smart, either way it's a good preservative.

SH-Oligopeptide-1: Epidermal Growth Factors, which basically are cellular signal molecules that can stimulate cell growth, proliferation, healing and/or differentiation.

Bee Venom: Anti-acneic (anti-inflammatory).

Tocopheryl Acetate: Most commonly used form of Vitamin E (Most abundant antioxidant found in human skin, works as a photoprotective agent + Anti-inflamatory ). Popular culture suggest that it also helps in wound healing but this it not adequately backed up by research.

Althaea Rosea Root Extract: Antioxidant (polyphenols)

Aloe Barbadensis Leaf Extract + Aloe Barbadensis Leaf Juice: Treats burns (Inhibits thromboxane, which causes restriction in blood supply to affected skin tissues) + Moisturizer (mucopolysaccharides (water-binding) along with amino acids and zinc) + Wound Healing (Stimulates Collagen production pathways)+ Anti-inflamation (Magnesium lactate in the gel prevents Histamine production)

Panthenol: Moisturizing (penetrates deep into the layers and gets converted into Pantothenic Acid (B5)) + Anti Acne (B5) + Wound healing (B5)

Lauric Acid: Some research shows potential as an anti-acneic and anti-inflammatory agent

Beta-Glucan: Protects against irritation and environmental stress (the molecules link together to form a barrier on the surface of your skin) + Antibacterial (stimulate white blood cells to attack pathogens) + Hydrating (acts as a humectant (chemical structure attracts and traps water molecules)) + Anti-aging (Boosts collagen production)

Plantago Asiatica Extract: Potential in preventing hyperpigmentation + Antioxidative + Anti-Inflammatory. Pathways are not yet fully understood

Diospyros Kaki Leaf Extract: Prevents hyperpigmentation (Inhibits Melanin forming activity of Tyrosinase) + Anti Aging (Collagenase and Elastase, the enzymes that break down collagen and elastin are inhibited, some studies suggest that by limiting these enzymes (that tend to be overproduced when skin is exposed to mutagens such as UV rays), skin doesn't age as fast)

Salix Alba Bark Extract: Anti-acne (salicylic acid precursor) + Wound healing ( Polyphenols, flavonoids and tannins)

Ulmus Campestris (Elm) Extract: May be anti-inflammatory but very inconclusive evidence and little research on topical application to the skin.

Laminaria Digitata Extract: Prevents hyperpigmentation (downregulates transcriptions of tyrosinase) + Antioxidant + Anti-aging (Studies suggest it might inhibit Elastase)

Adenosine: Anti-aging (collagen stimulation pathway) + Wound healing (collagen stimulation pathway) + Anti-inflammatory (inhibits neutrophils, white blood cells part of the inflammation response)

+INSTRUCTIONS
+CLAIMS
The following claims are directly taken from the benton cosmetics website, and to be frank, they don't really make any senses so I'm going to quickly go over them
Skin Protection: Skin protection doesn't mean anything if you don't precise against what the protection is to start with, is it pollution? Bacteria? Allergenic substances?

Nutrition Supply: Pretty obvious, any non-mediocre cream is going to provide you with nutrition if it contains at least one active ingredient.

Skin Vitality Improvement: Any skin care product that shines a bit (again, if it's not mediocre) is going to give you some vitality.

Skin Barrier Improvement: My skin wasn't badly damaged to begin with. I mean, if you have some dryness this will get rid of it, but I can't say anything about more serious issues.
That being said, this might actually be a good cream to use if you have acne since it has so many anti-inflammatory ingredients, and it also might be a good choice for people who are looking to hydrate their skin but who hate layering on thick creams. The key here again is to limit the product to one pump for the whole face. However, if you have really dry skin, this probably won't be of much use to you.

+PROS:
Penetrates easily if adequate amount is used

Doesn't leave skin particularly sticky unlike a lot of snail products

Leaves skin hydrated throughout most of the day
-CONS:
Texture takes some getting used to

Most of the interesting and really good ingredients are actually present in lower concentration so they might not do anything to begin with

I didn't experience any of the benefits usually associated with snail secretion filtrate such as fading of dark spots

 🐝🐌Score: 3.0/5 --- Very basic cream, if you want a simple, lightweight cream then you'd probably be satisfied with this, but if you want something extra this ain't it. I would not repurchase, when I navigate towards moisturizers I prefer thicker, creamier ones likes the Klairs Rich Moist Soothing Cream, with a simpler texture and consistency, I don't like to put my skin through really sticky snail products unless they're actually doing something.
+AMAZON
+Product link (Yesstyle).
(If you use my code: DEWILDE you can get up to 5% off on any yesstyle purchase at checkout)