[REVIEW] Water Bank Quick Hydro Pen by LANEIGE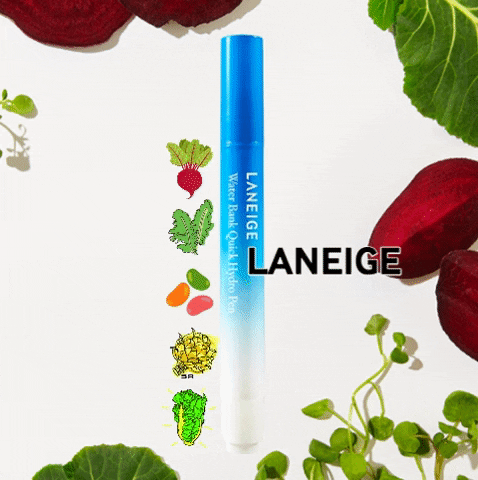 SAY IT WITH ME: VEGETABLES.
Price (in this link): 9.90$ (If you use my code: DEWILDE you can get up to 5% off on any Yesstyle purchase at checkout)

Texture: Creamy liquid

Cruelty-free: No

What you get: 4mL

+INGREDIENTS
Ingredients: Purified Water, Propanediol (Solvent + Moisturizer), Cyclopentasiloxane (Emollient + Solvent), Squalane, Silica (Mattifier + Viscosity controller), Cyclohexasiloxane (Emollient + Solvent), Bis-PEG-18 Methyl Ether Dimethyl Silane (Emollient), Dimethicone Vinyl Dimethicone Crosspolymer (Viscosity controller), Seawater, PCA Dimethicone, Saccharide Isomerate (Emollient), Polyacrylate (Thickener), Crosspolymer-6 (Thickener), Glycerin, Caprylic/Capric Triglyceride (Emollient composed of coconut + Glycerine), Polysilicone-11 (Helps ingredients penetrate + forms breathable protecting film), Butylene Glycol (Solvent), Acrylates/C10-30 Alkyl Acrylate Crosspolymer (Thickener), Tromethamine (Ph buffer), Glyceryl Caprylate (Emollient + Moisturizer), Sucrose Laurate (Emulsifier + Thickener), Disodium EDTA (Stabilizer), Fragrance/Parfum, 1,2-Hexanediol (Solvent), Phenoxyethanol (Preservative), C12-12 Pareth-12 (Emulsifier), Chenopodium Quinoa Seed Extract, T-Butyl Alcohol (Solvent), Magnesium Sulfate (Stabilizer), Calcium Chloride, Sodium Citrate (Ph adjuster), Citric Acid (Ph Buffer), Beta Vulgaris (Beet) Root Extract / Extrait de Racine de Betterave, Cynara Scolymus (Artichoke) Leaf Extract, BHT (Preservative), Manganese Sulfate, Ethylhexylglycerin (Preservative), Zinc Sulfate (Antimicrobial/Antibacterial), Brassica Olferacea Acephala Leaf Extract, Lecithin (Emollient), Nasturtium Officinale Extract, Phaseolus Lunatus (Green Bean) Sead Extract, Brassica Oleracea Gemmifera (Brussels Sprouts) Extract, Lepidium Sativum Sprout Extract, Ascorbyl Glucoside.
Click the button on the back 1-2 times to dispense an adequate amount of the content and apply over any dry areas
+Tip 1 (From LANEIGE)
Carry this small and portable pen anywhere you go, and apply an extra layer anytime you feel dryness in the eye or mouth areas.
+Tip 2 (From LANEIGE)
For a makeup touch-up, apply on the area where makeup is removed. It provides rich moisture on the area and primes your skin for a supple look.
+CLAIMS


I translated these claims from Korean using google image translate because they aren't available in English.


Hydrates and Moisturized your skin throughout the day: Yes, this moisturizes and hydrates, although I find myself re-applying maybe once or twice throughout the day as this does not last for an exceptionally long amount of time, but the design and compactness of the product make it enjoyable and fun.

Green mineral water from Brussels Sprouts, Artichoke and Green Beans strengthens the skin barrier and makes it healthy: As stated above, these ingredients have not a lot of clinical data or research to support these claims in any way. Furthermore, even if they did, although Laneige does not refer to the percentage of each ingredients used in the formulation, you can infer from their position on the list that they are not present in abundance (ingredients are listed by highest concentration to lowest and all of these ''green extracts'' are further down the list)

Extraction by ocean brew method (15 degrees/5 hours) to extract deeply moisturizing ingredients: I don't know what this extraction method consists of and could not find any data on it.

Garden Cress ingredient is an antioxidant that gives your skin a clear, radiant glow: Yes, garden cress is an antioxidant and will probably give your skin a clear, radiant glow, but it's one of the last ingredients on the list, I doubt that the concentration it is present in will translate to any noticeable effect on your skin, I personally think this claim is only here to capitalize on watercress as it is currently a very popular ingredient which makes it easily marketable.



I have 2 typically dry areas on my face: the tip of my nose and under my lower lip. Don't ask me why, I have no idea. I usually apply my skincare before leaving my house and do not re-apply anything throughout the day as it's a hassle to do so. These specific areas are quite small and most moisturizers squeeze out too much product even If I'm really careful with the bottle, and for my lips in specific, I can't apply lip balm there because it becomes shiny and I end up looking like a clown. My nose is usually a bit oily and I don't really like re-applying cream on that area. This pen is the perfect solution to these small, insignificant issues and is quite convenient.
This being said, although the pen itself is great, the product itself could be better. Yes, it moisturizes, but I've used it for a couple of weeks and as soon as I stopped using it my dry spots returned unbothered. It's not a product that will make your skin better in the long run, it's a quick short fix, which honestly is fine with for me for the price, but since it's Laneige I expected a bit more.
As for whether I would recommend the Water Bank Quick Hydro Pen, It's not an essential skincare product in any way, it's only convenient and you should buy it only if you actually have dry spots (alternatively if your under-eyes are chronically dry or you really want to go hardcore on the preventative skincare regime, the tip of the pen is great for massaging that area and adding moisture to it throughout the day).



+PROS:
Absorbed easily

Doesn't leave skin shiny

One 'click' disposes the perfect amount of product

Very convenient

Travel friendly and will fit in any bag (except those tiny weird Jacquemus ones)
-CONS:
Active ingredients could have been better (in terms of choice and concentration)




🥦Score: 3.0/5 --- This is very convenient and extra, you probably don't need it, but it's great to have. If the formulation was better it would have gotten a higher score.



Product link (Yesstyle).
(If you use my code: DEWILDE you can get up to 5% off on any yesstyle purchase at checkout)