[REVIEW] KYLIE SKIN Eyecream (Before and After)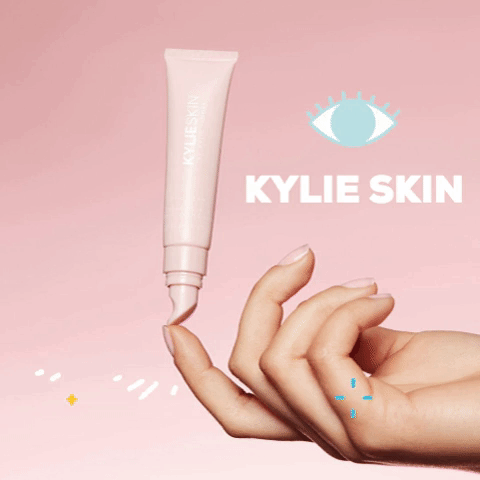 Texture: Creamy, a bit thicker than most creamy eyecreams (That I've tried).

Cruelty-free: Yes

What you get: 17mL

Price (in this link): 20$
+INGREDIENTS
Water/Aqua/Eau, Simmondsia Chinensis (Jojoba) Seed Oil, Butyrospermum Parkii (Shea) Butter, Polyglyceryl-3 Rice Branate (Emulsifier), Glycerin, Coconut Alkanes (Emollient + Solvent), Cetearyl Alcohol, Polyglyceryl-3 Distearate(Emulsifier), Propanediol (Solvent + Moisturizer), Cetyl Phosphate (Emulsifier), Polyacrylate-13 (Thickening agent), Isododecane (Emollient), Phenoxyethanol (Preservative), Caprylyl Glycol (Moisturizer +Emollient), Glyceryl Stearate Citrate (Emollient + Emulsifier), Tetrahexyldecyl Ascorbate, Polyisobutene (Viscosity controller), Mica (Multitasker), Dimethicone Crosspolymer (Thickening agent), Titanium Dioxide (CI 77891), Coco-Caprylate/Caprate (Emollient), Candelilla/Jojoba/Rice Bran Polyglyceryl-3 Esters (Emulsifying), Cetyl Alcohol, Acrylates/C10-30 Alkyl Acrylate Crosspolymer (Viscosity controller), Sodium Hydroxide (pH adjuster), Polyglyceryl-3 Cocoate (Emulsifying), Polyglyceryl-4 Caprate (Emulsifying), Polyglyceryl-6 Caprylate (Emulsifying), Polyglyceryl-6 Ricinoleate (Emulsifying), Camellia Sinensis Leaf Extract, Lactobacillus Ferment Lysate, Polymethylsilsesquioxane (Temporary wrinkle filler + softness enhancer), Punica Granatum Extract, Trisodium Ethylenediamine Disuccinate (Chelating), Ethylhexylglycerin (Preservative), HDI/Trimethylol Hexyllactone Crosspolymer (Product softener), Polysorbate 20 (Emulsifying), Iron Oxides (CI 77491) (Colorant), Sorbitan Isostearate (Emulsifying), 3-O-Ethyl Ascorbic Acid, Tocopheryl Acetate, Lactobacillus Ferment, Caffeine, Tocopherol, Actinidia Chinensis (Kiwi) Seed Oil, Citric Acid
☕Interesting Ingredients:
Jojoba oil: Rich in Vitamins A, D and E (Antioxidants + Anti-aging + Anti-inflammatory + Wound Healing)

Butyrospermum Parkii (Shea) Butter: Moisturizer + Anti-aging (Vitamin A) +Anti-fungal + Anti-inflammatory + Wound healing (Boosts collagen production and promotes cell regeneration)

Glycerine: Widely used as a quality Hydrator (occurs naturally in skin and its chemical structure attracts water). You can find this ingredient in most good skin replenishing products.

Tetrahexyldecyl Ascorbate: A lipid-soluble form of vitamin C derivative. There is no reputable clinical study that backs up typical vitamin C benefits. All studies currently made have a known active ingredient present in the formulation of the topically applied cream being tested (like this one), making the acquired data unreliable. I'm not saying this derivative doesn't work, I'm saying for now, no one knows for sure.

Titanium Dioxide (CI 77891): When formulated in non-sunscreen products, it's usually used as a: colorant (whiten up the product) + UVA and UVB (eye creams are used during the day so this could be beneficial) + To protect or delay the product from photo-degradation.

Camellia Sinensis Leaf Extract (Green tea): Antioxidant (Polyphenol) + Anti-inflammatory (Polyphenol) + Antimicrobial (Catechins)

Lactobacillus Ferment Lysat + Lactobacillus Ferment: Emerging research shows that, depending on the strain and species of probiotics chosen, some could have a myriad of effects including: Anti-inflammatory + Antioxidant + Improves collagen structure + fermentation might promote hylaruonic acid content of the skin + … But it's important to note that not all strains have these effects, and probiotic use in cosmetics is still emerging with not a lot of data supporting specific use of specific probiotics.

Punica Granatum Fruit Extract: Antioxidant (Vitamin C and polyphenols) + Anti-aging (Stimulates keratinocytes proliferation and inhibits collagen breaking enzymes) + Anti-inflammatory (Polyphenols)

3-O-Ethyl Ascorbic Acid: A form of Vitamin C (Excellent whitening effect have been proven for this form).

Tocopheryl Acetate: Most commonly used form of Vitamin E

Caffeine: Antioxidant (slows down photoaging process) + Wound healing (promotes micro circulation)

Tocopherol: Vitamin E

Actinidia Chinensis (Kiwi) Seed Oil: Contain linoleic Acid and Alpha-Linoleic Acid: Moisturizing + Anti inflammatory + Wound healing + their combination is said to lighten pigmentation (Suppress melanin production). Also contains Vitamin C&E.

Citric Acid: Anti-aging (AHA + promotes collagen production)
🍺Alcohols: Cetearyl Alcohol + Cetyl Alcohol (these are both fatty alcohols, which are wiledly considered ''good'' alcohols in skincare)
A lot of people assimilate alcohol and fragrances in skincare to dehydration and irritation. I would recommend that you watch this video: "Is Alcohol Safe in Skincare Products?" (by Liah Yoo, who worked at Korea's largest beauty company, AmorePacific and now also has her own brand: KraveBeauty) and consult the links provided in the info box which refer to published scientific studies and articles. The main point is: yes, alcohol and fragrance can be very stripping and irritating to the skin, but it all depends on how they are used and combined in the final formulation and of their ratio, the reactions they have with other ingredients, etc…


+INSTRUCTIONS
+CLAIMS
I have eyeballs of steel, my eye area does not get irritated no matter what kind of skin product I sprinkle on it, and the only thing that ever happened to me was milia forming when the product was too moisturizing. However, I have used some eye creams that felt like they were burning my skin in the past and I've finally uncovered the culprit by comparing all of their formulations: Ethylhexylglycerin, which is present in the KylieSkin formula..
Ethylhexylglycerin is either used as a texture enhancer or acts as a preservative. I don't give particular importance to researching these ''filler'' ingredients, going to different sites and comparing what's being said about them usually enables me to determine whether they are considered safe to use or not. For this one, incidecoder , Paula's choice, skincarisma and cosdna all had nothing negative to say. In fact, ''According to EWG, ethylhexylglycerin is rated as a 1 on a scale of 1 to 10, with 1 being the lowest health risk and 10 being the highest.'' (Environmental Working Group). Imagine my surprise when I found out that the European Union has ''classified it as an irritant with limited evidence of eye toxicity'' and my bigger surprise when I found out that a lot of people had experienced eye burning when using the Kylieskin eyecream. The burning isn't dramatic, it's just irritating and you feel a heating sensation near your eyes, but why should any eye cream feel this way to begin with?
Of course, there are a lot of things that can cause this irritating/contact dermatitis, some people are allergic to coconut oil or even kiwi or green tea, while others can enjoy the many benefits of these compounds, but my issue with adding an ingredient like Ethylhexylglycerin is that it is completely unnecessary. There are well-researched preservatives out there, some even derived from natural ingredients and with some added benefits. So why use an ingredient that has the potential to irritate and be toxic to the eye area when formulating an eyecream? The only benefit is that it's cheaper to formulate but irritation and inflammation have been linked to premature aging so the 'benefit' isn't really one, to begin with.
++Also please note that I have used products that contain this ingredient and have found no adverse reaction whatsoever (see here). This surely has to do with the amount and way it's incorporated in the final formulation, but the eye area being a more sensitive one than the rest of the face, I'll stir clear of any eye cream containing this ingredient starting now. The Royal Honey Essential Eye Cream by Skinfood that I've used and reviewed in the past contains Ethylhexylglycerin and gave me milia, as well as weird skin, outgrows that have faded a bit since my last usage, I originally thought this was due to the cream being very moisturizing but since I've used moisturizing creams in the past and never experienced such a reaction, the argument for Ethylhexylglycerin as the culprit is interesting to consider, but there's also the fact that the TOSOWOONG - SOS Spot Whitening Vita Vitamin Eye Cream also contains it and I love this eyecream (but the Ethylhexylglycerin is one of the last ingredients with lowest concentrations in the formula for this one, which doesn't quite negate the argument.)
*It's important to note that a lot of preservatives used in different skincare are potential irritants, some are diluted enough to not have these harmful effects, or not a lot of people are sensitized to them.
Furthermore, if this was packed full of amazing ingredients, I might have told you to take the chance or try out a sample, but the majority of ingredients are filler ones (refer to the list) and the ones that have the most claims to do anything are way at the bottom of the list (present in lower concentrations) and might not even be present in large enough quantities to affect the eye area, to begin with.
As for the claims themselves:
Help brighten: According to the key features on the kylieskin website, vitamin C is the main contributor to skin brightening in this formula. However, as mentioned above, the Vitamin C derivative used (Tetrahexyldecyl Ascorbate) doesn't have a lot of research to back up any claims of it actually penetrating the skin and doing anything. Furthermore, there is Mica in the formulation of this eye cream which basically works like a highlighter since it reflects light (and is actually used in some highlighting formulas). I haven't personally experienced any brightening but I don't have dark under eyes.

Hydrate: This is probably the only thing this eyecream actually does as Jojoba oil and shea butter are way high up on the list.

Reduce puffiness: ''Caffeine, Green Tea Extract, Pomegranate Extract'' which should help reduce puffiness are so down the list of ingredients that I'm not really sure they actually do anything. And my eyes got puffier when I was using this since It got irritated by Ethylhexylglycerin. So it's a no for me.

Reduce the appearance of fine lines and wrinkles: Again, all of the ingredients that would supposedly do this are are too far down the list, which means they might not be present in enough concentration. However, Jojoba oil and Shea Butter do have some anti-aging ingredients in them and have been shown to reduce the appearance of fine lines and wrinkles. I don't have these near my eye area, but do have a fine line that appears on my left eye whenever I don't sleep well and this never happened while I was using this eyecream, so… maybe?

Would I recommend this eyecream? I'll give you a no for the following reason:

The presence of Ethylhexylglycerin for me. You might not be allergic to it in any way.

The formulation is bulked up, it's core consist of fillers ingredient meant to texturize it which means that they don't actually do anything. (And I ended up not really liking the formula because it does not 'glide' on like other eyecreams)

A lot of eye creams in the similar price range do contain Ethylhexylglycerin, but at least their formulas have active ingredients present in higher concentrations and fewer fillers ingredients. A good example would be the Snail Repair Eye Cream by Mizon(20$).

The price point is too high for what it actually provides.

The bottom line is, there are better eye creams out there and you could probably refine this formula to around 10/15 ingredients. There are some good ingredients but they need to be the highlight not the 'extras' of this show.

+PROS:
Acts like a highlighter

Good hydration
-CONS:
Mildly burns

The opening of the product and the material it's made out of make it so that if you squeeze out some of the cream, it keeps going back into the tube and you end up needing to dispose of a higher amount to actually get it out.

Too expensive for what it is

Definitely does not work for ''all skin types'', specifically: sensitive skins stir clear.


🥝Score: 2.0/5 --- You're better off using something else. The skincare industry keeps releasing new products every month, there are thousands of eye creams on the market and a lot of them are better and cheaper than this one, there are no valid reasons for me to recommend this to you. This isn't a bad eye cream, it's just not a good one either. I happen to be allergic to a preservative used in this formulation if I wasn't it might have gotten a 2.5 or a 3.0, but I still wouldn't have particularly recommended this.


As for the raving reviews, this has gotten on kylieskin's website, I honestly believe it's mainly due to the reviewers being teens: when you're a teen a hydrating eye cream that reflects light is all you really need and this is what this one does.

+If you use my code: DEWILDE you can get up to 5% off on any yesstyle purchase at checkout