[REVIEW] PURITO Centella Green Level Eye Cream (Before and After)
Texture: Soft cream, easily absorbed

Cruelty-free: Yes

Price (using this link): $10.18 (Use my code: DEWILDE to get up to 5%OFF)

What you get: 30mL
+INGREDIENTS
Ingredients: Centella Asiatica Extract (49 %), Water, Hydrogenated C6-14 Olefin Polymer (Emollient + Viscosity Control), Glycerin, Caprylic/Capric Triglyceride (Emollient), Cetyl Ethylhexanoate (Emollient), Cetyl Alcohol (Emollient + Emulsifying + Viscosity Control), 1,2-Hexanediol (Solvent), Butylene Glycol (Moisturizer + Solvent), Methyl Trimethicone (Solvent), Dipropylene Glycol (Solvent), Pentaerythrityl Tetraisostearate (Emollient), Dipentaerythrityl Hexa C5-9 Acid Esters (Skin conditioning),  Potassium Cetyl Phosphate (Emulsifying), Cetearyl Olivate (Emulsifying), Butyrospermum Parkii, Palmitoyl Hexapeptide-12, Palmitoyl Tripeptide-1, Palmitoyl Tetrapeptide-7, Palmitoyl Dipeptide-10, Asiaticoside, Asiatic Acid, Sodium Hyaluronate, Madecassic Acid, Sorbitan Olivate (Emulsifier), Stearic Acid (Emollient + Viscosity Control), Polyglyceryl-2 Stearate (Emulsifying), Tromethamine (Buffer), Caprylyl Glycol (Moisturizer + Emollient), Glyceryl Stearate (Emollient + Emulsifying), Panthenol, Carbomer (Viscosity Control), Stearyl Alcohol (Emollient + Viscosity Control + Emulsion Stabilizing), Hydrolyzed Collagen, Cholesterol, Acetyl Glucosamine, Argania Spinosa Kernel Oil, Limnanthes Alba Seed Oil (Meadowfoam), Macadamia Ternifolia Seed Oil, Acrylates/C10-30 Alkyl Acrylate Crosspolymer (Viscosity Control + Emulsion Stabilizing), Ceramide Np, Pancratium Maritimum Extract, Citrus Aurantium Bergamia Fruit Oil (Bergamot), Disodium Edta (Chelating), Adenosine, Lavandula Angustifolia Oil (Lavender)

🔋Interesting Ingredients:
Centella Asiatica Extract : Wound healing (promotes collagen production) + hypertrophic scar healing properties in particular

Glycerine: Widely used as a quality Hydrator (occurs naturally in skin and its chemical structure attracts water). You can find this ingredient in most good skin replenishing products.

Butyrospermum Parkii (Shea) Butter: Moisturizer + Anti-aging (Vitamin A) +Anti-fungal + Anti-inflammatory + Wound healing (Boosts collagen production and promotes cell regeneration)

Palmitoyl Hexapeptide-12 (Stimulates Collagen + Elastin +Glycosaminoglycans) + Palmitoyl Tripeptide-1 (Messenger for Collagen renewal) + Palmitoyl Tetrapeptide-7 (Decreases pro-inflammation molecules (that lead to degradation of the skin) that are over-inhibited during UBV radiation exposure) + Palmitoyl Dipeptide-10 (Not a lot of studies on this peptide): These peptides have functions of their own, together, they enhance each other and give an overall result of Anti-aging + Anti-inflammation and can be found in a lot of anti-aging products

Asiaticoside: Derivative of Centella asiatica. Wound healing (promotes cell migration to healing sites, and enhances skin cell adhesion)

Asiatic Acid + Madecassic Acid: Both of these compounds are major constituents of Centella Asiatica Extract, several studies point to them promoting Collagen I synthesis (anti-aging), and being anti-inflammatory.

Sodium Hyaluronate : Hydrating (water binding properties) + Wound healing (promotes micro circulation)

Panthenol: Moisturizing (penetrates deep into the layers and gets converted into Pantothenic Acid (B5)) + Anti Acne (B5) + Wound healing (B5)

Hydrolyzed Collagen: For normal collagen: "Your skin might feel softer and smoother [or] your wrinkles might look less prominent, but that's all an illusion—that's just what's happening on the surface, It's not actually building collagen." - Suzan Obagi, M.D., UPMC dermatologist and American Academy of Cosmetic Surgery president. Collagen molecules are too big to penetrate the deeper layers of your skin when they are applied topically, hydrolyzed collagen is a smaller peptide obtained by breaking the bonds of the original molecule using water, not enough research exists to determine if these new smaller molecules are more penetrating, but either way, they are skin-soothing and will make the surface of your skin look nicer.

Cholesterol: Skin-identical ingredient, in combination with Ceramides (also present in formulation) it aids to maintain a healthy skin barrier + Emollient

Acetyl Glucosamine: Reduces hyperpigmentation caused by UV radiation + Stimulate hyaluronic acid production (hydrates).

Argania spinosa Kernel Oil : Antioxidant + Hydrating + Anti-flaking agent (dry patches)

Limnanthes Alba Seed Oil (Meadowfoam): Emollient + Antioxidant

Macadamia Ternifolia Seed Oil: Very good Emollient (Oleic acid + Palmitoleic acid)

Ceramide NP : ''This lipid prevents the epidermis, or the top layer of the skin, from losing moisture. When people experience dry skin, it is because of a loss of ceramides in the skin, which can also cause itching, flaking, peeling, and scaling.''

Pancratium Maritimum Extract: Little research, but what is known suggest potential for preventing hyper-pigmentation (Decreases melanin synthesis)

Adenosine: Anti-aging (collagen stimulation pathway) + Wound healing (collagen stimulation pathway) + Anti-inflammatory (inhibits neutrophils, white blood cells part of the inflammatory response)
🤔Hmmm Ingredients:
Citrus Aurantium Bergamia Fruit Oil (Bergamot): Perfuming + Possibly Antiseptic

Lavandula Angustifolia (Lavender) Oil : Mostly acts as perfuming agents, some recent study suggest possible skin calming benefits, but this is dependent on people as some are actually irritated by the oil (if present in abundant quantity)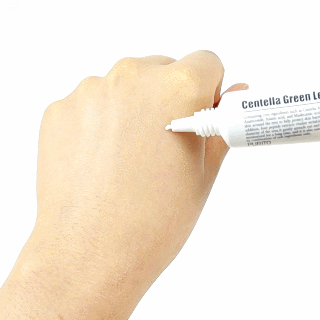 +claims
Claims taken from the Purito Website, there are points and sentences which kind of agglomerate to give the following 4 claims:


Anti-aging: This claim can only be truly established in the long run: if I keep on using this eye cream until an age where I would expect visible signs of aging to appear, which is a commitment I'm not willing to take because I love trying out new products. However, completely basing myself on the ingredients present in the Purito Centella Green Level Eye Cream, there are a lot of facts and science backing them up, and most studies I've read seem to support their role in anti-aging and anti-inflammation. As for my skin, it liked it a lot: as I've mentioned in the past, I don't particularly suffer from a bad under eye area but do get the occasional fine lines when I don't sleep well, and this really reduces them on those days.

Suitable for sensitive skin: Weirdly enough, I have a sensitive under-eye area, even my lids are sensitive and develop milia if the product is too rich or irritating. This eye cream did not irritate my skin and most ingredients are actually really suitable to be used on sensitive skin. However, there is the presence of 2 essential oils (bergamot + lavender) and these are known to be sensitizing. Of course, it depends on their concentrations, but if you have very sensitive eyes, you're probably better off without trying this product or at least do a patch test beforehand using a sample (you can email Yesstyle to send you samples of this if you're already planning on purchasing something else from them).
+PROS:
Great Ingredient list

Suitable for most skin types (unless you're sensitized to one of the ingredients)

Amazing price to quality ratio

Absorbs very easily

Will last a long time
-CONS:
Presence of essential oils



🐲 Score: 4.0/5--- Really enjoyed using this, but it could do without the 'perfuming' essential oils.
+AMAZON
+Yesstyle: link
(If you use my code: DEWILDE you can get up to 5% off on any yesstyle purchase at checkout)